Room Alert 12E
is one of AVTECH's advanced hardware solutions for
"IT & Facilities Environment Monitoring & Alerting, Automatic Corrective Action"
with a midrange capacity and a midrange price. It is designed specifically to assist with monitoring computer room temperature, humidity, power, room entry and much more in multiple locations simultaneously. Our
server room monitoring
device offers users the ability to monitor a wide range of sensors both indoors and out. Room Alert 12E allows alert notifications via email, email-to-SMS, SNMP and more to devices like computers, mobile phones and mobile devices. Room Alert 12E offers an easy to use web browser interface for settings changes and viewing real-time sensor status from anywhere. Room Alert 12E can be placed on a flat surface or mounted on a wall using the included wall mount bracket.
This server room monitoring equipment allows real-time temperature and environment monitoring, logging, one click data export, advanced alerting, Fahrenheit/Celsius, high/low watermarks, temperature values in alerts, custom alert text and more.

Easy Ethernet 'Plug and Play' setup for remote temperature and environment monitoring from anywhere.

Includes built-in Digital Temperature Sensor.

Includes PoE compatibility.

Includes 1 external Digital Active Power Sensor (w/ Temperature).

Includes 3 Digital Sensor Ports for use with AVTECH's sensors for Digital Temperature, Digital Outdoor Temperature, Digital Fluid Temperature, Digital Temperature & Humidity or Digital Active Power.

Includes 4 channels for switch sensors or dry contacts.

Includes additional ports to add 1 relay, 1 Light Tower & Relay Adapter (LTA), and 1 low voltage analog sensor.

Includes PUSH Technology and SNMP Trap & Query compatibility.

Advanced alerting by email, email-to-SMS, SNMP, web page update & much more.

Use the built-in web server, bundled Device ManageR software, or any SNMP application to monitor.

Sensor data is available in JSON format, making it easy to integrate into other applications.

Use Room Alert 12E with or without a host system. That's right...No PC Required!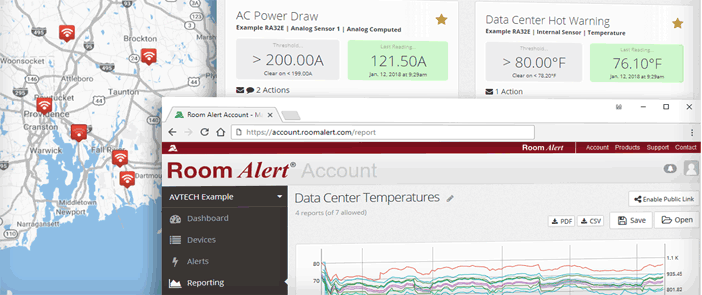 Your
Room Alert Account
provides the ability to easily monitor temperature and environmental conditions from anywhere, at anytime, via the web. Regardless of your web browser of choice, the look, function, and entire user experience is always the same. Use your account to view all connected sensor and monitor devices without the need to install software, configure an email server, or worry about network concerns. Users can monitor, alert, log, graph, view, report, map, manage and protect their facilities with both ease and confidence.
Room Alert 12E
can easily monitor environments such as phone or wiring closets, critical rack cabinets and larger computer rooms or data centers. Since Room Alert 12E is connected via Ethernet and does not require a host PC for operation, it can be located anywhere an Ethernet connection is available. This monitor is Power over Ethernet (PoE) enabled allowing it to be placed anywhere PoE Ethernet is available. Sensors can be run inside a rack cabinet, air vent, sub floor or other location. This
server room monitoring
equipment
will help to protect valuable IT equipment and minimize downtime if a disaster should occur. It can also be used to manage utility use by monitoring power consumption, allowing possibilities to reduce energy costs.
Room Alert 12E
can also be easily used in non-technology environments like residential and commercial buildings, restaurants, warehouses, green houses and more. The possibilities for use are endless.
QUESTIONS?
Call one of our experienced Product Specialists for answers. or send us an email at
Sales@AVTECH.com
.
Protect Your Facility ...
Don't Wait Until It's Too Late!
Remember,
'Proactive Monitoring' is always better than 'Disaster Recovery'.
---
* A free Room Alert Account upgrade to the Personal level is provided for one year at no cost on the first Room Alert purchased for your organization. Future Room Alert purchases will include a special promotional Room Alert Account upgrade to the Professional level for three (3) months. AVTECH reserves the right to change this special offer at any time. Refer to your account information or contact your Product Specialist for details.