How To Configure An AXIS Camera Motion Alert In Device ManageR
Device ManageR can be configured to alert when motion is detected by an AXIS Camera on the network. Before this can be done, the AXIS Camera must be discovered either automatically via Bonjour protocol, or by using the manual discovery feature accessible via the 'Advanced Discovery…' button under 'Device Status'. In addition to being discovered, valid authentication credentials must be supplied to the camera by selecting it in the 'Device Status' list and entering the credentials in the fields provided.
Once this has been completed, open the 'Alerting' tab and click the 'Add' button under the 'Alerts' section.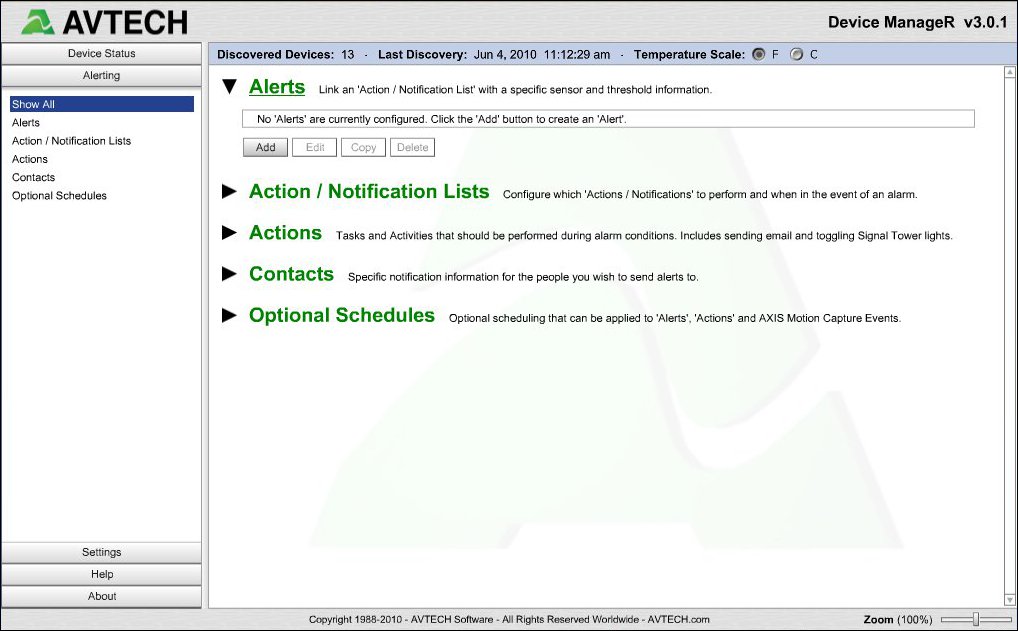 Enter a 'Name' for this 'Alert' and choose an authenticated AXIS Camera from the 'Device' drop-down. From the 'Choose An Item To Monitor' drop-down directly below it, select the item that ends with '-Motion'. Add and/or choose an 'Action/Notification List' for this 'Alert' and click the 'Save' button.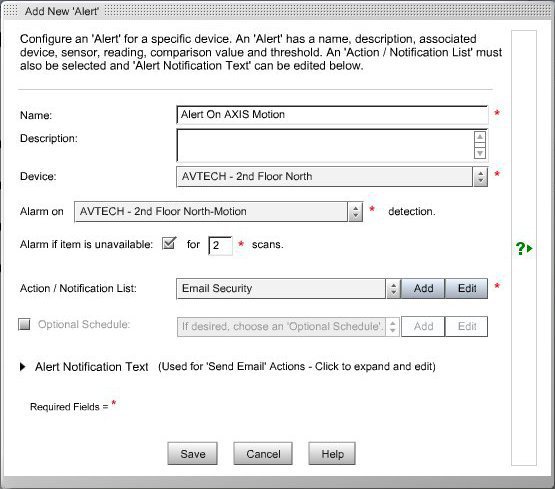 Alerting for motion events from an AXIS Camera requires that a Motion window, Motion event type and TCP Server pointing to the Device ManageR computer has been added to the selected AXIS Camera. When Device ManageR saves an alert for motion events from an AXIS Camera, the application will detect whether or not a Motion Event has been configured previously on the selected AXIS Camera via the automatic add feature. If a Motion Event has not been created for this AXIS Camera, a dialog will load asking if you would like to do so now. This is the recommended method for adding an AXIS Motion Event. Click the 'Add Motion Event' button to start the automatic Motion Event addition process.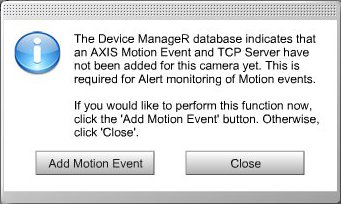 The automatic Motion Event addition process will now try adding a Motion detection window, Motion event type and TCP Server to the AXIS Camera you selected.

If more than one Network Interface Card (NIC) exists on the computer that Device ManageR is installed on, the dialog will show the detected NICs and request a selection. In order for the Motion Event configuration on the AXIS Camera to have access to the Device ManageR installation, the NIC from which requests are sent to the AXIS Camera from Device ManageR must be selected.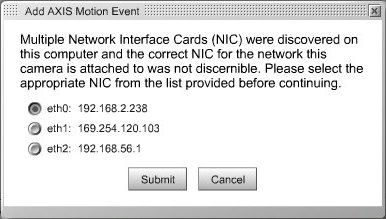 The result of the Motion Event addition attempt will be displayed shortly. If the attempt was successful, the configuration can be tested and adjusted if necessary. Adjustments like sensitivity, motion threshold and object size can all be made by logging into the AXIS Camera web interface, navigating to 'Setup->Event Config->Motion Detection' and selecting the motion window for the current Device ManageR installation.

If the Motion Event addition attempt is not successful, please make sure that the correct NIC was chosen.