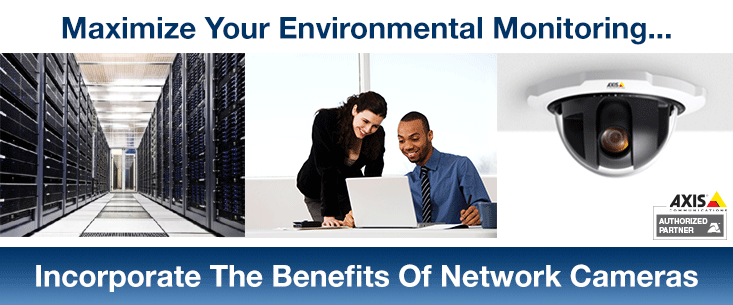 Network Cameras… Document Events, Capture Pictures & Increase Security
Have you considered adding network IP cameras to your environment monitoring program? Install network cameras anywhere to experience a real-time view of what is actually happening in your computer room, data center or other facility. Use with AVTECH's Device ManageR software to send snap shot photos with alerts, view real-time video for multiple cameras simultaneously from a single IP address, and incorporate camera sensors. Use with your Room Alert Account to see snapshots triggered from motion detection from anywhere via your favorite browser. Take advantage of features that will enhance your physical environment monitoring.
Integrated With Device ManageR & Your Room Alert Account

All Axis network cameras can be fully integrated with AVTECH's Device ManageR software. Device ManageR will allow users to automatically discover an unlimited number of Axis cameras found across the network and acts as a single interface for viewing real-time images for multiple, in fact unlimited, Axis cameras. View a single image or summary of images when events occur at your facility. Using a custom application available for Room Alert Accounts, cameras can automatically upload snapshots triggered from motion detection and users can view a full history of motion snapshots within their Room Alert Account. An updated list of Axis network cameras supported by a Room Alert Account is available here.
Motion Detection
Want to know who enters or leaves your computer room, data center or other facility? Easy-to-use motion detection is available for all Axis cameras, making surveillance more efficient by taking snapshot images, triggering an alarm and/or recording of motion if detected in monitored areas, or starting an automated action to secure a room, start a back up, or transfer processing to another location.
Enhanced Video Surveillance With Audio
Connect a microphone or other audio equipment to your Axis network cameras and know exactly what is happening in your IT data center or other facility. Use audio detection to listen for unusual sounds, trigger an event, or record the view and sounds during a break-in, hardware malfunction or other situation.
Wired, Wireless & PoE Cameras Available
For optimal installation flexibility or monitoring in buildings where network and power access may be limited, Axis offers wired, wireless and PoE options, scalable to fit your monitoring and security needs. Easy enough to be installed anywhere you desire.




How To Purchase
AVTECH offers the full line of Axis cameras and products. Contact us today and learn more about how cameras can be used in combination with AVTECH's Room Alert to achieve the specific results you desire. We can provide a quote and suggest cameras to work with your existing or planned environment monitoring strategy. Contact us to speak with a Sr. Product Specialist who can help identify the best possible solution for your needs.