Domestic Supply Chain, Made In the USA & TAA Compliant – Room Alert Has You Covered!
AVTECH Made In USA Official Company Statement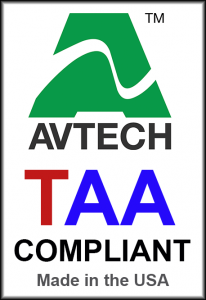 All of our Room Alert monitors, sensors & accessories are made in the USA and trusted by users in facilities and organizations across 187 of 196 countries and even in outer space. Because our products are developed, designed and built in the USA, Room Alert is TAA compliant, meaning Room Alert meets the requirements of the Trade Agreements Act of 1979. This act states that goods and services provided under federal contracts are either made in the USA or a designated country, or undergo a "substantial transformation" within the United States or a designated country. 
In the world of IT hardware, being TAA compliant can be tricky to maintain – many internal components, such as printed circuit boards and chips, are typically manufactured or assembled in countries that do not appear on the list of approved countries. AVTECH manufactures Room Alert here in the USA. This includes all circuit board assembly, metal fabrication and plastic injection molding, which allows us to maintain full TAA compliance. 
Our Room Alert Account online dashboard and Room Alert Manager software are both designed, developed and supported by our engineering team in Rhode Island, which allows us to list those as TAA compliant as well. In addition to our software, nearly all the digital and analog sensors we offer for Room Alert are made in the USA. This allows us to offer a fully TAA compliant solution to any organization that falls under GSA schedule and SEWP contracts. 
There are also several authorized AVTECH resellers and MSPs across the country who work almost exclusively with government organizations. All those agents are bound by the Trade Agreement Act and know that our products meet compliance, so they can bid with confidence. Being TAA compliant has given AVTECH the ability to help protect the data, assets, people and overall facilities of over 86% of the Fortune 1000 as well as all branches of the U.S. Government and Military. 
Maintaining TAA compliance means more than just using products made in the USA or an approved country. Organizations that purchase non-compliant goods or services are subject to being charged with hefty fines that could go as high as $1 million (or more), or significant penalties such as having your entire contract revoked. We can assure all our end users and partners of our TAA compliance, and we can provide Country of Origin paperwork during the purchase process to validate that. 
If your organization is a federal agency in the United States, or operates under a GSA schedule or SEWP contract, Room Alert can handle your environment monitoring needs while maintaining TAA compliance. If your organization ISN'T currently monitoring environment factors, then you're not looking out for 30% of data loss and downtime causes! Keep your organization protected with Room Alert from AVTECH.
Please refer to this Made In USA statement by our President & COO Richard Grundy for more information.
Contact Us
For any questions about environment monitoring with Room Alert, you can speak with a dedicated Product Specialist via email at Sales@AVTECH.com, by phone at 401.628.1600, or through our Live Chat feature right here on our website for a free consultation.       
For additional resources, please visit our YouTube Channel and be sure to read more of our articles to learn how Room Alert protects your assets and prevents costly damage. For all other information, please visit our Contact Page. Protect your facility…don't wait until it's too late.