AVTECH Introduces New Flood Protect & Control Kit To Help Prevent Unexpected Water Damage
Rhode Island manufacturer of environment monitors with customers in 186 of 196 countries introduces new kit to help protect equipment against damage due to unexpected water or liquid leaks
May 30, 2018 Warren, RI – AVTECH Software (AVTECH) is pleased to introduce it's newest product, the Flood Protect & Control Kit. This new kit will help Room Alert users physically protect their data centers and facilities from water or liquid damage due to unexpected leaks.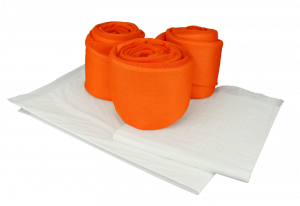 The new Flood Protect & Control Kit consists of three items designed to help keep unexpected water at bay while staff has been alerted to the presence of liquid by their Room Alert environment monitors. Flood Berms are designed to both absorb liquid while expanding to form a protective barrier. Flood Barrier Mats can act as a second layer of water protection, while also being pliable enough to wrap around pipes to help prevent and stop leaks. Finally, Flood Cleanup Mats help quickly absorb water to help staff remove water from critical locations and facilities.
Businesses are 10 times more likely to suffer from flood damage than they are from fire or smoke damage, so it's critical to have flood monitoring and protection in place. AVTECH's Room Alert monitors and sensors help monitor and alert users to the environment factors that cause up to 30% of outages suffered by businesses that cost thousands of dollars in damages, lost productivity, and lost revenue.
Now in its 30th year in business, AVTECH manufactures Room Alert, the world's most popular environment monitor. Room Alert is made in the USA and proactively monitors environment conditions such as temperature, humidity, flood, power, smoke, and more. Room Alert is currently used in 186 of 196 countries by organizations ranging from thousands of small businesses through Amazon, Boeing, Sprint, Microsoft, over 80% of the Fortune 1000, the United Nations, Pentagon, all branches of the US government, all 50 states, and many local governments.
"Room Alert has been at the forefront of helping alert organizations to unexpected water leaks that can cause downtime and damage," said Richard Grundy, President of AVTECH. "Our new Flood Protect & Control Kit takes data center and facility protection one step further – organizations can actively protect critical equipment and areas from liquids while their Room Alert monitors and sensors are alerting them to unexpected water intrusion."
In addition to Room Alert environment monitors, AVTECH also provides Device ManageR software and the online RoomAlert.com Account service for Room Alert monitoring, management, logging, alerting and reporting. All are completely designed and supported at AVTECH's corporate headquarters at Cutler Mill in Warren, Rhode Island.
AVTECH offers a wide range of digital, switch and analog sensors designed to help users monitor as many environment conditions as possible to help protect their facilities. Room Alert is a crucial part of any organization's business continuity plan, as it allows users to fully monitor environment conditions in their data centers, server rooms, and facilities that can cause unexpected downtime.
"We have spent decades helping organizations be alerted to environment factors that can cause downtime and lost revenue with Room Alert," said Michael Sigourney, Founder and CEO of AVTECH. "Adding the Flood Protect & Control Kit to our catalog is a new and welcome step in helping our users actively prevent water and liquid from reaching their critical servers and equipment while staff are responding to their initial flood detection alerts."
About AVTECH
AVTECH Software (AVTECH), a private corporation founded in 1988, is a computer hardware and software developer and manufacturer based in Warren, RI and the SBA 2018 Rhode Island Exporter of the Year. AVTECH Room Alert products are made in the USA and proactively monitor critical facilities and assets for conditions such as temperature, humidity, power, flood / water leakage, smoke / fire, air flow, room entry, motion, cameras and more. Room Alert is in use in over 180 countries and can be found in over 80% of the Fortune 1000, most state and federal agencies, and all branches of the US military. Room Alert is "Environment Monitoring Made Easy… Don't Wait Until It's Too Late!"
Media Contact:
Russell Benoit
Press@AVTECH.com
AVTECH Software
16 Cutler Street, Cutler Mill
Warren, RI 02885
Ph: 401.628.1600
###