AVTECH Software, Inc Named a Winner of the 2021 INTERNET TELEPHONY Friend of the Channel Award
AVTECH recognized for their innovative Reseller programs and strong channel relationships worldwide
February 09, 2022 Warren, RI – AVTECH Software (AVTECH) is honored to announce that it has been named a winner of the "2021 INTERNET TELEPHONY Friend of the Channel" Award by INTERNET TELEPHONY Magazine.
Now in its 34th year in business, AVTECH manufactures Room Alert, the world's most popular environment monitor for business continuity plans. Room Alert is made in the USA and proactively monitors environment conditions such as temperature, humidity, flood, power, smoke, and more. Room Alert is currently used in 187 of 196 countries by organizations ranging from thousands of small businesses to Boeing, Sprint, Microsoft, over 80% of the Fortune 1000, the United Nations, and many government agencies.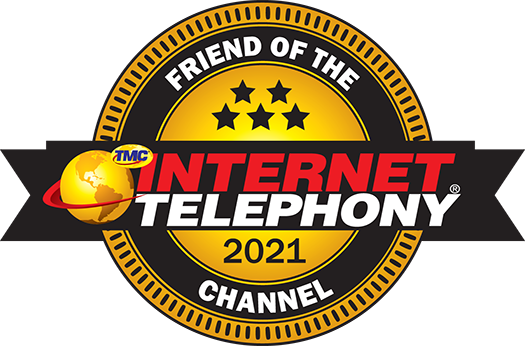 AVTECH's Channel Program was recognized for its strong support of Authorized AVTECH Resellers worldwide. Resellers are provided access to a Reseller Portal that allows them to create quotes, track sales and prospect communications, download customizable sales materials and more. Additionally, Resellers have access to dedicated Channel Managers and Product Specialists to provide support, and a new Marketing Co-Op program that provides backing for Reseller marketing initiatives such as trade shows, dedicated websites, and print campaigns that focus on Room Alert.
"Our Channel Program has been a tremendous asset to AVTECH since we formally introduced it in 2008," Richard Grundy, AVTECH President & COO. "Resellers recognize the strong value Room Alert provides to their customers and we are proud to support their efforts across the globe. With Authorized AVTECH Resellers operating in nearly every country, no matter where a customer is located they can find a local Reseller who can assist them with selecting the best Room Alert solution for their exact situation."
"We have implemented a number of programs to help our Resellers and their customers," added John Pinckney, Reseller Channel Manager at AVTECH. "Between our offices in Rhode Island and the UAE, as well as our multiple distribution facilities in the United States and Ireland, our Resellers know that they have access to the most robust environment monitoring solution available, backed by an international team who are ready to assist in any way we can."
"On behalf of TMC and the editors of INTERNET TELEPHONY magazine, we are honored to recognize AVTECH Software, Inc. as a winner ofthe INTERNET TELEPHONY Friend of the Channel Award for its distinguished program," said Rich Tehrani, CEO, TMC. "We look forward to seeing continued excellence from AVTECHin the future."
About AVTECH
AVTECH Software (AVTECH), a private corporation founded in 1988, is a computer hardware and software developer and manufacturer based in Warren, RI with an international sales office in Dubai, UAE as well as an international distribution facility in Shannon, Ireland. AVTECH's Room Alert products are made in the USA and proactively monitor critical facilities and assets for conditions such as temperature, humidity, power, flood / water leakage, smoke / fire, air flow, room entry, motion, cameras and more. Room Alert is in use in over 185 countries and can be found in over 80% of the Fortune 1000, most state and federal agencies, and all branches of the US military. Room Alert is "Environment Monitoring Made Easy… Don't Wait Until It's Too Late!"
About TMC
Through education, industry news, live events and social influence, global buyers rely on TMC's content-driven marketplaces to make purchase decisions and navigate markets. As a result, leading technology vendors turn to TMC for unparalleled branding, thought leadership and lead generation opportunities. Our in-person and online events deliver unmatched visibility and sales prospects for all participants. Through our custom lead generation programs, we provide clients with an ongoing stream of leads that turn into sales opportunities and build databases. Additionally, we bolster brand reputations with the millions of impressions from display advertising on our news sites and newsletters. Making TMC a 360-degree marketing solution, we offer comprehensive event and road show management services and custom content creation with expertly ghost-crafted blogs, press releases, articles and marketing collateral to help with SEO, branding, and overall marketing efforts.
Media Contact:
Russell Benoit
Press@AVTECH.com
AVTECH Software
16 Cutler Street, Cutler Mill
Warren, RI 02885
Ph: 401.628.1600
###