How To Enable Heat Index In A Room Alert Monitor
Using an older version of the Room Alert Monitor web interface? Please click here for the appropriate FAQ.
What is heat index?
The heat index represents how hot it actually feels by combining the current temperature and relative humidity.
In hot conditions, the human body regulates its temperature through perspiration. Heat is carried away from the body as the water in sweat evaporates. However, when the humidity is higher, the water does not evaporate as fast, causing the temperature to feel hotter than it actually is. The heat index provides a temperature value that represents this 'feels like' temperature.
Room Alert products with a internal or external Temperature & Humidity Sensor can monitor heat index. Monitoring the heat index with Room Alert allows managers to ensure that working environments like factory and warehouse floors are within an acceptable range.
Enabling heat index in your Room Alert Monitor
In order to enable heat index in your Room Alert Monitor, follow these steps:
1. Open your Room Alert's web interface. You may open the interface using Device Discovery, Device ManageR, or your account at RoomAlert.com. You may also type the IP address of the unit directly into the address bar of your web browser.
2. Select the Settings in the navigation bar to the left.
3. Then select Sensors from the options below Settings.
     On the Room Alert 3 Wi-Fi, navigate to the Alert Options –> Sensors page.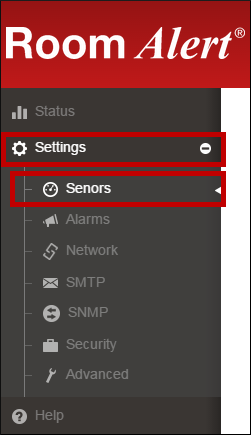 4. In the Sensor Settings page, locate your internal or external Temperature & Humidity Sensor.
5. Select the Monitor Heat Index check box.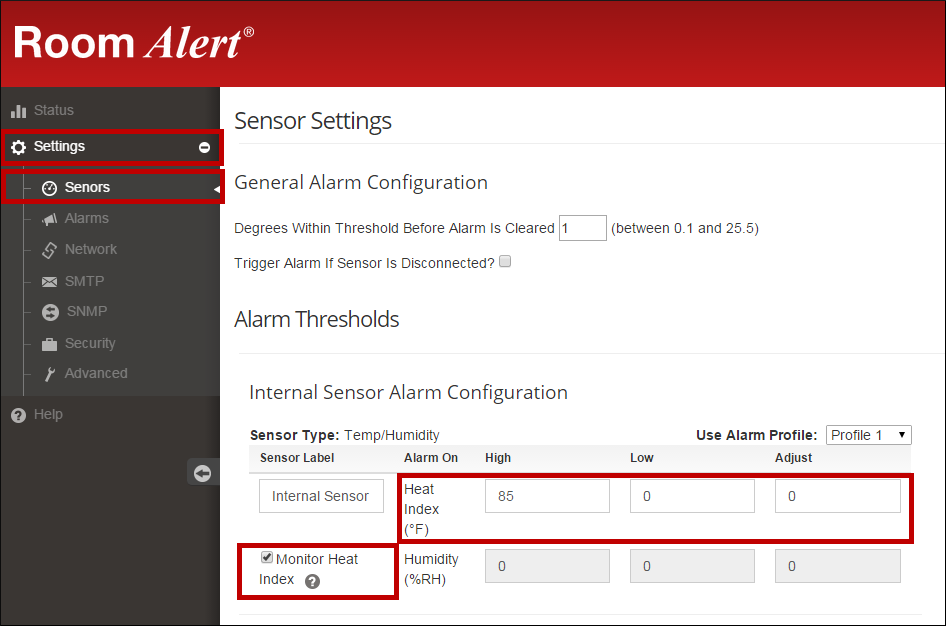 – Notice that the interface for your sensor changes to display 'Heat Index' in the top row.

6. If you wish to generate alerts based on the heat index, enter values in the High/Low fields.
7. Select Save Settings at the top or bottom of the screen. Your Room Alert Monitor will reboot with heat index enabled.

You may view the heat index in the Status page.