How To Add Compatible Axis Cameras To Your RoomAlert.com Account
In order to view Axis camera image uploads through RoomAlert.com, you must have a Room Alert Account at the Professional level or higher. Please see this FAQ for account upgrade instructions: How To Upgrade Your RoomAlert.com Account.
Before you begin
– You camera must be compatible with RoomAlert.com. Please see this list: List Of Axis Cameras Compatible With RoomAlert.com.
– Your camera must push at least once to RoomAlert.com. In order for it to do that, you must install certain firmware and applications on it. This FAQ shows you how: How To Upload Required Software To Your RoomAlert.com-Compatible Axis Camera (VIDEO).
Registering your camera
Once you determine your camera is compatible with RoomAlert.com and install the required firmware and applications, you may register it by following these steps:
1. Log in to your account at RoomAlert.com.
2. In the navigation bar to the left, select Devices. You'll see the list of Room Alert Monitors and Axis cameras that are already associated with your account.
3. To add your camera, select Register Device at the top right of the screen.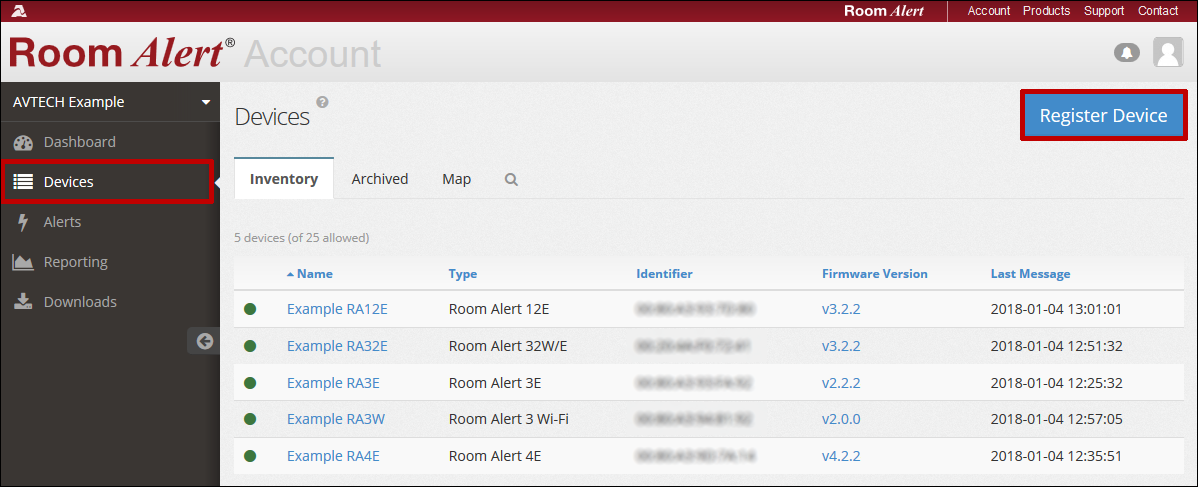 4. When the Register New Device page appears:
– Enter your camera's MAC address. For assistance locating the MAC address, please see this FAQ on Axis' web site: Serial Number (Axis web site).
Please note that the serial number and MAC address are the same on Axis cameras. However, when you enter your camera's MAC address into your Room Alert Account, separate the characters with colons (:) or dashes (-).
Example: A1-B2-C3-D4-E5-F6 or A1:B2:C3:D4:E5:F6, not A1B2C3D4E5F6.
– Then select Register Device.

5. Your Room Alert Account will then pull in your camera, and you'll see its Device Details page with basic information.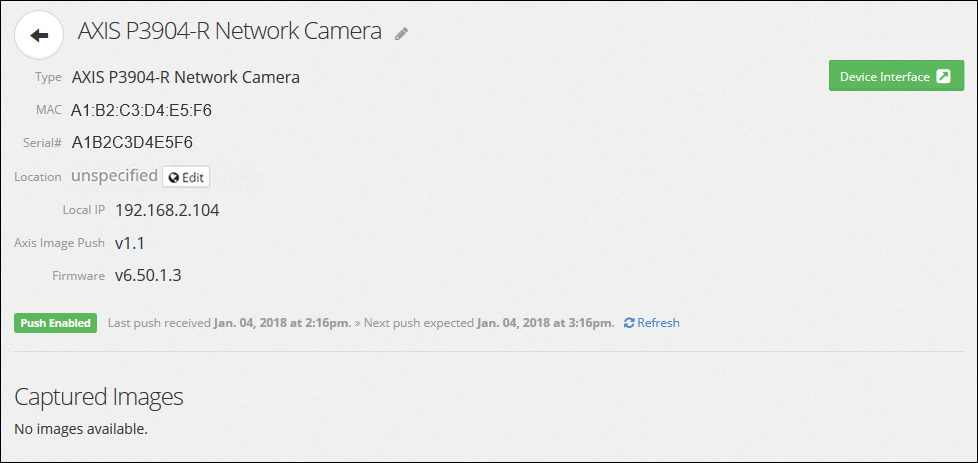 You will not receive any images from the camera until it detects motion. Please see this FAQ for the conditions that generate pushes and what data to expect: When Compatible Axis Cameras Push To Your RoomAlert.com Account.