Temperature & Humidity Sensor Accuracy and Resolution
All of our environment sensors, and especially our Digital Temperature Sensors and Digital Temperature & Humidity Sensors have measurement resolution, accuracy and upper and lower reading limits listed on their specific product pages, as well as on their product brochures. Room Alert monitors and sensors are used in so many different environments that certain sensors may be a better fit than others, and we want all of our users to know the very specific parameters of each sensor so they can make the best choice for their application or monitoring need.
Last year, we published an article detailing the slight measurement differences in sensors from various manufacturers, usually based on materials used and construction variances.
Room Alert monitors offer sensor calibration so users can account for local variances, such as location differences, or third party sensors that they use with Room Alert. This allows users to get as accurate a reporting as possible based on their facility's environment monitoring setup. We even have a Frequently Asked Question that helps explain how easy it is to add an 'Adjust' value for a specific sensor connected to Room Alert.
Room Alert Sensor Accuracy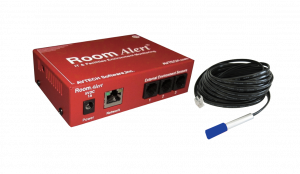 Our sensors are listed with an accuracy of +/- 2 degrees Celsius, and many of them will report in increments of less than 0.01 degrees. That's a claim we are proud to make, and we recently decided to engage an outside testing laboratory to verify our own internal research. If our users are trusting our monitors and sensors to protect their critical investments, we want to ensure our equipment is more than up to the task.
We scheduled an entire day of testing at an accredited testing lab with a highly accurate, validated and calibrated environment testing chamber accurate to within 0.01 degrees Celsius and 0.1 %RH.
All our sensors were placed in a sterile, contained environment chamber and tested multiple times over the course of the day to verify accuracy. Once testing was completed, the lab determined that our temperature sensor accuracy was within 1/10 degree Celsius. This is well within the +/- 2 degree Celsius range we promise our users, and this accuracy was consistent across all the sensors tested.
As part of the lab testing, we are also conducting long-term testing of our sensors to determine the impact that age, repeated use, and exposure to environmental elements such as dirt, dust, and buildup have on the accuracy of their reporting. We look forward to providing our customers with updates on this long term testing in the months and years ahead.
Temperature Sensors vs. Thermostats
While on the subject of accuracy, we wanted to discuss a common question we get from users about the reading differences between their Room Alert sensors and their local thermostat. In many instances, users will report that there are variations in temperature readings between Room Alert and their wall-mounted thermostat.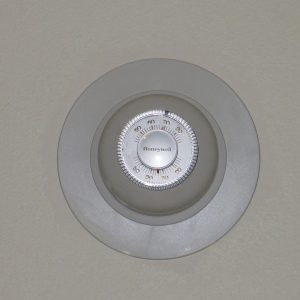 It's important to remember that a thermostat's main job is to control the HVAC in a facility. When temperatures exceed a certain point, air conditioning is turned on, for instance. The opposite, of course, happens when temperatures become too low, and heating turns on.
Thermostats are not designed to give an exact temperature reading, as their main function is knowing when to tell the HVAC to turn on and off. Many times, thermostats are mounted on walls, which can have an impact on their readings; likewise, a thermostat that's mounted anywhere that sunlight may hit it directly can return a far different reading than a temperature sensor that's not in direct sunlight just a few feet away. Further, thermostats incorporate hysteresis, which allows the temperature to go above and below the target temperature by a certain amount in an effort to prevent the HVAC from rapidly toggling on and off based on slight temperature changes.
Users who wish for their Room Alert monitors to report the same temperature as their thermostat can use the 'Adjust' feature available in Room Alert's firmware to adjust the sensor readings, however they need to be aware that matching the two may lead to under-reported temperature variances. In many facilities that may not be an issue; users should take their own specific use and sensor layout into consideration before adjusting sensor values manually.
Room Alert for Accurate Environment Monitoring
Room Alert users in over 180 countries rely on us to help protect their critical assets, and we want our products to meet and exceed their expectations. Providing better than industry standards when it comes to environment monitoring is important to us; we've spent the last 30 years helping our customers with environment monitoring, and their longevity with us is what's helped us reach this point in our industry.
If your facility requires reliable, accurate environment monitoring, there are a wide range of Room Alert monitors designed for nearly any situation or application. When you trust your environment monitoring to Room Alert, you're trusting your data center or facility to an organization whose sole purpose is to provide you with accurate environment monitors, sensors, and software.
Protect your critical assets from downtime today with Room Alert. Remember – Room Alert is environment monitoring made easy… don't wait until it's too late!