Taking Your Privacy Seriously – GDPR, Cybersecurity, and More
The European Union recently enacted extremely stringent data privacy rules with the introduction of GDPR (General Data Privacy Regulation). These rules, recognized as some of the strictest in the world, focus on the personal data protection and privacy for anyone who lives within the EU. Any organization that stores personal data or contact information for EU residents needs to be compliant with GDPR.
Many of you may have received a dizzying number of emails from companies asking for your permission to continue contacting you via email prior to May 25, which was largely due to those companies looking to be in GDPR compliance. Even if you are not located in the EU, the vast number of companies who sent those emails did so to be sure they were compliant.
Customer data privacy has been a concern for businesses for years, and the new GDPR guidelines have put companies around the world on notice – treat customer data properly and securely or pay the price.
Meeting GDPR standards
We began researching GDPR in 2017; AVTECH has a large user base in the EU, and we wanted to make sure that our policies on protecting user data followed GDPR. Some companies have opted to pull back their business in the EU over fears that they either weren't in compliance or wouldn't be able to come into compliance. We know how much Room Alert users value security – after all, they're protecting their own data and equipment by monitoring their environment with Room Alert!
AVTECH's internal policies have always been in place to help protect our user's privacy and keep their data secure. When GDPR was announced, we knew that it was imperative that we be in compliance. Not just to help protect our users in the EU, but also to ensure that all our users in 186 of 196 countries knew that their personal data was protected.
To make sure we are in compliance, we needed to update some of our internal policies to make sure that customers who requested we delete their data could be accommodated immediately. We also contacted all our users located in the EU to make them aware of our changing policies regarding email communication to ensure we were following GDPR, and we looked at how we were collecting and using contact information for all our users. We're proud to support GDPR and are ready to respond appropriately to changing privacy laws and regulations around the world.
Data and network security at AVTECH
For a company that preaches about keeping your data and networks protected, we always want to make sure that our own network is as secure and protected as possible. Our own in-house IT team is constantly reviewing our internal processes and policies to make sure we are secure and in compliance with GDPR as well as other domestic and worldwide regulations.
To enhance our security, we recently worked with an outside firm that completed a number of tests, including penetration testing as well as some phishing and social engineering checks on our employees. Human error is still the number one cause of data loss and we wanted to make sure our own staff worked together to form a "human firewall" to protect our user data.
All the tests were successfully passed, and some helpful insight from the security vendor is allowing us to further strengthen our own internal policies to help keep the user data we store for account recognition, support, and billing as secure as possible. We are dedicated to preventing data loss in all forms, both on our Room Alert user side, as well as on the AVTECH corporate side. Knowing that we are taking every step possible to protect our staff and our users is important to ensuring strong data security.
Keeping you and your data safe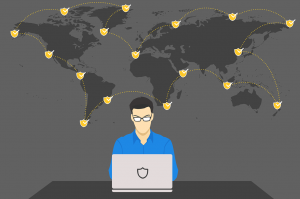 Room Alert's sole purpose is to protect your network and data; keeping our users protected has been the primary focus at AVTECH for 30 years now. As new regulations come into effect, including the new strict regulations on consumer privacy and user data in California, we want to make sure we're following our own advice on keeping data safe.
We will continue to stay informed on data privacy and security regulations as they are implemented around the world to ensure that we're compliant with them. After all, with users around the world who are protecting their own data with Room Alert, we need to make sure we're keeping the data we have for them safe as well.
If you or your organization have questions about how are keeping the data we have about you safe, you may review our Privacy Notice at https://avtech.com/privacy-notice, or contact Privacy@AVTECH.com for more information.