How To Check The COM Port Of Your Modem
When you set up your GSM modem in Room Alert Manager (or AVTECH's legacy Device ManageR software), you'll need to enter its COM port into the software's settings.
Before you attempt to check the modem's COM port:
A. Plug the modem into a USB port on the software's host system.
B. Install the most recent version of the modem's drivers.
Then check the COM port by following these steps:
1. Navigate in Windows to Start–>Control Panel–>System and Security–>System–>Device Manager.
2. In the Device Manager screen, double-click on Modems to expand the list.
3. Locate your modem and right-click on it.
4. In the menu that appears, select Properties.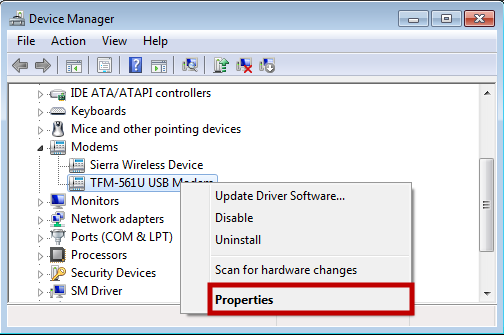 5. In the Properties window, select the Modem tab.
6. You'll see 'Port: COMX,' where X is the COM port number. In this example, the COM port is COM4.