Customize The Data Retention In Your RoomAlert.com Account
How Is Room Alert Different?
Out of all of the incredible benefits that set Room Alert apart from other environment monitoring systems, our customizable Room Alert Account Service is among the most useful capabilities that give Room Alert a competitive edge. When people find themselves weighing the pros and cons of the various environment monitoring devices available for their unique organizations, one crucial factor that is often overlooked is data capacity. Many environment monitors offer a specific and limited time span for data retention. For most, this limitation is not ideal because the majority of businesses are required to follow strict guidelines related to data capacity.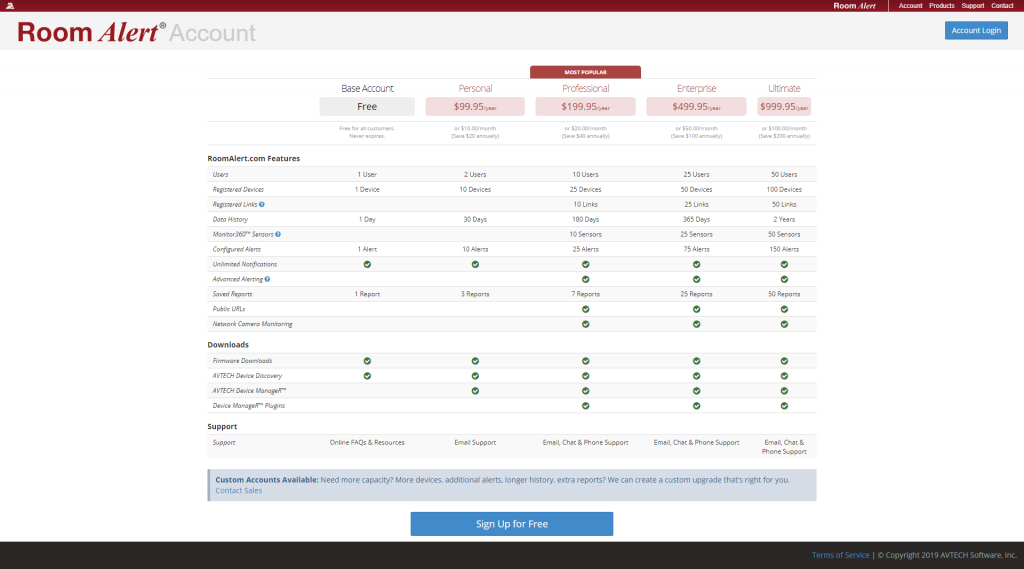 Our Room Alert Account Services were designed with this in mind. Room Alert is completely customizable therefore you can ensure your organization is getting exactly what it needs. There is no limit to the data capacity you can add to your RoomAlert.com Account which means you can continue to add more until you're satisfied.
RoomAlert.com offers many features depending on what account level best suits your business. We have various account tiers that provide up to 2 years of data history at our Ultimate level. Here at AVTECH, we acknowledge that some situations may call for more than 2 years of data retention which is why we also offer additional levels to help support all of our customers. This allows you to purchase more data capacity, which is perfect if you're trying to register more devices, create additional custom alerts, retain longer data histories and/or receive extra reporting.
Many organizations need to follow the guidelines and regulations of the FDA.
According to the FDA, "An investigator shall retain records required to be maintained under this part for a period of 2 years following the date a marketing application is approved for the drug for the indication for which it is being investigated; or, if no application is to be filed or if the application is not approved for such indication, until 2 years after the investigation is discontinued and FDA is notified."
If your business or organization must comply with FDA regulations, then the Ultimate level of Room Alert Account Services would best suit your needs.
Outside of just the FDA, most other industries also expect businesses to meet certain data regulations, or perhaps you may be required to follow federal guidelines when it comes to data retention for your services or monitoring. Be sure you're aware of all of the guidelines your organization needs to follow so you can select and customize a Room Alert account that meets your needs and strengthens your business continuity plan.
If you want a specific level of data retention that you don't see listed our pre-existing account tiers, you can work individually with one of our Senior Product Specialists. Our team will work hard to understand your organization and determine a custom upgrade that is perfect for you.
Contact us
If you have any questions or want additional information on Room Alert Account Services and how accounts can be customized specifically for your organization, please visit our YouTube Channel or visit our Contact page for a free consultation with one of our dedicated Senior Product Specialists today!