Custom Alert Messages and Alert Testing in Room Alert Account
In our article on some of the advanced features in our Room Alert Account dashboard, we discussed how alerts can now be sent to multiple recipients through email, SMS, and HTTP Post.
In addition to those advanced options, users can also create custom alert messages in the Room Alert Account dashboard, and test them before they're in full use. Let's take a deeper look into how these new enhancements can help your business fully monitor temperature, humidity, flood, power, smoke and more.
Creating Custom Alert Messages In Room Alert Account
One feature that Room Alert Account users on the Professional tier and higher get to take advantage of is the ability for users to fully customize their own alerts. This gives Room Alert Account users a truly endless array of options of how their alerts can be displayed when they show up in their recipients' inboxes. Alerts from any sensors, such as Temperature and Humidity, Flood, Air Flow, or Current Loop can be customized in any way you would like.
Customizing an alert is as easy as going to the Alert Options in the Room Alert Account dashboard, clicking the Custom radio button as shown below, and entering any new text you'd like for both Triggered Alerts as well as Cleared Alerts.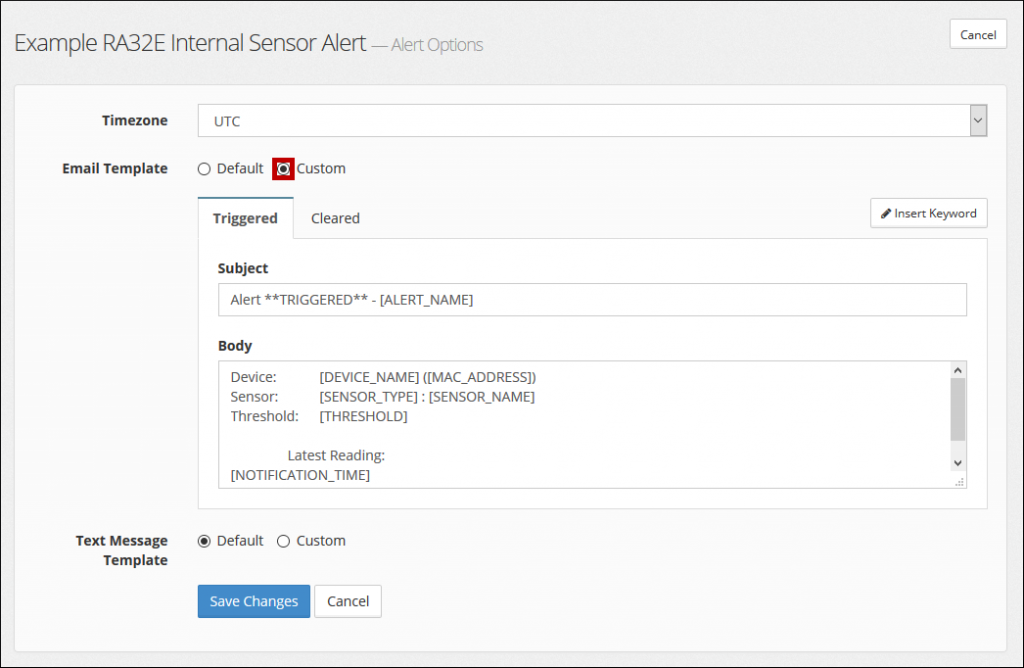 We've also provided a list of most commonly used keywords for users to input into their custom alert messages as well. Just press the Insert Keyword button on the upper right, which will bring up a Keywords list. Each keyword has a brief description, and clicking on the Keyword automatically inserts it into your chosen place in the Alert you're customizing.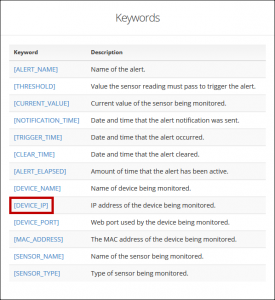 Not only can device information be customized with advanced alerts in Room Alert Account, users can fully customize the text in the message as well. Users can opt to provide a list of emergency contacts in the alert, or even list steps to resolve the alert.
For example, a business that has multiple alerts set up can provide a resolution list in the message that Room Alert Account sends when an alert is triggered. If Room Alert sends a message that their data center's temperature is too hot, the message sent to all contacts can give a list to the first responder of steps to take, such as:
Open all internal data center doors
Check building AC
If building AC is not working, turn on portable backup AC
Call building manager at 555.123.4567 to notify them of problem
The message being sent is entirely up to the user! Not only will you be notified of the problem immediately, anyone who gets that alert message will be provided with a quick list of steps to help resolve the issue.
Send Alerts In Your Local Language
Room Alert is made in the U.S.A. and currently shipped to users in over 185 countries. As a result, we have countless users who don't have English as their primary language (which is what Room Alert alerts default to).
Now with customized alerts in the Room Alert Account dashboard, users can fully modify each and every alert to be delivered in their own local language. This can be an immense help when it comes to making sure users know exactly which alert is being triggered, and how to resolve it immediately.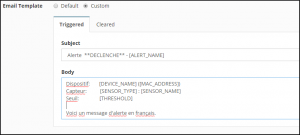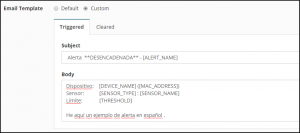 Room Alert Account allows users to customize both how and when alerts are sent, as well as the actual content of all custom alert messages.
Alert Testing
Alerts are designed to notify users in the event of an environment factor you're monitoring crossing a threshold you've set. But how helpful is the alert if the recipients don't receive it?
Users can test the delivery of every alert they send right from within Room Alert Account. Once you've entered a new recipient, just hover over the right side of the Action, which will bring up three icons.

Click the checkmark, which will bring up the Test Alert Action dialogue. Click Yes to have a test alert sent to that user, which allows you to confirm that the email address, SMS number, or ticketing/monitoring software is entered correctly in your Room Alert Account dashboard. Don't wait until an actual alert is triggered to discover you accidentally misspelled your on-call technician's email, or transposed a few digits in their cell phone number they're expecting SMS alerts on.
Monitor, Alert, Graph, and Report with Room Alert and Room Alert Account
Using enhanced and custom alert messages in the Room Alert Account dashboard allows our users to have an even better overview of the environment conditions in their facilities, and provides an easy way for Room Alert users to customize their alert messaging to make for even easier remote monitoring.
If you have questions about the features available to you in the Room Alert Account portal, you can visit our FAQ for more information. You can also contact us at Support@AVTECH.com or chat with us online through our live app on any product page.