Prevent Flooding, Mold Damage & More With Room Alert
Room Alert's proactive and advanced environment monitoring is a critical piece of a strong and comprehensive business continuity plan for all environment concerns. We know that water damage is 10x more likely to occur than fire damage, so having procedures in place to prevent and minimize flooding, mold and water damage is especially important. Room Alert, the most popular product for "IT & Facilities Environment Monitoring" worldwide, helps ensure your business's uptime, longevity and success.
It's crucial to implement Room Alert to prevent your organization, facilities, employees and assets from suffering due to costly downtime related to burst pipes which can lead to mold and mildew damage. As a business owner, it is necessary to be educated and have access to professional tools to accurately identify problems, such as leaky pipes, when they first start so you can take corrective action. Having clear disaster prevention and disaster recovery procedures in place allows you to quickly and efficiently solve any environment issues that may arise.
Room Alert uses various sensors to oversee potential threats in your facilities such as temperature, humidity, power loss, airflow, room entry and more. Our Room Alert Account services notify you as soon as threats are detected so you can address the situation and reduce the extent of damages. Room Alert helps our users minimize repairs and even bankruptcy so they can stay in business, keep employees safe and maintain a good reputation. By having the proper Room Alert monitors and sensors installed for the size and conditions in your facility, you can promptly and accurately be notified of changes in your environment. All-encompassing environment monitoring by Room Alert is the best solution for preventing water damage, flooding, mold growth, employee injury and more in your facilities.
Room Alert provides your organization with easy, dependable, affordable and customizable environment monitoring, which is why we are trusted by hundreds of thousands of users across 186 of 196 countries, in Antarctica, and in space. 30% of business downtime is caused by environmental factors, and organizations of all kinds and sizes can experience water damage. In an effort to ensure your operations run smoothly, we offer Flood Sensors with Cables, Spot Flood Sensors, Flood Protect & Control Kit to protect your assets and give you peace of mind before irreversible disaster strikes.
How Do Room Alert Sensors Prevent Water Damage?
The Flood Sensor with Cable is our most popular sensor for detecting the presence of water or other liquids in a facility. This sensor comes with cable length options for 8, 24 or 50 feet. If these lengths aren't suitable for your organization, Room Alert users can also purchase our 50' Flood Cable Extension. This sensor can be positioned up to 900 feet away from a Room Alert monitor by extending the cable that connects the sensor to Room Alert with any low voltage 2-wire cable, such as speaker wire. This sensor can also be manipulated around equipment such as pipes, HVAC units or freezers that could possibly leak and cause flooding.
As with all of our Room Alert sensors, RoomAlert.com will send users an alert notification if a liquid is detected at any point along the entire length of the cable, regardless of what length cable you are using. The Flood Sensor with Cable is perfect for protecting sensitive equipment in data centers, medical facilities and much more. It is suitable for small spaces but also a perfect option for large facilities where flooding or water damage could cause irreversible downtime. By investing in environment monitoring for water damage now, you save yourself a lot of lost time, energy and resources later.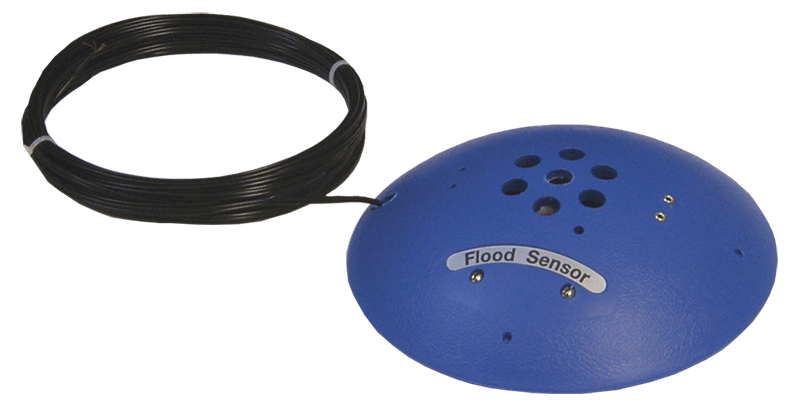 Our Flood Sensor (Spot) provides a different kind of water damage protection. It is a perfect solution for floors or other flat surfaces where flooding is a primary concern. It is powered by an included 9v battery so users can be sure environment monitoring with Room Alert is protecting their facilities even in remote locations where electricity is not available. The Spot Flood Sensor can be placed on the low point of a floor or near a specific area where pumps or drainage can be an issue. The Spot Flood Sensor comes with a 25-foot cable to attach to the Room Alert monitor. Same as the Flood Sensor with Cable, this sensor can also be extended up to 900 feet away from the Room Alert monitor.
Many Room Alert users install this sensor in basements, attics, remote storage locations and warehouses. Our trusted services on RoomAlert.com will send users a notification if water or other liquid is detected in the Spot Flood Sensor area. Because users are notified of the conditions of their environment based on the thresholds you decide, you will be able to act quickly and appropriately to take corrective action and prevent costly downtime related to water damage, flooding, mold and more.
How Does The Flood Protect & Control Kit Help?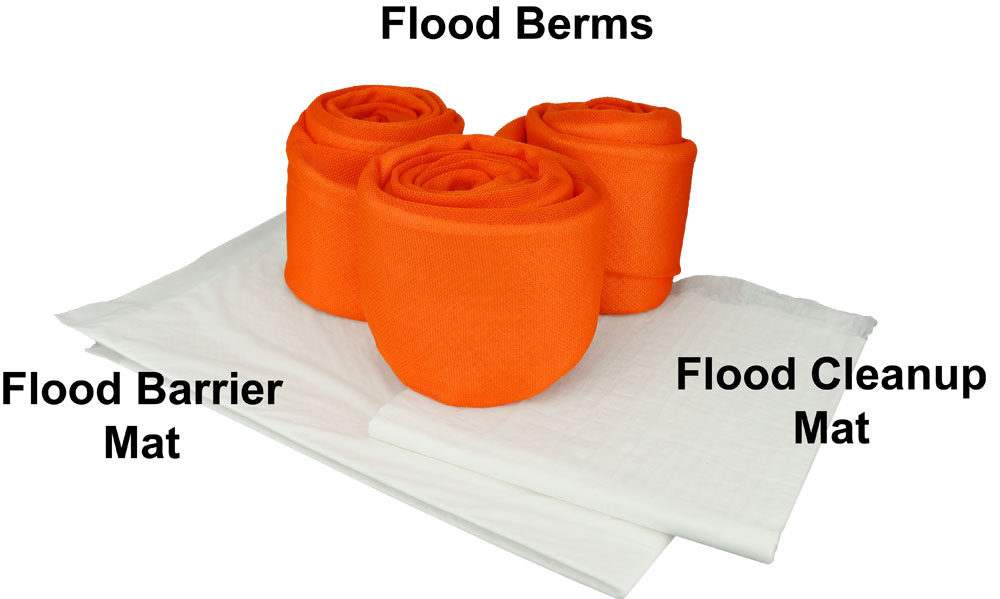 Our Flood Protect & Control Kits come in two sizes and include flood berms, flood barrier mats and flood cleanup mats. These are all great accessories to pair with your Room Alert sensors because they take proactive disaster recovery to the next level. The flood berms are flat when dry but are designed to quickly absorb liquid while forming a protective barrier that prevents liquid from spreading and reaching sensitive areas. Each flood barrier mat absorbs 1 quart of liquid. Each flood cleanup mat absorbs 1.5 quarts of liquid. Altogether, they make a completed kit for handling water damage before it gets out of control and causes severe downtime.
The Flood Protect & Control Kit is crucial for helping to prevent damage and downtime related to changes in your environment. While staff is starting to get alerted about a water leak, this kit is already proactively protecting critical equipment because it comes with everything your organization needs for preparing for unforeseen circumstances as well as minimizing damage once a situation, such as a small leak, is detected.
Did you know that the amount of liquid that can leak from a ⅛ inch pipe crack in a day is 250 gallons? For example, if your warehouse suffers from flooding when your staff is working remotely, the extent of costly downtime will continue to worsen until someone is notified and travels to the warehouse and physically takes corrective action.
Our Room Alert monitors, sensors and accessories are designed to prevent and minimize the costly downtime related to those kinds of issues. Our Room Alert hardware backed by our Room Alert Account services will be able to detect the presence of liquid in your warehouse and promptly notify you of the issue. Then our Flood Protect & Control Kit helps by physically preventing water from reaching sensitive or expensive equipment. By utilizing the Flood Berms and Flood Barrier Mats, water can quickly be absorbed and therefore stop the flow of water.
Now that you can quickly arrive on-site and address the problem, you can clean up and prevent any further damage from occurring.
Disaster Recovery And Mold Growth
For disaster recovery, the Flood Cleanup Mats are designed to clean up any excess water after the leak or other form of flooding has been contained. The Flood Cleanup Mats are perfect for addressing any additional liquid that was not previously stopped by the Flood Berms and Flood Barrier Mats. Luckily, with Room Alert protecting your organization, assets and employees, you can avoid having to deal with the repercussions of flooding and water damage. According to the Environmental Protection Agency (EPA), mold typically takes 24 to 48 hours to grow after a flood. That means that without Room Alert products installed to notify you of water leaks and help prevent extensive damage, mildew and mold damage, ruined inventory, employee injuries and more can easily happen. It is important to prevent these issues from emerging in order to increase productivity, ensure employee safety, maintain a good business reputation and save money and resources.
Room Alert helps you from becoming a part of the 14,000 people who experience a water damage emergency at home or work every day.
Room Alert offers all the sensor and accessory options you could ever need to prevent water damage and flooding in your organizations, facilities and businesses. Proactive environment monitoring with Room Alert will ensure you and your assets never experience costly downtime and water damage due to changes in your environment.
Contact Us
If you have any questions or want additional information on preventing water damage and flooding with Room Alert environment monitoring, please visit our YouTube Channel and be sure to read more of our articles here to learn many other reasons why you need Room Alert to prevent unnecessary and costly downtime. You can also speak with a dedicated Sr Product specialist via email at Sales@AVTECH.com, by phone at 401.628.1600, or through our Live Chat feature right here on our website. Don't wait until water damage causes downtime and damage for your organization – install Room Alert today to have peace of mind tonight.