Equip Schools With The Best Tools: Ultraviolet Light Sanitation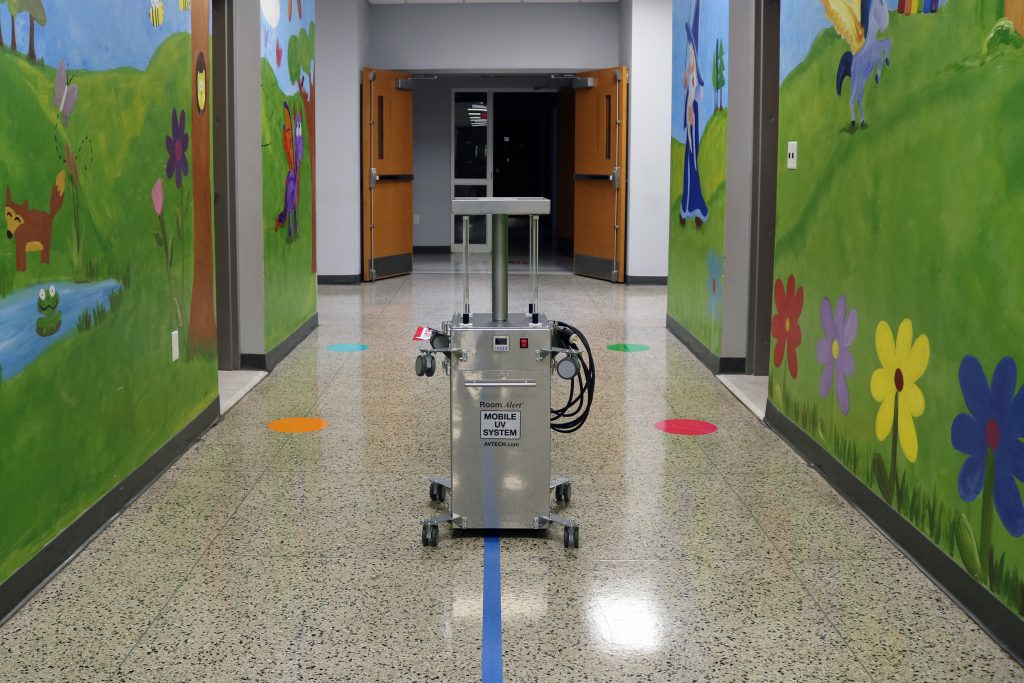 The Room Alert Mobile UV System is premier technology for disinfecting and sanitizing air and surfaces. Combined with routine cleaning and maintenance, this creates a comprehensive solution for ensuring people are protected from serious health concerns. The Mobile UV System is AVTECH's mobile, affordable and easy to use product for protecting people against viruses and bacteria that are impossible to see and are difficult to eliminate with standard cleaning. It utilizes powerful Ultraviolet Light to kill bacteria and inactivate viruses such as inactivating SARS-CoV-2 (COVID-19). 
The Mobile UV System is a critical component to successful Business Continuity and Preparedness Planning for businesses, facilities and organizations of all kinds. However this is especially crucial for educational settings such as schools and universities, as they review sending students back to school. This product was designed out of a need to efficiently prevent severe interruptions caused by health, safety and wellness impacts. With new and advancing technology, education settings are learning how UV rays can aid in school disinfection. This incredible tool is an important part of the multi-layered effort that will allow schools to reopen in a way that prioritizes the ultimate goal; to keep students, faculty and staff safe.
As we know, reopening schools in today's global climate is complicated. Schools, universities and colleges function as mini cities, meaning there are many moving parts that must all be managed to facilitate a safe and effective learning environment. There are standard classrooms and lecture halls, cafeterias and kitchens, science labs, dormitories, gyms, and more. These places can become quickly saturated with bacteria and viruses if not cleaned and sanitized properly and routinely. Thankfully, the development of Ultraviolet light provides a safe and appropriate solution. However, a lot of UV Systems come with many downsides. They can be extremely costly, expensive and time-consuming to install and may output UV spectrum that is not effective or even more dangerous like UV-A or UV-B.
Fortunately, we've considered all of those issues and provided a superior, top quality solution. The Room Alert Mobile UV System is compact, affordable, easy to use and safe. It highlights a key component to Business Continuity Planning, ensuring your people are safe and healthy. With many school districts prompting conversations about reopening for this academic school year, it is vital that the safety and wellbeing of students be seriously examined from all angles before taking any potentially life-threatening risks. Ultraviolet Light Sanitation is an innovative and advanced method with scientifically proven results. Our solution offers mobility, affordability and more to provide you with peace of mind that you're protecting your people with the best equipment.
The Mobile UV System is available in 110V and 220V models for use worldwide. It is CE certified and UL rated for superior quality & reliability. It comes with a multi-year product warranty because we are fully confident we're providing a dependable, reliable product. The Mobile UV System uses 4 UV-C light tubes, each drawing 35 Watts of power, which means its power consumption is approximately equivalent to a 150 Watt flood light, so no special electrical accommodations are required. For large classroom or lecture hall settings, multiple Mobile UV Systems can be stacked on top of each other for double UV-C strength.
For easy use, the Mobile UV System can be unpacked and operational within 10-15 minutes. It requires no training or special skills, and comprehensive operating and safety instructions are included. To use the Mobile UV System, simply wheel it into a classroom, turn it on, set the timer for the amount of time appropriate for the size of the room, and leave the room while it goes to work sanitizing the air and surfaces. The Room Alert Mobile UV System uses no sprays, no chemicals and no solvents, so it is completely safe to enter a room immediately after use once the UV-C lights have automatically turned off.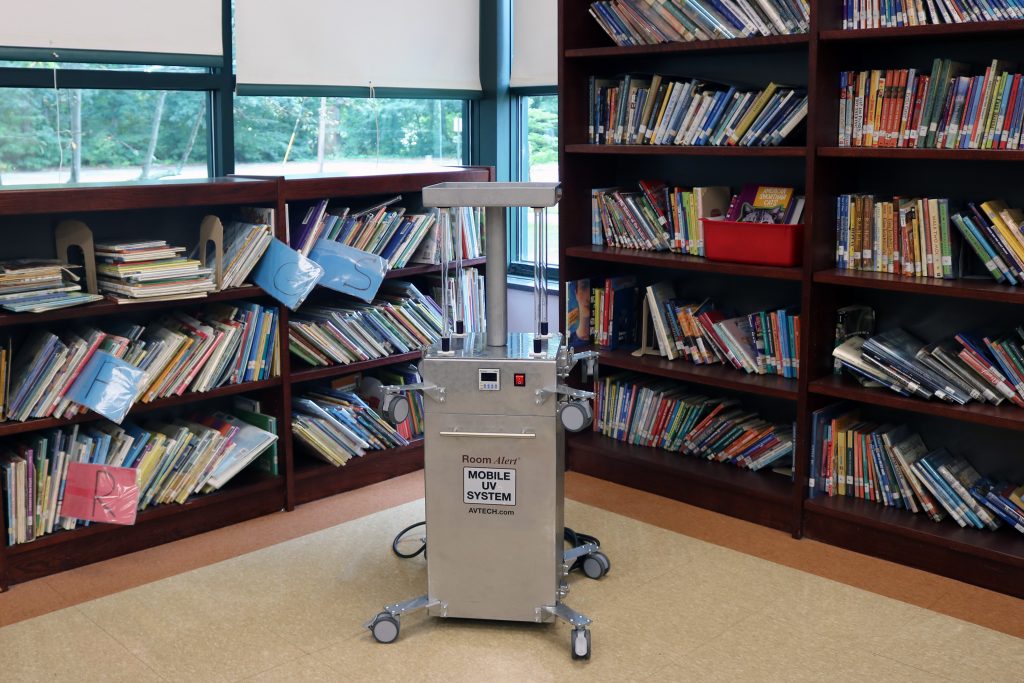 Perhaps the best feature of the Mobile UV System is how portable it is! The Mobile UV System includes a metal protective cover that doubles as a rolling stand. You're not committing to paying for additional labor costs, nor will you be physically installing equipment into a building that you're now extremely invested in. The entire system is mobile. If you ever change locations, you can very easily and quickly take the Room Alert Mobile UV System with you.
Families and communities are justifiably concerned about the health and well-being of their students, teachers, administrators, and support staff as we approach the academic school year. The technology behind the Mobile UV System can easily, affordably, and quickly be added on to regular cleaning routines, and be trusted nightly to help disinfect surfaces before students and staff return the next day.
Let your students and staff know you care about their health and wellbeing by using the Room Alert Mobile UV System to protect them from dangerous microscopic bacteria and viruses that cannot be effectively killed or inactivated otherwise.
Contact Us
For more information about keeping students, faculty and staff safe with the Room Alert Mobile UV System, please email us at Sales@AVTECH.com or reach out to your dedicated Product Specialist. Have peace of mind tonight knowing your people are protected by Room Alert. Don't wait until it's too late!