Why The Room Alert Mobile UV System Is The Superior Choice For Sanitizing & Disinfecting
Room Alert UV Technology Fights Health & Safety Threats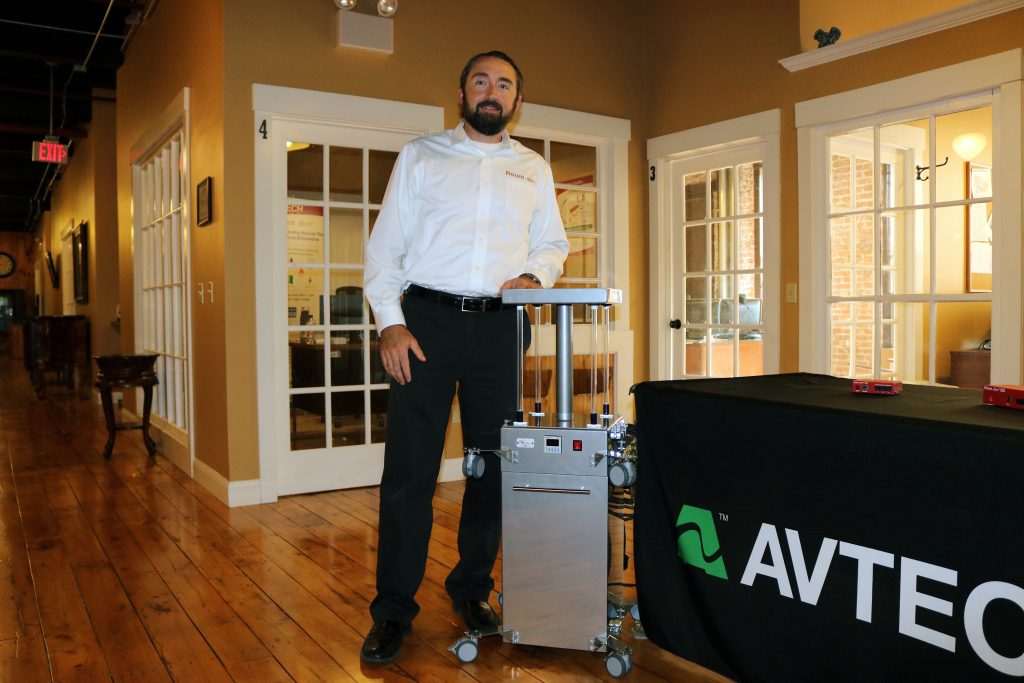 As we discussed in our previous article, UV light has been scientifically proven to be extremely effective for sanitizing and disinfecting air and surfaces. The technology behind UV light helps make shared and public spaces safer for everyone to experience, which has become especially important during the COVID pandemic. As this technology has developed and advanced, UV light has been utilized in classrooms, hospitals, hotels, banks and restaurants just to name a few. Think of any business or facility where there are students, faculty, staff, tenants, customers, or employees physically entering and leaving a space. In schools and colleges, students are touching everything from their desks to the cafeteria to the dorm rooms. In restaurants, customers are eating and drinking at their tables. In apartment buildings, tenants are sharing the gym and locker rooms. The best approach that business owners, facility managers, and people in leadership positions can take is to prevent downtime caused by illness or closure due to safety concerns. They can do this by identifying spaces where there is a potential for bacteria and viruses to survive. Then, identify what tools are available and most effective to minimize and avoid all safety concerns. This is where UV light sanitation plays a huge role in improving people's safety and wellbeing. UV light sanitation and disinfection prioritizes people's safety and wellbeing by killing bacteria and inactivating viruses.
The Room Alert Mobile UV System is perfect for keeping people and spaces safe due to its mobility, ease of use, low cost, certifications, mess-free and proven 99.9% effectiveness in killing microbes. The Room Alert UV System is also safe to use, and quick and easy to set up. It can be unpacked and operational within 10-15 minutes. It requires no complex training or special skills for use and it does not use any sprays, chemicals or solvents. 
Once our Room Alert Mobile UV System is set up, simply roll it into the area you want to clean, such as a hotel room that needs to be sanitized before the next guest. Then, plug it in and set an appropriate timer given the size of the room you're cleaning. If you're cleaning a large space, multiple Mobile UV Systems can be stacked on top of each other for double UV-C strength. The timer will allow you a generous grace period to exit the room before the UV lights turn on. The bulbs will illuminate and use their UV-C light to kill all bacteria and inactivate all viruses on any surfaces or in the air. After the device has finished running its cycle, it is immediately safe to reenter the room because the Room Alert Mobile UV System doesn't leave behind any dangerous chemical or spray residue.
With the recent COVID-19 pandemic, we've all learned the significance of sanitizing and disinfecting air and surfaces as it is vital to people's safety and wellbeing. Not only is this important now during the height of the pandemic, but it will continue to be important as we move forward. While standard cleaning is certainly a valuable part of keeping public spaces safe and clean, it is not the entire solution because it is not comprehensive enough to account for risks that the human eye cannot even see. In order to achieve an all-encompassing cleaning routine, UV-C light should be utilized. The power of UV-C light has been found to help further disinfect air and surfaces more than physical cleaning ever could. Our Room Alert UV System uses compact Germicidal UV (GUV) lamps which have been scientifically proven to kill bacteria and inactivate viruses similar to SARS-CoV-2. Our Room Alert Mobile UV System is the most affordable, effective and ideal solution for any business, facility or organization that wants to prevent downtime caused by health, safety and wellness impacts. Other situations that can benefit from the Room Alert Mobile UV System are office buildings, casinos, retail stores, public transportation, public restrooms and any other shared space.
As leaders in Business Continuity Planning and Environment Monitoring, AVTECH has been protecting facilities and helping prevent costly downtime since 1988. Our Room Alert proactive environment monitoring products include monitors, sensors, accessories and online account services that all work to help keep organizations protected by preventing and minimizing costly downtime due to changes in the environment. Now the Room Alert Mobile UV System is here to protect students, employees, tenants, customers and more by preventing downtime caused by health, safety and wellness impacts from all kinds of bacteria and viruses.
Despite there being other products on the market that utilize UV light sanitation, none can compare to the value offered by our Room Alert Mobile UV System. One major benefit with the Mobile UV System is cost. Similar UV systems can cost 5, 10, or even 20 times more than a single AVTECH Mobile UV System. With technology that's effectiveness has been scientifically proven, why spend more than you have to? Especially if your business, organization or facility is substantial and would require large deployment, that quickly becomes a massive savings.
Another huge benefit with our Room Alert UV System is its mobility. Again, similar UV systems are usually built into a building structure or installed as part of the HVAC system. This is inconvenient for many reasons. Firstly, it restricts use by not being able to fully disinfect surface areas. Secondly, these types of systems become even more costly because they typically require installation labor. Not only does this cost money and resources, but it is time consuming as well. The third reason why other UV systems just cannot compete with Room Alert is because they are not portable. Because the Room Alert Mobile UV System is on wheels, you can easily and quickly take it with you. As you move room to room, it comes with you. If your business or facility location ever moves, it comes with you. Our Room Alert Mobile UV System is a life-long investment that will be by your side, literally, even as your plans and business changes and evolves.
Electrostatic Sprayers vs Room Alert Mobile UV System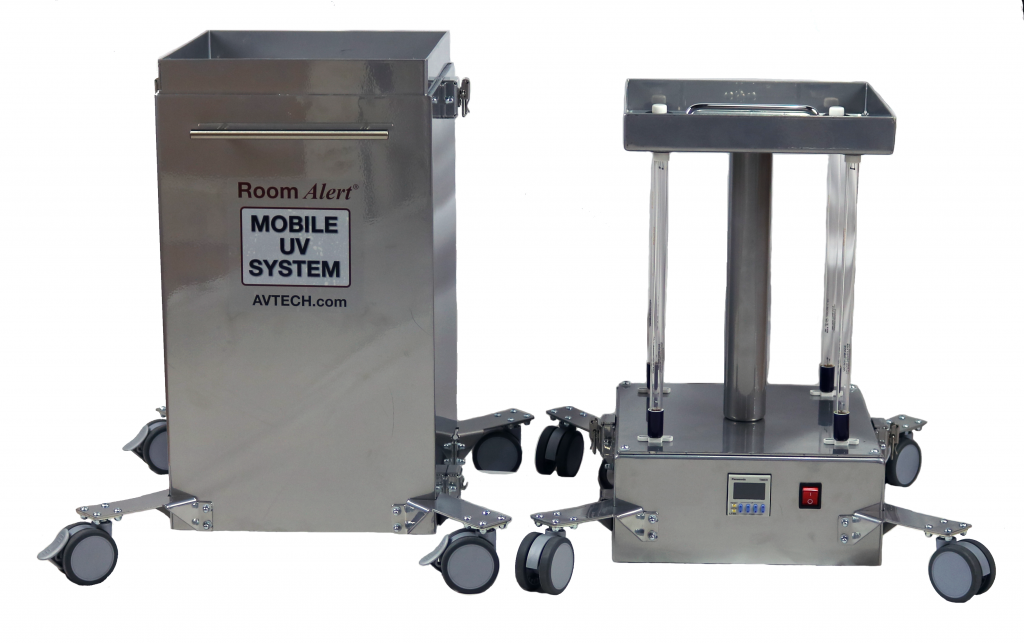 One specific product on the market that has been compared to the UV light technology behind our Room Alert Mobile UV System is electrostatic sprayers. This is a similar solution used to clean and disinfect surfaces. However, our Room Alert Mobile UV System is the safer and easier-to-use alternative for many reasons. Electrostatic sprayers, "work by charging the liquid disinfectant as it passes through the sprayer nozzle. This generates charged droplets that repel one another and actively seek out surfaces, which they stick to and even wrap around to coat all sides." This means that the effectiveness of electrostatic sprayers comes from the chemicals they are spraying. Whereas the effectiveness of our Room Alert UV System comes from a scientifically proven dosage of UV light that has been recommended by the National Emerging Infectious Diseases Laboratory at Boston University to help inactivate SARS-CoV-2.
Our UV light is superior against electrostatic sprayer chemicals that can be dangerous and damaging to both people and technology.
Though some companies claim spray chemicals have been found to be safe around technology and electronics, that isn't fully accurate. Several forms of costly downtime can arise from using electrostatic sprayers. If electrostatic sprayers are used even slightly too concentrated in one area around technology and electronics, equipment can be irreversibly damaged by the liquid spray. Monitors, laptops, desktop PCs, keyboards, projectors and other equipment are all susceptible to damage from liquid sprays. Equipment damage can lead to hardware failure, data loss and spell disaster for your organization. The major advantage of sanitizing and disinfecting air and surfaces is to prevent downtime caused by health, safety and wellness impacts, but can this truly be effective if the product you're using just ends up causing a different form of downtime for your business?
That isn't the only risk of using electrostatic sprayers. Another dangerous issue that can arise from using chemical methods versus our safe Mobile UV System is flammability. In many cases, the kinds of chemicals being sprayed have a very high alcohol content to encourage evaporation of the chemical liquids. A high alcohol content means everything being coated in it suddenly becomes highly flammable with an increased explosive risk for a period of time. This translates to real-life threats. If temperatures rise, in a data center for example, or a restaurant kitchen is exposed to something hot after it was just sprayed with chemicals, or the liquid is sprayed where there is a risk of sparks, that creates a fire or even explosive risk depending on the concentration. This is dangerous to anyone or anything in that space. It can again result in costly downtime and damages, both in time and money.
Those are not the only potential downsides. Electrostatic sprayers cannot do anything to kill airborne viruses and bacteria. The Room Alert Mobile UV System kills bacteria and inactivates viruses on surfaces and in the air. Chemicals can only be effective on surfaces. Also, in order to use an electrostatic sprayer, someone must walk around and spray the facility. With the Room Alert Mobile UV System, it can be sanitizing and disinfecting a room while you're focusing on other tasks at hand. This saves you time, money and resources. If you still decide to use electrostatic sprayers, you'll have to wait an extended period of time. Most are currently on backorder so you likely will not receive your purchase for several months. However, we have plenty of inventory so the Room Alert Mobile UV System is ready to ship now.
When you take a step back and consider all of the issues that can come from using electrostatic sprayers or other UV light sanitation alternatives, the choice becomes clear. We are confident that our Room Alert Mobile UV System is the best choice for keeping people safe by preventing and minimizing downtime due to bacteria and viruses that pose serious health and safety risks. We're so excited for our customers to experience safe, affordable and effective sanitizing and disinfecting with the Room Alert Mobile UV System.
Contact Us
For more information about keeping facilities, equipment and people safe with the Room Alert Mobile UV System, please email us at Sales@AVTECH.com or reach out to your dedicated Product Specialist. You can also contact us through our online Live Chat service, or via phone 401.628.1600.
Please visit our YouTube Channel and read our articles here to learn more about the Room Alert Mobile UV System. Have peace of mind tonight knowing your people are protected by Room Alert. Don't wait until it's too late!