Our Business Downtime Calculator – A Tool You Can Count On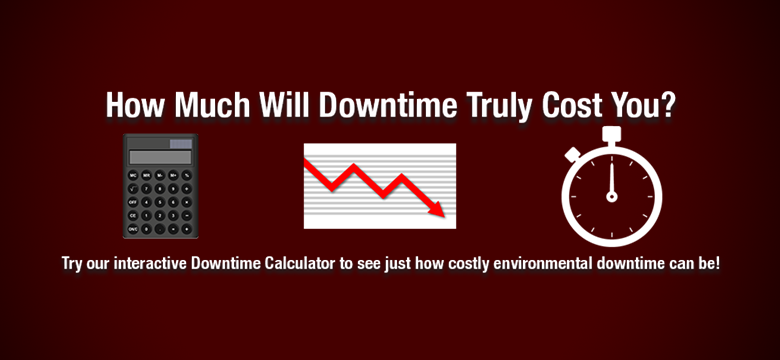 We recently launched a new and exciting free tool on our website – our interactive Downtime Calculator! Downtime is any period of time where routine business is stopped or interrupted. This can occur due to a wide range of unforeseen circumstances that threaten usual business operations. Downtime can come from environmental issues, cybersecurity threats, hardware failure and much more. 
Our proactive Room Alert environment monitors, sensors, accessories and online Room Alert Account services have been helping businesses of all kinds and sizes prevent costly environment-related downtime for years now. As leaders in Environment Monitoring & Business Continuity, we're always looking for ways to improve and continue to support our customers. We designed our interactive Downtime Calculator tool to express how much it can end up costing you by not proactively preparing for all potential threats of downtime, with equipment such as Environment Monitoring, as a part of your Business Continuity Planning overall. Our Downtime Calculator works by understanding 3 basic elements of your organization and interpreting that information to tell you how much you can lose in lost productivity and revenue due to downtime. Our Downtime Calculator asks   
What is your annual revenue?

How many employees do you have?

What is an average employee's salary?  
Our goal for developing the Downtime Calculator is to highlight and truly emphasize just how devastating downtime can be. Many businesses have the common misconception that 99% of annual business uptime is adequate, but any downtime at all is still detrimental. Experiencing only 1% of annual downtime might sound favorable at first, but depending on the size of your business, that 1% of downtime could still end up in thousands of dollars of lost revenue and productivity. 99% of annual uptime still results in 3 days 15 hours 36 minutes of downtime a year! According to Gartner, the average cost of network downtime can be around $5,600 per minute. That is around $300,000 per hour. Take a moment to reflect on what over 3 days of downtime would cost your business.   
Any amount of unexpected downtime, whether it be minutes, hours or days, can still lead to negative employee morale, data loss, equipment damage, a hit to your business's reputation and more. After trying our Downtime Calculator and plugging in various numbers, you'll find that downtime is deadly to facilities, regardless of their size. Most small organizations don't have the extra time, money and resources to allocate to repairing damages that could have been easily prevented or at least dramatically minimized. Larger organizations with significantly more funds, expensive equipment and employees can stand to lose hundreds of thousands of dollars in minutes of downtime. In either case, the likelihood of your organization going out of business is drastically increased when you aren't taking the proper preventative measures to address and identify protocol for potential threats before they unfold to disaster-level interruptions.
The best way to prepare and prevent downtime from occurring is with an effective and all-encompassing Business Continuity Checklist. Our Business Continuity Checklist paired with our Downtime Calculator are our two strongest tools for showing why downtime is important to prevent and the details on how to do so. For organizations of any size, it is crucial to protect the assets you currently have for any future disruptions that might come up. Our Downtime Calculator is Step 1. It shows you just how much your business can stand to lose in the face of downtime. Our Business Continuity Checklist is Step 2. It shows you how to create a detailed and effective workflow for tackling any and all potential threats of downtime. 30% of downtime stems from environment-related issues such as high heat, water leaks, power loss and more. Of that 30%, half of all environment-related downtime is due to temperature and humidity conditions. Our Room Alert environment monitoring products, supported by Room Alert Account, serve to help prevent and minimize costly downtime and damages.  
Our hope is that this Downtime Calculator demonstrates to you how tremendously risky it is if your facilities aren't actively monitoring the conditions in the environment.
Contact Us
You can speak directly with a dedicated Sr Product specialist via email at Sales@AVTECH.com, by phone at 401.628.1600, or through our Live Chat feature right here on our website. For more information about preventing costly downtime with Room Alert proactive environment monitoring, please visit our YouTube Channel and be sure to read more of our articles here.  
Don't wait until irreversible damages due to flood, fire, room entry and more causes downtime in your facilities – install Room Alert today to have peace of mind tonight.