Look Up Your Order Status In Room Alert Account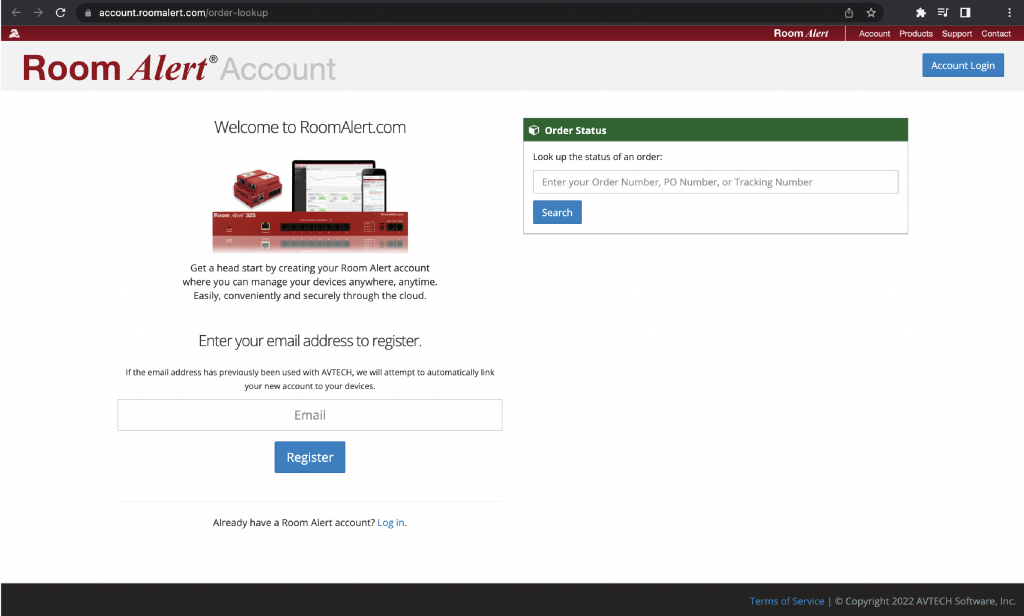 We are thrilled to introduce a brand new "Look Up Order Status" tool at RoomAlert.com. This tool makes it easier than ever to check an order status, and you don't even need to be a registered Room Alert Account user to access this tool. Previously, if customers wanted to look up the status of their order, they would only be able to do so once the order had shipped and tracking information was available. Now, customers can view their order status at any time, regardless of if the order has shipped or not.
How To Look Up Order Status
In the "Order Status" box in Room Alert Account, customers have the option to enter several different pieces of information to help us locate their order. You can either enter the order number, PO number, reseller PO number, or tracking number. If we identify multiple orders, Room Alert Account will prompt you for the zip or postal code. Once your order is found, Room Alert Account will populate this page with all available information. You will be able to see 
Order status 

Billing status 

UPS, FedEx, DHL, or USPS Status (depending on what shipping method the order uses) 

Order number

Customer PO number

Reseller PO number

Date the order was placed

Shipping method

Location the order is shipping from

Tracking number (if applicable)

Date the order was shipped

Date the order was delivered

Name of who signed for the package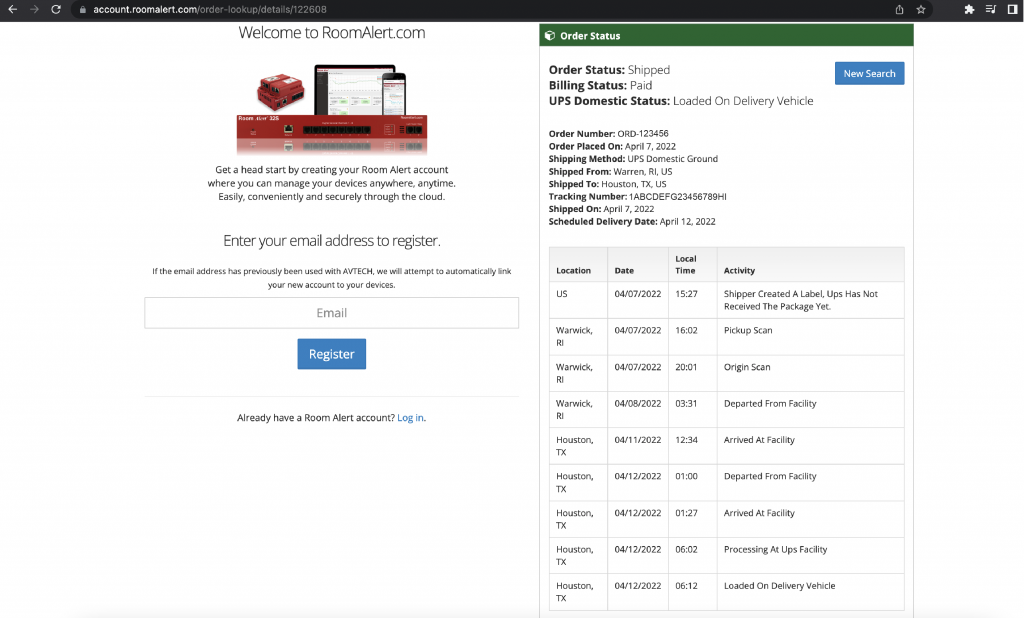 Customer Data Privacy & Security
Our top priority is always to keep customer data as safe and secure as possible. We have accounted for all privacy impacts to ensure that we are following our own data privacy and data security policies, as well as keeping all customer information safe. With this in mind, we have removed all personally identifiable information (PII) from the order status. This feature will not allow you to see the name of the organization, the contents of the order or the address of where the order is shipping to.  
We are excited to provide our customers with the ability to look up their order status at any time in Room Alert Account. Room Alert provides peace of mind, and we hope our customers take comfort in knowing that they can always check on their order status.
Contact Us
If you have any questions about how to use the "Look Up Order Status" feature in Room Alert Account, please contact us by email at Sales@AVTECH.com, our online Live Chat service, or via phone 401.628.1600.