From High To Low, The Digital Extreme Temperature Sensor Keeps You In The Know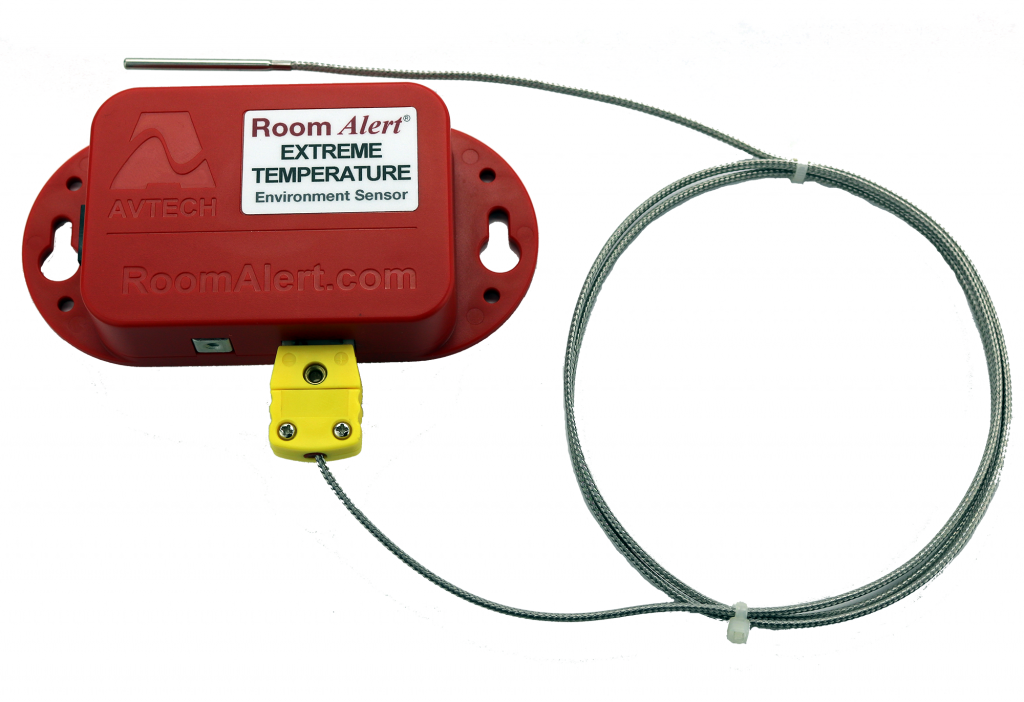 Temperature is the most critical environmental condition for businesses and facilities to monitor, as it leads to 35% of all environmental downtime. Both extreme hot and extreme cold temperatures can pose a serious threat to employees, customers, data and other valuable assets within your organization. Our Digital Extreme Temperature Sensor is the perfect solution for monitoring a wide range of temperatures while preventing costly downtime. This sensor can accurately monitor a range of -328 degrees Fahrenheit to 932 degrees Fahrenheit (-200 degrees Celsius to 500 degrees Celsius). On top of being an extremely accurate and powerful temperature sensor, it also operates directly from Room Alert with no additional external power source required. If monitoring temperature is at all important to your Business Continuity Planning, then the Digital Extreme Temperature Sensor is for you.
Extreme High Temperatures
Many businesses, organizations and facilities are concerned about extreme heat and humidity. For example, if you are a manufacturing company then you probably have massive industrial ovens and furnaces in your facilities. This equipment heats up to extremely high temperatures of roughly 250 degrees Fahrenheit (121 degrees Celsius) to 900 degrees Fahrenheit (482 degrees Celsius). Staying within the appropriate temperature range for your manufacturing setting is critical to maintaining the integrity of your products, but a standard temperature sensor could potentially melt in that extreme environment. Our Digital Extreme Temperature Sensor was specifically designed with these types of applications in mind. The Digital Extreme Temperature Sensor will proactively oversee the temperature in your manufacturing facility. If Room Alert detects the temperature drops below or reaches above the range you have already set, Room Alert will notify you via text or email. This prompt alert notification buys you time by allowing you and your team to respond quickly and take corrective action before disaster strikes.
Extreme Low Temperatures
While extreme high temperatures are very important to monitor, the same goes for extreme low. There are various settings where you may need to maintain an extreme cold temperature to keep vaccines, food or other equipment safe. Most cold storage settings need to stay within 32 degrees Fahrenheit to 38 degrees Fahrenheit (0 degrees Celsius to 3.3 degrees Celsius) but some need to be much colder. For example, if you are a pharmacy then you have medication stored in refrigerators and freezers. That means that you need to ensure that your refrigerated materials are properly chilled without freezing. In the case of vaccines, they need to maintain a precise temperature to remain effective. The Digital Extreme Temperature Sensor can help you keep your materials at the correct temperature so nothing gets too warm or too cold. Or if you are a restaurant storing food and beverages, those also need to be stored at 0 degrees Fahrenheit (-18 degrees Celsius) to remain preserved and safe for consumption. From hospitals to medical labs, food storage facilities, warehouses and cold storage settings of all kinds and sizes, our Digital Extreme Temperature Sensor will help you protect your assets and keep your cold storage cold.
Buy Time & Peace Of Mind
Our Digital Extreme Temperature Sensor is an affordable and reliable tool that provides peace of mind, so you can take comfort knowing your assets are safe from extreme high and extreme low temperatures. Having Room Alert installed is like having eyes on-site at all times because it is ready to notify you the moment a potentially negative environmental change occurs. From temperatures as high as 932 degrees Fahrenheit (500 degrees Celsius) and as low as -328 degrees Fahrenheit (-200 degrees Celsius), Room Alert keeps you in the know so you never fall victim to thousands of dollars in downtime, repairs or lost productivity from avoidable damage.
Contact Us
If you have any questions, please contact us today through email at Sales@AVTECH.com, through our online Live Chat service, or via phone at 401.628.1600.      
You can also visit our YouTube Channel and read our articles here to learn many other reasons why you need Proactive Environment Monitoring with Room Alert.