BREAKING NEWS – OSHA Launches National Emphasis Program To Protect Workplace Safety & Room Alert Has You Covered!
In July of 2023, the U.S. Department of Labor's Occupational Safety and Health Administration announced their newest initiative aimed at preventing workplace hazards in warehouses, processing facilities, distribution centers, and high-risk retail establishments. This NEP comes as a direct response to data from the Bureau of Labor Statistics which revealed considerably elevated injury and illness rates within these establishments compared to others. According to Assistant Secretary for Occupational Safety and Health, Doug Parker, "Our enforcement efforts are designed to do one thing: lead to permanent change in workplace safety." Room Alert environment monitoring has been encouraging businesses to follow OSHA best practices for years now, and we are committed to continuing to support OSHA's efforts.
The Room Alert platform helps employers maintain safe working environments by proactively monitoring conditions such as temperature, humidity, heat index, power, water/flood, smoke/fire and more. As emphasized by OSHA's most recent program, extreme temperatures are responsible for the vast majority of workplace hazards. Room Alert can help dramatically reduce the negative impacts that extreme temperature has on employees, and entirely prevent incidents from occurring in the first place.
Environment Monitoring With Room Alert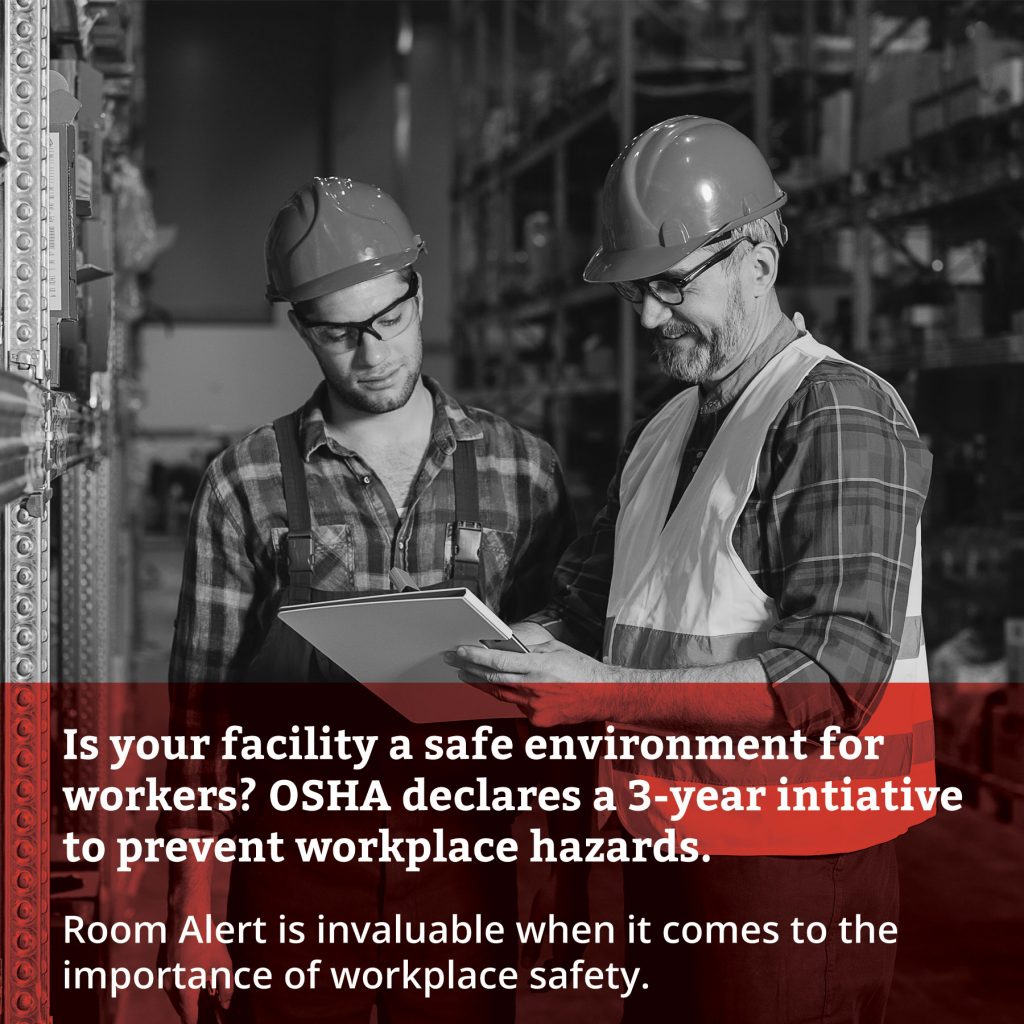 If current weather patterns are any indication, the threat of potential heat hazards in the workplace will only continue to strengthen in numbers and intensity. Room Alert environment monitoring provides employers with valuable insight on their environmental conditions and so much more data interpretation to help prevent all kinds of costly unplanned outages. Room Alert provides peace of mind.
When a change in the environment is detected, Room Alert will promptly notify you and your team via custom push notifications, native SMS text messages, email and more so you can quickly take the necessary steps to keep employees safe and comply with OSHA's new national emphasis program. With Room Alert installed in your warehouses, processing facilities, distribution centers, and high-risk retail establishments, employers can easily adhere to current OSHA heat guidance as well as potentially stricter mandates to come. Room Alert environment monitoring offers a comprehensive solution to detect and respond to environmental changes that can lead to a wide variety of workplace hazards.
OSHA's new NEP targeting warehouses, processing facilities, distribution centers and high-risk retail establishments underscores the importance of workplace safety. By focusing on these industries and the hazards they face with the help of Room Alert environment monitoring, employers can prevent accidents, protect workers and promote a culture of safety. Employers and employees alike stand to benefit from this proactive approach, which not only reduces risks but also contributes to improved morale, reduced costs and enhanced overall industry reputation.
Contact Us
If you have any questions or want additional information on how Room Alert can help you prevent workplace hazards, please contact us today through email at Sales@AVTECH.com, through our online Live Chat service, or via phone at 401.628.1600.