Notice Of Important Service Change
January 14, 2015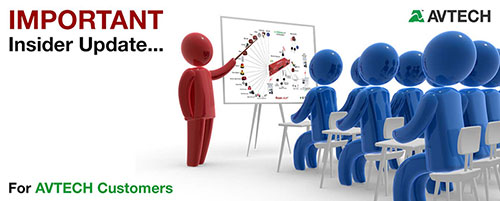 AVTECH has transitioned the Maintenance Support & Update Service (MSUS) program and modified its Limited Hardware Warranty. Going forward, download access to firmware, software, plugins, MIBS and technical support is incorporated into our new GoToMyDevices (GoToMyDevices.com) cloud service. By doing this, AVTECH is eliminating the concept of paying for each monitoring device purchased or in use. An organization's use of the GoToMyDevices service is completely optional and based upon the services you desire to utilize from that platform. If an organization only wants download access and email support, then it can subscribe at the lowest-priced option. Customers who have recently purchased products from AVTECH are already aware that all tracking information and download access to AVTECH products is managed through GoToMyDevices.
All first time purchases of a Room Alert hardware monitor by an organization include a one (1) year Personal subscription to GoToMyDevices at no charge. Any additional purchases of Room Alert monitors during a single month will extend an active subscription by an additional month at no charge, regardless of the subscription level a subscriber is using. If an organization purchases another Room Alert monitor after their previous MSUS or subscription to GoToMyDevices has expired, then they will be provided with a temporary subscription to GoToMyDevices to re-evaluate the optional service levels available, download current products to update all of their previously purchased hardware monitors, and obtain technical support during the term of that temporary subscription. There is no need to subscribe on an ongoing basis. This can dramatically reduce ongoing costs for customers while keeping AVTECH products up to date and running at their best for years of service.
Customer organizations that currently have an active MSUS service are being automatically converted to the new platform with no further requirement. When their service is scheduled for optional extension, they will be notified. This protects their investment and extends their access to software & support services. If an organization has questions, AVTECH recommends contacting the assigned Product Specialist at AVTECH.
AVTECH's Limited Hardware Warranty has also been modified to eliminate ongoing extensions to the hardware monitor replacement period. It now ends at the conclusion of the first year after a monitor is purchased. After that time, if a non-working monitor cannot be recovered by working with AVTECH's technical support team or a qualified reseller technician, an option to purchase a new replacement monitor (i.e. the ID box only) at a significant discount will be temporarily made available. The non-working monitor will then be removed from service and there will be no need to return that hardware monitor to AVTECH as previously required.
After serving customers since 1988 by replacing failed hardware with the exact same model of monitor, we believe this change will allow organizations to replace a failed hardware monitor with the latest technology. This creates a positive upgrade opportunity instead of an inconvenience where the hardware was previously replaced with the exact same model that may be many years old by the time of a failure. Instead, customers will now be allowed to purchase an equivalent or better, more feature-rich monitor in AVTECH's Room Alert line at a very special one-time, replacement price.
Most technical support issues remain avoidable by staying current with the latest version of firmware and software. If help is needed, most situations are recoverable by contacting and working with an AVTECH technical support specialist or qualified reseller technician.
To learn more, contact AVTECH or see the following:
* Learn more about GoToMyDevices cloud service.
* Download AVTECH's Limited Hardware Warranty.
Thank you. We appreciate your business.