Highlights From Recent GoToMyDevices Feature Releases
July 29, 2015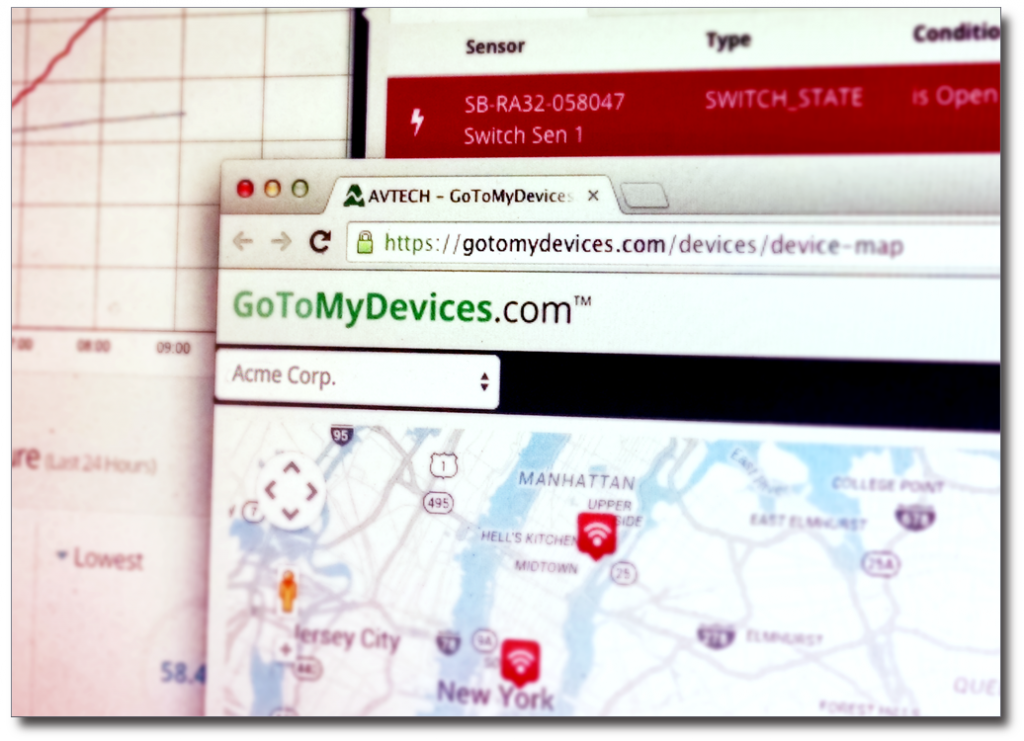 It has been only six months since our official launch of GoToMyDevices, and quite a bit has changed. We recently recorded our 1.5 Billionth data sample and are monitoring devices for customers in 179 countries around the world! During this incredible growth, we have continued investing in the GoToMyDevices platform with the addition of new features, improvements to existing features and performance optimizations that keep it operating at its very best.
In the past six months, we have had significant feature releases every 2-4 weeks, with minor fixes and updates released as they are available. As a subscriber to GoToMyDevices, these improvements are available to you instantly, with no software for you to install or update. We do all the heavy lifting to keep your account up to date with the latest version of GoToMyDevices.
With so much changing on a regular basis, it can be difficult to keep track of what is new and what has changed. Our goal here is to summarize some of the important improvements and changes that have been released recently so you can be sure you are maximizing the capabilities provided to you through your GoToMyDevices subscription.
_______________________________________________________________
Locations & Maps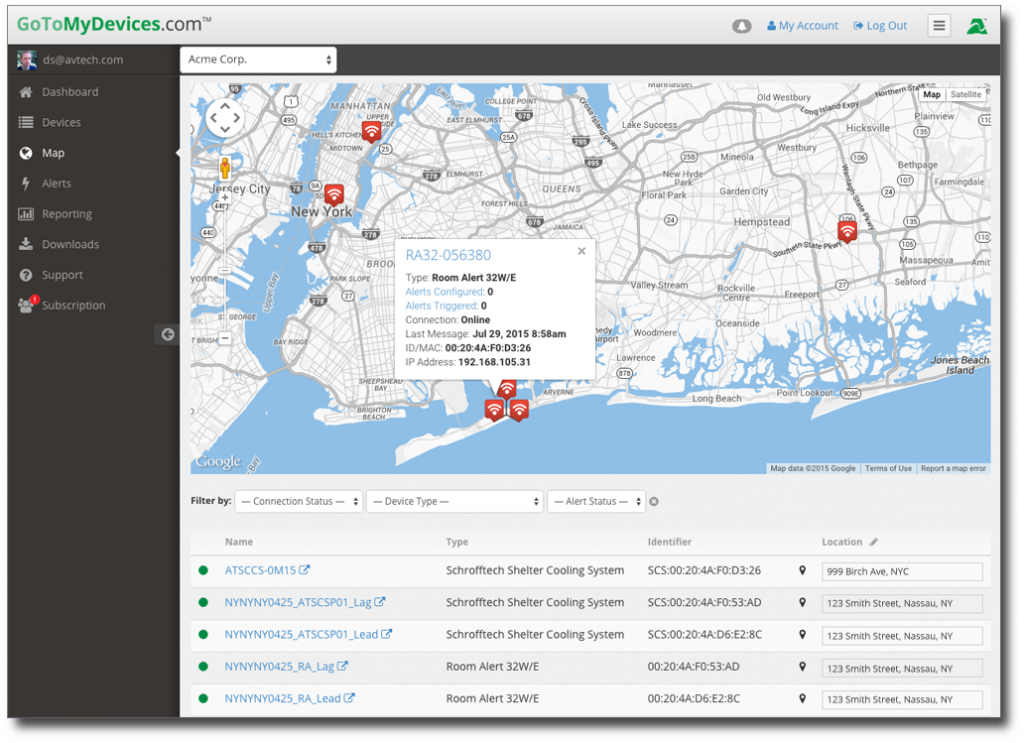 One of the most exciting features to be released recently is support for Maps. In the last six months, we have learned that many of you are monitoring multiple sites and locations. Sometimes these are in the same town or city, and other times the are in different states or even different countries.
GoToMyDevices has always made it possible to monitor devices at multiple locations, and create Alerts and Reports for those devices. Now you have a way to visually look at your world, see where you have devices installed, and immediately know what locations have Alerts in progress or may require attention.
Easily Update Device Locations
Entering locations for your devices is easy and convenient. Your devices are displayed below the map, and you can simply click the location field for each device to enter a street address, zip code, coordinates, or any other location you desire that can be displayed on a map.
Going forward, we anticipate many enhancements to the Maps feature, so log in to your GoToMyDevices account regularly to check for updates.
_______________________________________________________________
Improvements To Reports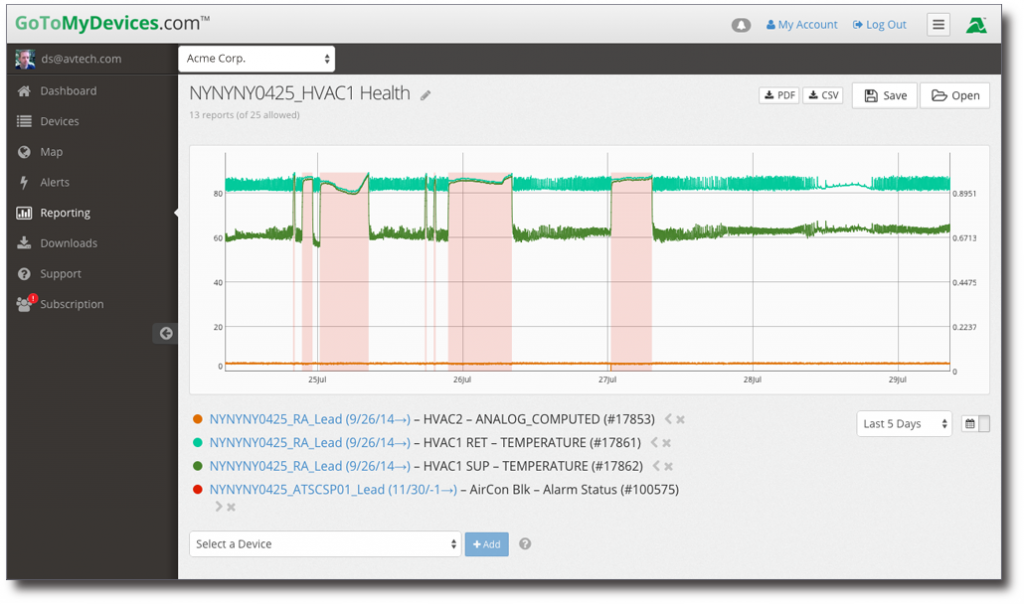 Many of you are using Reports to identify trouble spots and trends that may indicate a pending issue. Others are comparing temperatures between locations or facilities to look for sites or locations that are not operating within expected norms. Our Reports feature allows you to create custom graphs showing sensors from multiple devices in multiple locations, overlaid on the same display for quick and easy comparisons.
For sensors with similar readings, this works great. However, sensors with different scales can be difficult to compare. For example, switch sensors have readings of either 0 or 1. When put on the same graph as a temperature, you may not even see the transitions from 0 to 1 at the bottom of the graph, since the temperature readings are so much different.
Reports With Multiple Scales
We have a solution! You can now have multiple 'Y-Axis' scales on your graph. Each sensor has a small arrow next to it indicating which side of the graph it is currently displayed on. Simply clicking the arrow will move the sensor to the other side of the scale. This means that you can now have sensors like temperature on the left side of your scale, and sensors like switch sensors on the right side, making the resulting Report much more useful. The Report shown here illustrates how much easier it is to visualize related temperature and switch sensor data with the switch sensor moved to the right side of the graph.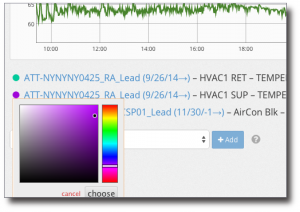 Customizable Graph Colors
You may also now customize the color used for each sensor. Simply click the colored circle in the legend below the graph to choose any desired color from the color wheel. If you haven't tried our Reports feature recently, log in and check it out! It's a fun and easy way to visualize the data reported by your Room Alert devices and is included with your GoToMyDevices subscription.
_______________________________________________________________
Improved Messaging
Many of you are familiar with the Alerts that can be configured in GoToMyDevices to notify you when environment conditions threaten your organization. However, until now it has been difficult to know when activity occurs within your subscription, such as when new users are added, new devices come online, or your subscription is renewed or expired. We also want to be able to inform you when new versions are released or updates are made to your account without simply adding more email to your already overflowing inbox
Messages Displayed Within GoToMyDevices
Our new notification engine allows you to receive messages generated by GoToMyDevices 'in app', as well as by email. When you log in, you will now see a notification icon in the top navigation bar that will indicate if you have any unread messages. Messages will also display as an unobtrusive information bar within GoToMyDevices that you can easily dismiss once you have read it. Information about your subscription will appear here most often, and we may also post updates to your message board from time to time regarding feature updates, special offers, and more. Many of you may have found this update from the new notification engine!
_______________________________________________________________
Ready to try some of these new features for yourself?