Acknowledging Repeat Alerts and Adding Comments in GoToMyDevices
We've been taking a deeper look at some of the great new features in GoToMyDevices, including the different ways alerts can be sent to multiple users, along with the ability to create completely custom alert messages in GoToMyDevices.
In this installment of the GoToMyDevices article series, we wanted to take a deeper look into two more extremely helpful updates that we're excited to share – acknowledging active alerts, and the ability to add comments to active alerts in GoToMyDevices.
Acknowledging Active Alerts in GoToMyDevices
One feature that our users have asked about in the past was the ability to have alerts send repeat notifications while they continue to be in progress, and allowing users to acknowledge an active alert, without actually disabling the alert itself.
The newest update in GoToMyDevices gives all users on the Professional tier or higher the ability to do just that – users can now set any alert to notify recipients repeatedly on a specific interval, and acknowledge the active alerts to stop those repeat notifications.
Let's say a Room Alert user sets a temperature notification on one of their sensors, and sets that notification to go to three specific employees – Fred, Melinda, and Susan. That alert is also set to repeat every 10 minutes, to make sure no one misses the notification. If the temperature exceeds the threshold they set for that sensor, all three employees will get emailed (or get a text, if they choose that option) every 10 minutes while the alert is active.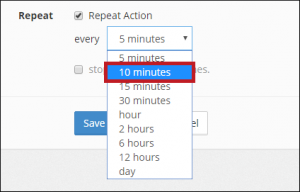 For this particular example, Susan happens to be in the office when the temperature alert is sent out by Room Alert through GoToMyDevices. Since she's in the office and can check in on the data center where that Room Alert is located, she can log into GoToMyDevices and acknowledge the alert. By doing so, Fred and Melinda will both receive an email notification that Susan has acknowledged the alert; this way everyone on the team knows that another employee is actively checking on the situation.
When Susan acknowledges the alert, she can also add a comment as to why she's acknowledged that alert, which is the other new feature we're about to discuss.
Adding Comments to Active Alerts in GoToMyDevices
When multiple users get notified of an active alert at the same time, it's important to stay in communication while troubleshooting. For example, a temperature change in a data center may cause notifications to be sent to a number of techs, plus management and facilities maintenance crew. Each person who gets notification of the alert may approach the problem in a different way, and at different times.
This of course can lead to duplication of efforts, along with users being unsure where the other team members are in the resolution of the alert.
With the new release of GoToMyDevices, any user can now add comments to the alert in progress to not only notify other users of the progress on the alert, but to also document steps taken in the event of future alerts on the same issue.
Now, rather than attempt to communicate with other team members via text or email on the status of the alert, comments can be entered right into the ongoing alert so everyone can see the progress. Users who are on the alert chain can stay updated immediately and track resolution progress. Comments can also be saved in the event of future alerts on the same issue.
To continue with our example above, Susan has acknowledged the alert of a high temperature in their datacenter. When she acknowledged it, GoToMyDevices will automatically give her the option of adding a comment, as shown below.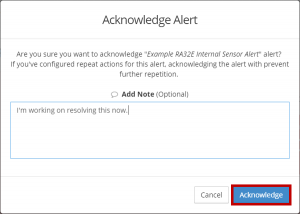 Susan can simply type "I'm at the office, heading into the data center now to investigate" which will send Fred and Melinda an immediate email notification (NOTE: If users are being notified by SMS in addition to or instead of email, they will receive a text of the alert acknowledgement and Susan's comment).
Once Susan enters the data center, she may see that someone accidentally unplugged their portable AC unit. As soon as she plugs it in, she can add the comment to the acknowledged alert "AC unit was unplugged. Plugged it back in, room temps dropping." Fred and Melinda will now receive an email notifying them of this update, so everyone is "in the loop" on the troubleshooting status of the current alert. Fred and Melinda will also have the option to add a comment of their own to the alert, just by clicking on a button right in the body of the email itself.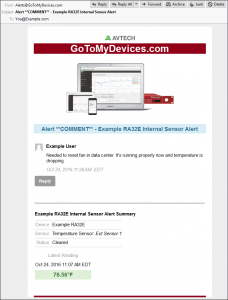 By adding comments that are sent to anyone notified of the alert in GoToMyDevices, Room Alert users can now immediately update anyone on their team of alert statuses and troubleshooting steps, all from within GoToMyDevices. There's no need to send group emails or scour internal phone lists to track down someone's mobile phone number to update them. GoToMyDevices offers our users on the Professional tiers and higher the ability to notify everyone included on an alert immediately with status, which will save incredible amounts of time and help document alert resolutions all at the same time.
Custom and User Defined Alerting in GoToMyDevices
With all of the expansive new features in GoToMyDevices, customers now have the ability to fully customize their alerts to ensure their facilities are protected. There's more customization than ever before with alert notifications, giving users complete control over how their alerts in GoToMyDevices are configured and delivered.
To learn more about how our cloud-based GoToMyDevices service can monitor, log, report, and alert your organization, please visit our YouTube channel which features a GoToMyDevices playlist. There you will see just how customizable GoToMyDevices alerting and reporting can be.
If you have questions about GoToMyDevices and Room Alert, and how they can help protect your data center, facility, and valued assets, please let us know. You can email Sales@AVTECH.com, call us 401.628.1600, or use our Live Chat app right here on our website. GoToMyDevices and Room Alert is environment monitoring made easy… don't wait until it's too late.
Note: The former GoToMyDevices online monitoring and management platform was migrated into RoomAlert.com in December 2017. For more information, please see our announcement article and FAQ.