An Overview of Device ManageR's Plugin Bundle
Recent updates to GoToMyDevices, our cloud-based monitoring platform, have received a lot of well-deserved attention. We're very proud of the real-time collaboration tools we introduced, including alert comments and acknowledgements, as well as improved alert notifications and alert customization. Along with those new features, a big update to GoToMyDevices is the ability for users on the Professional tier or above to download all our Device ManageR plugins free of charge.
That's right – the entire Device ManageR plugin bundle, a $400 value, is provided to all Professional, Enterprise, and Enterprise Plus GoToMyDevices users at no additional cost.
Device ManageR was developed to assist Room Alert users with local discovery, management, monitoring, reporting, and alerting for Room Alert devices on a local network. It is the perfect companion to GoToMyDevices, as it offers some local features not found in GoToMyDevices that can be very helpful for Room Alert users.
While Device ManageR is provided free of charge to all Room Alert users, the plugins bundle is a separate add-on that expands the features and capabilities of Device ManageR. GoToMyDevices users who are the Professional tier or higher can now download the plugin bundle for free, and we wanted to discuss a few of those plugins and how Room Alert users can take advantage of them immediately.
Shutdown – The Shutdown plugin does exactly what the name suggests: it allows users to set rules that will automatically shut down computers and servers on the network if certain alarms are detected. The Device ManageR bundle offers this plugin in both Windows and Unix/Linux versions to cover the majority of network devices deployed by our users. If a power outage is detected, the Shutdown plugin can automatically power down critical devices before backup power supplies run out, which can lead to hard drive crashes and data loss.
Reboot – Much like the Shutdown plugin, Reboot sends commands across the network to reboot devices automatically when certain alerts are detected by Room Alert. Reboot is offered in both Windows and Unix/Linux versions as well; users can pick which will fit their network needs and download it for the local Device ManageR software.
Dial Out Voice – This plugin allows users that have Room Alert paired with a voice capable modem to create actions that will generate outbound phone calls when alerts are triggered. Some users prefer a phone call to notify them of an alert rather than an email or SMS message, and this plugin allows those users to receive a phone call immediately when an alert is detected.
GSM Text – When paired with a compatible GSM modem, this plugin allows Device ManageR to send a text message when an alarm occurs, without depending on the local network to do so. This is useful when the alarm in question also impacts the network or internet connectivity, allowing Device ManageR to notify staff regardless of network connectivity wherever a cellular signal is available.
Report Generator – GoToMyDevices is designed to alert users when environment factors reach a point that can be damaging or cause business continuity problems. Some Room Alert users would like to also receive scheduled (daily, weekly, or monthly) notifications of overall environment conditions even if nothing they're monitoring is in an alert state. The Report Generator plugin allows unlimited reports to be configured and scheduled to provide users with regular status updates and advanced statistics on devices being monitored. Organizations that need to track factors and environment trends due to regulatory issues find this plugin particularly useful.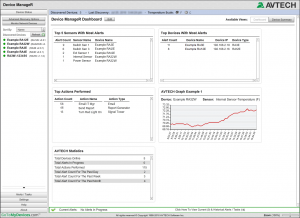 More information about the Device ManageR plugin bundle, including additional plugins not mentioned here, can be found at our Device ManageR Plugins page and GoToMyDevices users on the Professional tier and higher can download them for free (other users can upgrade for immediate access).
Organizations that require full monitoring for their mission-critical assets, data, and facilities should already be taking advantage of GoToMyDevices at either the Professional or Enterprise levels. Current GoToMyDevices users on the Lite or Personal tiers can easily upgrade their subscription right within the GoToMyDevices portal. Upgrading will give you instant access to the plugin bundle for GoToMyDevices, along with all the new alert notification and customization features.
Room Alert, Device ManageR, and GoToMyDevices are currently protecting organizations in 182 countries. If you'd like to learn more about how AVTECH can help you protect your critical assets, contact our Product Specialists by email Sales@AVTECH.com, toll free 888.220.6700, or through our Live Chat feature right here on our website. We'll be happy to make recommendations based on your exact needs. Remember, 'Proactive Monitoring' is always better than 'Disaster Recovery'!
Note: The former GoToMyDevices online monitoring and management platform was migrated into RoomAlert.com in December 2017. For more information, please see our announcement article and FAQ.