Environment Monitoring in Smart Buildings with Room Alert
Smart buildings are quickly growing in popularity across the globe, and for good reason. Smart buildings help conserve costs on heating, air conditioning, power, and more while also helping to reduce impact on the environment.
Automation in smart buildings also helps increase productivity by automatically adjusting temperature and light levels for maximum comfort. Much of the new commercial construction projects involve smart buildings, and that market is expected to grow 34% annually over the next several years.
There are several ways Room Alert can help provide a lot of the features and functions required in a smart building, including temperature monitoring, automation, and more. Taking advantage of the Internet of Things (IoT) and local software can help turn nearly any existing structure into a smart building.
Temperature monitoring in smart buildings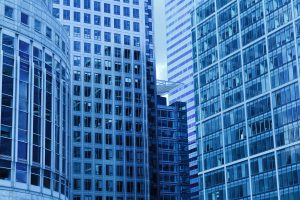 One primary aspect of smart buildings is the ability to adjust temperature based on current environment conditions. To do so, the building's temperature must be monitored closely to stay within the specified "comfort zone". A limitation in most buildings is that temperatures are only monitored where the thermostat is installed. Room Alert provides far greater visibility into temperatures throughout the building by making it easy to deploy sensors throughout a building. This can help identify inefficiencies with a building HVAC and possible energy wasted over heating or cooling an area in the building.
Another aspect of environment monitoring that's closely related to temperature is humidity. Overly humid conditions can be just as uncomfortable as an office that's far too hot (or too cold). It can also damage equipment or cause premature corrosion or mold and mildew issues.
Room Alert offers several temperature and humidity sensors (both internal and external) which allow buildings to accurately monitor the environment conditions on an ongoing basis. If the temperature gets either too high or too low, notification can be sent to the building's facility manager immediately.
Automation when environment alerts are detected
A major selling point of smart buildings is their ability to automatically adjust and take corrective action when certain thresholds are reached. Room Alert paired with Device ManageR gives users the ability to create custom actions to help mitigate many environment issues that can be detected. Water detected by a Flood sensor can trigger a pump turning on, or smoke being detected can automatically trigger an exhaust fan or turn off HVAC equipment to minimize circulation throughout the building.
Being able to take corrective action and providing a constantly monitored environment are hallmarks of smart buildings. Room Alert can play a big part in the overall design and function of a smart building and help maintain comfortable and safe working environments.
Trend tracking and preventative maintenance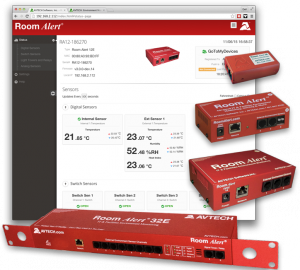 Environment conditions will change over time as the seasons change, but internal conditions may also change due to HVAC systems aging and potentially not working as they were intended. Tracking temperature and humidity trends gives facilities managers in smart buildings multiple indicators of heating and cooling systems that aren't working as intended. A HVAC that is drawing more current but not effectively cooling an area may indicate that a filter needs to be changed or condenser recharged. Preventive maintenance on systems help reduce replacement costs as well as providing constant comfort for building tenants.
Monitoring conditions like humidity also help prolong the life of technology equipment as well. Keeping relative humidity within specified ranges ensures circuit boards and hard drives aren't damaged by excessive moisture in the air, or run the risk of static charge damage if the air is too dry.
Smart buildings attract tenants with their lower power and cooling costs, comfortable working environment, and focus on integrated technology. They also allow building owners and managers to maximize their return on investment by monitoring to be sure all building systems are operating at their peak efficiency. Facilities management companies and building firms are both moving towards smart buildings as their primary assets, and with Room Alert, any existing or new building can take a big step towards being smart.