Knowledge Base / Frequently Asked Questions / Device ManageR (Legacy)
Why Device ManageR Is Loading At 0%
Adobe Flash Player has been discontinued
Device ManageR's web interface* requires Adobe Flash Player, which has been discontinued. As of January 12, 2021, Adobe blocks all content from running in Flash Player.
* Even though Device ManageR's web interface no longer loads, the underlying service still works. For more information, see the Recommendations section below.
If you try to open Device ManageR in your web browser, you'll likely see the page get stuck loading at 0%, as shown here.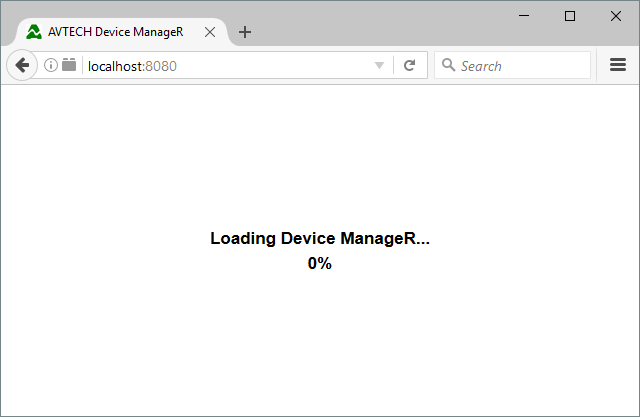 Recommendations
As a result of a "kill switch" built into Adobe Flash player, even old versions of web browsers no longer load Device ManageR. At this time, there aren't any easy workarounds to get to Device ManageR's web interface. Instead, we recommend the following:
Switch to using AVTECH's new Room Alert Manager software, monitor your devices through your RoomAlert.com account or through their local web interfaces.
If desired, leave the Device ManageR service running. The software will continue to monitor data from your devices and perform configured actions in response to alert conditions and schedules.