Humidity In Your Data Center
Customers who install Room Alert  are usually most interested in monitoring temperatures in their facilities, based on the questions our Product Specialists are usually asked during an initial call from a new user. It remains the top environment factor most customers are initially concerned with.

Temperature is a critical environment factor to monitor regardless of the type of organization or industry. Data center temperatures need to remain within certain levels to ensure server and equipment uptime, greenhouses need to ensure the best growing climate, restaurants need to keep their food within recommended safe zones, and some companies even need to make sure they're providing a comfortable work environment for their employees.
Humidity is sometimes a secondary (or even tertiary) thought when it comes to environment monitoring, but it can be just as critical, especially in a data center environment.
Why?
Too much humidity in the data center
If a data center becomes too humid, data centers run the risk of having condensation form. Moisture on motherboards, in hard drives, and in connecting sockets will quickly lead to damage, corrosion, and eventually, equipment failure.
In most cases, humidity levels get too high due to a malfunctioning HVAC or cooling unit. In those instances, having Room Alert notify you of an elevated humidity level lets you get that unit serviced and back into top condition quickly (and inexpensively, vs. replacing damaged servers). We do have customers in certain parts of the world that are just naturally humid, so an elevated humidity level is even more concerning since it will rise quickly, and provide users with a smaller window to address the issue.
We recommend users set an alert at 60% relative humidity to warn them of an elevated level, and then a critical alert at 70% relative humidity. Hopefully that critical alert never needs to be sent.
Too little humidity in the data center
On the opposite end of the spectrum lies the issue of too little humidity in the data center. When data center air becomes too dry, the risk of electrostatic discharge (ESD) quickly becomes elevated. As TechTarget points out, an ESD event is very hot, even though the person who's causing it may not feel the full effect of it.
In fact, the ESD event can generate so much heat that extremely small plastic parts in sensitive electronic devices can melt, leading to a much shorter useful life, if not outright failure. The high voltages from the static discharge can also easily damage sensitive components. This is why nearly every data center requires anyone working on servers or equipment to wear wrist straps, or to work on an ESD floor mat.
We recommend users set an alert at 40% relative humidity to warn them that the humidity level is too low, and then a critical alert at 30% relative humidity.
Maintaining the recommended temperature and humidity levels in your data center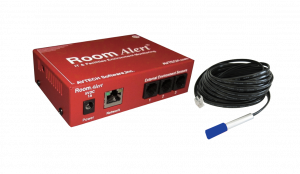 ASHRAE's updated guidelines in 2016 included a recommended humidity level of 50% in data centers. Properly maintained HVAC systems, air flow, and internal systems should all easily help keep your data center well around that recommended level. However, it's when your data center is well above or below 50% relative humidity that issues can occur.
Adding a Digital Temperature & Humidity Sensor to your Room Alert is both easy as well as cost-effective. If you are concerned with maintaining the optimal environment in your data center, keeping an eye on humidity is just as important as monitoring the temperature.
If you'd like to learn more about recommended temperature and humidity levels in your data center, we published an updated in-depth article which you can read here. Monitoring temperature and humidity with Room Alert can help keep your data center running at optimal levels, increase uptime and availability, and help keep operating costs down. Even if your organization's data center is better referred to as a server room (or even "IT closet") the effects of downtime and data loss due to high temperatures or extreme humidity levels will hurt your bottom line just as much.
Proactively monitor the humidity levels in your data center along with temperature and other critical factors such as flood, power, smoke, motion, and more and you'll help guarantee increased uptime and performance for your organization.