Introducing the Active Power Sensor!
We're thrilled and excited to announce the release of our latest product, the patent-pending Active Power Sensor!
The Active Power Sensor provides instant notification of power status to any AC-powered electric device with power use from 100 Watts to 1800 Watts. You can simply strap the Active Power Sensor to any power cord to begin receiving power notifications. The sensor also includes built-in temperature monitoring, giving users instant status on two critical environment factors related to reducing downtime.
Before introducing the Active Power Sensor, organizations that wanted to monitor power status to electric devices usually needed to physically cut open a power cord to isolate specific conductors to measure current. This could lead to situations where power cables could be damaged if the procedure wasn't done correctly. In other instances, electricians were required to attach monitoring within an electrical panel, or users would need to unplug a running device in order to install a power monitor.
Designed for data centers, with nearly unlimited applications
We began working on the concept for the Active Power Sensor when some organizations who use Room Alert to monitor data centers inquired about ways they could monitor power status for individual servers. When you consider the number of servers per rack or cabinet in even a small data center, that adds up to a lot of power sensors.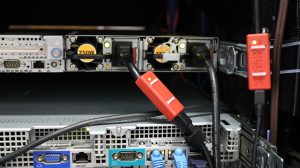 The ability to quickly and easily add power status monitoring was important to them as well. As noted above, the previous method of cutting a power cable did the job, but was neither quick nor easy in some instances. That feedback is what pointed us in the direction of developing a small sensor that could be attached securely to a power cable in a matter of seconds without interrupting the power status of the connected device, and each server within a rack could have its own sensor.
The Active Power Sensor is compatible with all current Room Alert models, and it also contains a status light on the outside to help with visual confirmation of power status. Your Room Alert will notify you of any power changes, and a quick visual check of the light status will also let you know whether or not power is on – green light for YES, and red light for NO.
Since the primary push for the development of the Active Power Sensor was for the data center market, where high temperatures remain the leading cause of equipment failure, we decided to also incorporate temperature monitoring. While power failure to a server definitely indicates an immediate problem, monitoring the temperature directly behind a server where the exhaust fan is located helps track whether or not the server might be close to failure. Gradually increasing temperature readings can help alert users to potential power consumption or hardware failure issues.
The capabilities of the Active Power Sensor allow it to be used in many other scenarios as well. You can use it to monitor other IT hardware such as firewalls, switches, or phone system equipment, while you can go in a decidedly non-IT direction and monitor HVAC units, portable air conditioners, sump pumps, freezers, and more! Anything with an AC power cord can be effectively monitored by the Active Power Sensor.
Small footprint, big results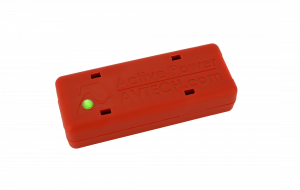 Server racks and cabinets can run out of space quickly once they're filled with servers, switches, power cords, and ethernet cabling. To help make the Active Power Sensor as unobtrusive as possible, we were able to make the entire sensor just 2.25 inches long, and under 1 inch wide… basically the size of a small USB thumb drive. A fully populated data center rack could have an Active Power Sensor attached to every power cable without any concerns over space.
We have a wide number of customers who use Room Alert to monitor environment conditions in small telecom rooms and IT closets, and the small size of the Active Power Sensor allows those organizations to place them wherever they need power monitoring, without worrying about space constraints.
Data centers and server monitoring are also prime candidates for the Active Power Sensor thanks to the 24×7 nature of server deployments. Once a server is powered on, in many cases it needs to stay powered on due to how it's being used and accessed. Traditionally, unplugging critical servers to add a power monitor at the wall plug could lead to potential downtime issues, especially when you consider the aspect of attempting to retrofit an entire data center. Now, thanks to the ease of installing the Active Power Sensor, users don't have to worry about needing to fully power down, unplug, and then restart a large number of servers to begin getting readings and notifications on power status.
Limited time offer – buy two Active Power Sensors, get one FREE

To help introduce the new patent-pending Active Power Sensor, we are offering a special "Buy 2, Get 1 FREE" promotion for all new orders, with no limits. Users can purchase as many Active Power Sensors as they like, and for every two they buy, they'll get one free. This offer will end on October 31, 2017.
Active resellers can also take advantage of this offer, as their earned reseller discount will be applied as well. This is the perfect opportunity to stock up on what we anticipate will be a very popular and widely-requested sensor.
To buy the new Active Power Sensor, users can simply click here and you can purchase quickly and securely right from our online store. Resellers will need to purchase from the Reseller Portal to ensure their earned discount is properly applied.
If you have questions about the Active Power Sensor, more information can be found on its product page or you can contact us at any time. We look forward to leaning more about your power monitoring needs, and how the Active Power Sensor can help you increase your organization's uptime!