Are You Monitoring Your Data Center Server Cabinets Correctly?
Data center environment monitoring has been a core focus of ours for nearly 30 years. Room Alert and our sensors & software are designed to monitor, log, alert, and report on a wide number of environment factors that can cause downtime and damage in your data center (or nearly any other type of facility). Monitoring your data center is crucial to increasing reliability and uptime, however it's important to ensure you are monitoring your data center and your server cabinets correctly.
Room Alert monitors are all designed to monitor temperature right out of the box with their built-in sensors. From there, every model can have external sensors added to monitor additional factors such as humidity, flood, power, smoke, motion, and much more.
Temperature and humidity are often the top two factors that data centers want to monitor (and Room Alert users can do that even easier this month with our Buy One, Get One FREE promotion on all cable length Digital Temperature & Humidity Sensors! ), along with water / flood. However, monitoring temperature within a data center environment can get tricky simply due to the amount of heat generated, and where it's generated.
Monitoring temperature within server cabinets

Most data centers store their servers within locked cabinets, especially those that offer customer server colocation. Placing the servers in cabinets vs. open racks offers a more secure environment when there's a lot of foot traffic, both from a data security standpoint as well as providing an environment where someone walking by doesn't accidentally brush against a ethernet cable or power cord, potentially disabling services.
Server cabinets themselves are often designed to optimize air flow and allow for server intake as well as exhaust. In a situation where the data center is not set up to provide optimal air flow, that air temperature the servers take in can be too high, and will not allow for the correct amount of cooling within the servers themselves. This, of course, leads to premature failure and data loss.
Since servers exhaust much hotter air out of the rear, it's important to have monitoring placed at the back side of the cabinet to ensure servers are not running too hot. When temperatures there begin to rise, it's a clear indicator that there is either a problem with the servers themselves, or the temperature of the air in general being too high.
We always recommend placing temperature sensors at both the front and rear of the cabinet, usually at the midpoint as well as at the top since hotter air rises. This allows you to see the rising temperature as it passes through the server, and identify equipment that may not be cooling effectively or is running outside of the manufacturer's recommended guidelines. Some hardware that contains built-in temperature monitoring as a secondary feature are often designed to be installed at the bottom of a cabinet or rack, and as a result don't often return a true temperature reading. When temperature sensors are placed in optimal positions, you will be better informed of potential problems due to rising temperatures.
Size and build can influence monitoring solutions
A small data center may only have a few monitors and sensors installed, simply due to its small footprint. A monitor such as our Room Alert 3E is perfect for a small 5×5 server room, and adding an additional external temperature sensor will extend monitoring for a room up to around 10×10.
However, when you are in a situation where you have multiple cabinets and racks, along with dedicated HVAC equipment, it's important to ensure your monitors and sensors are placed in the correct locations. As noted above, cabinets tend to run a bit hotter than open racks simply due to their design. While cabinets are vented and designed for optimal air flow, they still tend to run warmer than servers installed in open racks.
Temperature can vary anywhere from 8° – 10°F just from the front of the cabinet to the rear, where hotter air is exhausted from the servers. If you were to monitor the front of the cabinet only, your temperature readings may not be giving you a true overview of the cabinet environment, which could be problematic in the instance of an HVAC failure as an example.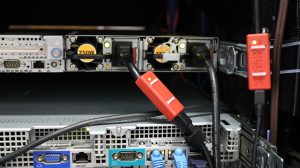 Placing sensors at the rear of your cabinet will help give your organization a much better guideline on potential air flow or air temperature problems. In fact, our Digital Active Power w/Temperature Sensor is designed to be installed right where servers are exhausting air, which will help provide alerts as soon as air temperatures get above the acceptable range you set up within your monitoring parameters. A high temperature alert there could indicate exhaust fan failure, an overheated server, or a problem with the environment in the data center.
If your organization is colocating your servers in a third-party data center, it becomes even more important to install temperature monitoring in the best places to give you an overview of your server environment. We have discussed the monitoring your colocation provider may be using in the past, and one important factor to remember is the SLA they are providing to you. Their monitoring within the SLA may only cover certain areas that leave your servers potentially exposed to higher temperatures and humidity due to where their monitors and sensors are placed. Being alerted to environment factors within your own cabinet or rack in their facility will help you prevent issues with your servers even if the data center's monitoring doesn't indicate an issue.
Be proactive with your data center environment monitoring
Keeping an eye on the ambient temperature within your data center, along with placing sensors at strategic points such as HVAC vents, is always a good idea to help increase your uptime and help prevent data loss and server damage.
Far too often new users contact us after they've experienced an outage; by that point they've already lost data, revenue, and the confidence of their own customers. The simple investment of a few hundred dollars in a Room Alert monitor and a few sensors can potentially save an organization tens of thousands of dollars by helping prevent environment-related downtime.
If your organization hosts servers in cabinets within your data center, or at a third-party data center facility, be sure to monitor temperatures at multiple points within the cabinet or rack to optimize uptime. Every data center or server room environment is different, so if you have questions about the best monitor and sensors for your own facility, our dedicated Product Specialists will be happy to build a customized solution for you based on your data center size, and cabinet/rack setup. You can contact us by email, phone, or live chat and we will be happy to let you know how Room Alert will help give you the peace of mind in knowing your data center, cabinets, and servers are being properly monitored. Don't wait! Always remember – proactive monitoring is better than disaster recovery.