GoToMyDevices Is Now RoomAlert.com
Today we unveiled our new RoomAlert.com website and account dashboard, which expands on the capabilities formerly available through our GoToMyDevices cloud monitoring platform.  All data contained in GoToMyDevices, including user accounts, devices, reports, and alerts, has been migrated to RoomAlert.com.
You can read our official announcement here.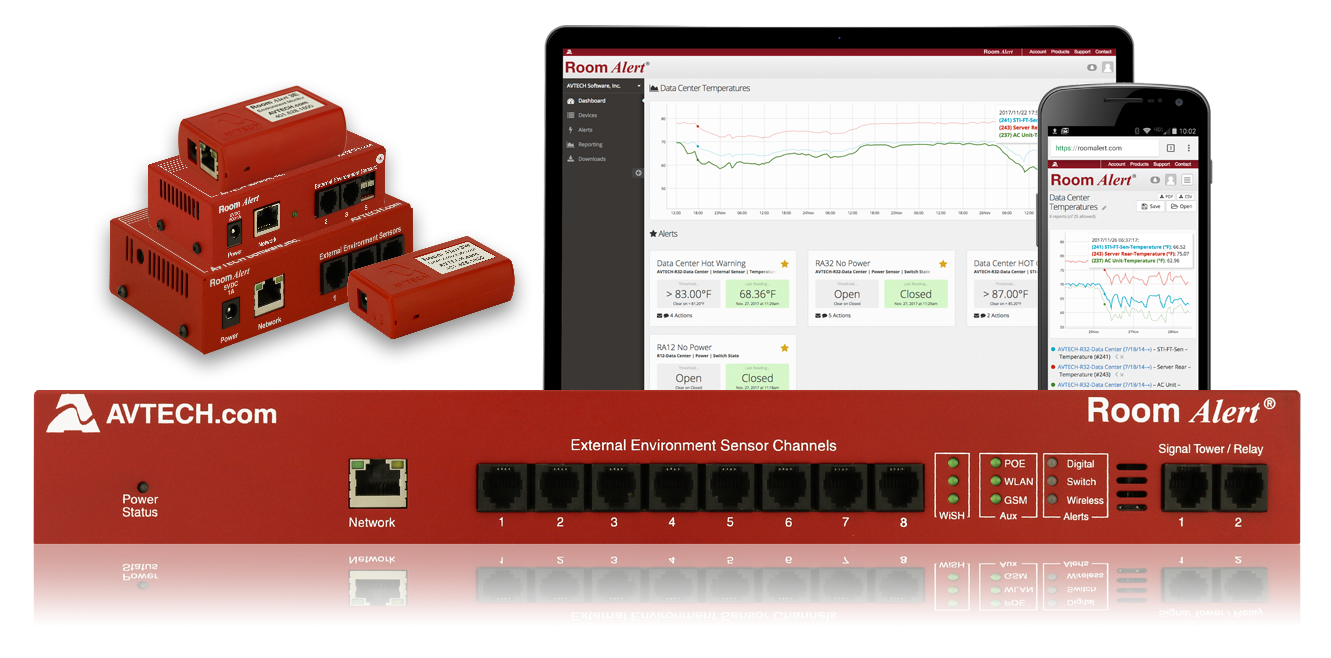 Room Alert is much more than just the hardware monitors that we sell. Room Alert is a comprehensive technology platform that provides monitors, sensors, cloud services, additional software and tools, and a complete set of service and support options.
Because Room Alert has become such a recognizable name as the worldwide leader in environment monitoring, we built an improved online dashboard that would be easy for our users in over 180 countries to be able to find and use. Thanks to the popularity of Room Alert, we moved the online monitoring, alerting, and reporting previously found on GoToMyDevices directly to RoomAlert.com. This gives users one dashboard where they can find all of their monitor, sensor, software, and account information.
We put together some questions and answers that should help all our users with the transition from GoToMyDevices to RoomAlert.com.
Will this affect any of the alerts and reports I created in GoToMyDevices?
Our users will be able to find all their previous data, information, and favorite features by logging into their account at RoomAlert.com; user accounts that were previously used at GoToMyDevices have all been fully migrated. Just go to RoomAlert.com and use the same account credentials you previously used at GoToMyDevices to log in immediately.
Can I still log into GoToMyDevices?
Users who go to the GoToMyDevices website be redirected to the new RoomAlert.com website. The look and feel of RoomAlert.com is very similar to GoToMyDevices, and you should have no issues finding all your alerts, reports, graphs, and data.
I upgraded to Personal/Professional/Enterprise on GoToMyDevices, is my account still upgraded?
Absolutely! All our upgrade levels on GoToMyDevices are still fully intact, and you will still have access to every upgrade benefit you have purchased. The only minor difference you will see is that the former "Lite" level that was offered at no charge is now simply called the Base level. If at any point in time your RoomAlert.com upgrade lapses, your account will simply revert to the Base access level. At no point in time will your organization lose access to your account on RoomAlert.com.
Have firmware and software updates for Room Alert monitors been moved to RoomAlert.com also?
Yes, they have. In fact… we have a big announcement about that.
Starting today, all firmware updates for all Room Alert monitors, including both current and legacy devices, are now freely available for all registered users, regardless of support status. Users will no longer need a paid upgrade account to access those downloads; every registered user will have access to all the latest firmware for their Room Alert monitors.
Security and compatibility are very important to us. We want Room Alert to be the most secure and stable equipment in your facility, so it is working to protect your data and assets when you need it. Thanks to the longevity of Room Alert monitors, many of our users still have older devices protecting their facilities. We want all our users to know that they have access to the latest firmware, features, and security available for their hardware, keeping it up to date and working effectively long into the future.
Does this change how my alerts are delivered?
The only change you will see is the email domain alerts and account status are delivered from – for instance, alerts will now come from Alerts@RoomAlert.com instead of Alerts@GoToMyDevices.com. We recommend that all users whitelist that email address, to ensure proper delivery to alert recipients. We created a utility you can use to test that email from Alerts@RoomAlert.com are received properly, which you can find at this link. We recommend all users use this utility to test that alert email notifications will be received properly.
Does this change affect Device ManageR or any alerts I have set up through my Room Alert monitor's firmware?
No, it does not. This change only affects alerts and reports set up in the former GoToMyDevices online dashboard. Locally-run Device ManageR and firmware-based alerts remain exactly the same, with no change.
RoomAlert.com for all your environment monitoring needs
Making the move to RoomAlert.com will allow us to offer a number of enhanced and new features, which we will be rolling out gradually over the coming months. We have a lot of helpful new features planned for our users, and building them into RoomAlert.com will make it easier than ever for our users around the world to take advantage of them.
We are all very excited for you to see this new platform in action! Our team has been working tirelessly to build a new and improved account dashboard for our users, and we are confident that you will be able to immediately begin using it with the same ease you've come to expect from us.
If you have any questions about the new RoomAlert.com, we welcome you to contact your assigned Product Specialist, send an email to Sales@AVTECH.com, call us at 401.628.1600 (toll free 888.220.6700), or start a live chat. We recommend you try to simply log in at RoomAlert.com first, as just looking at the new dashboard may answer your questions within a few clicks.
Thank you for trusting your organization's data center, IT, and facility environment monitoring to Room Alert. We know that our entire suite of Room Alert products will continue to give you peace of mind in knowing that your critical data and assets are proactively monitored to help prevent downtime caused by temperature, humidity, flood, power, smoke, air flow and more.
As we begin our 30th year in business, we are thankful for all of the support from our valued users, and we look forward to another 30 years of helping to protect your organizations.