Help Prevent Water Leak Damage with Room Alert
Recent storms and extremely low temperatures in parts of the United States have led to school closings, business downtime, and numerous reports of water leak damage due to frozen pipes and other weather-related temperature issues.
When water leaks occur, organizations aren't often made aware until they're alerted by alarm companies, or perhaps their local fire department. By that point, the water has encroached on sensitive areas of their building, including storage areas, file cabinets, server rooms, IT closets, and more. Asset recovery becomes crucial at that point, however the reality is that there will most likely be some serious losses suffered when it comes to data and physical assets.
Water and flood damage comes from many sources
Frozen pipes tend to be the largest cause of water / flood damage during the colder months of the year. When temperatures come close to freezing for a prolonged period, the risk increases dramatically, especially over periods where buildings aren't occupied and heating tends to be lower, such as overnight or over the weekend.
Businesses should always remain vigilant against flood damage, as it can happen in many other unexpected situations. Construction accidents, broken plumbing, a faulty roof, sewer backups, or even something as simple as a clogged toilet can all lead to water damage.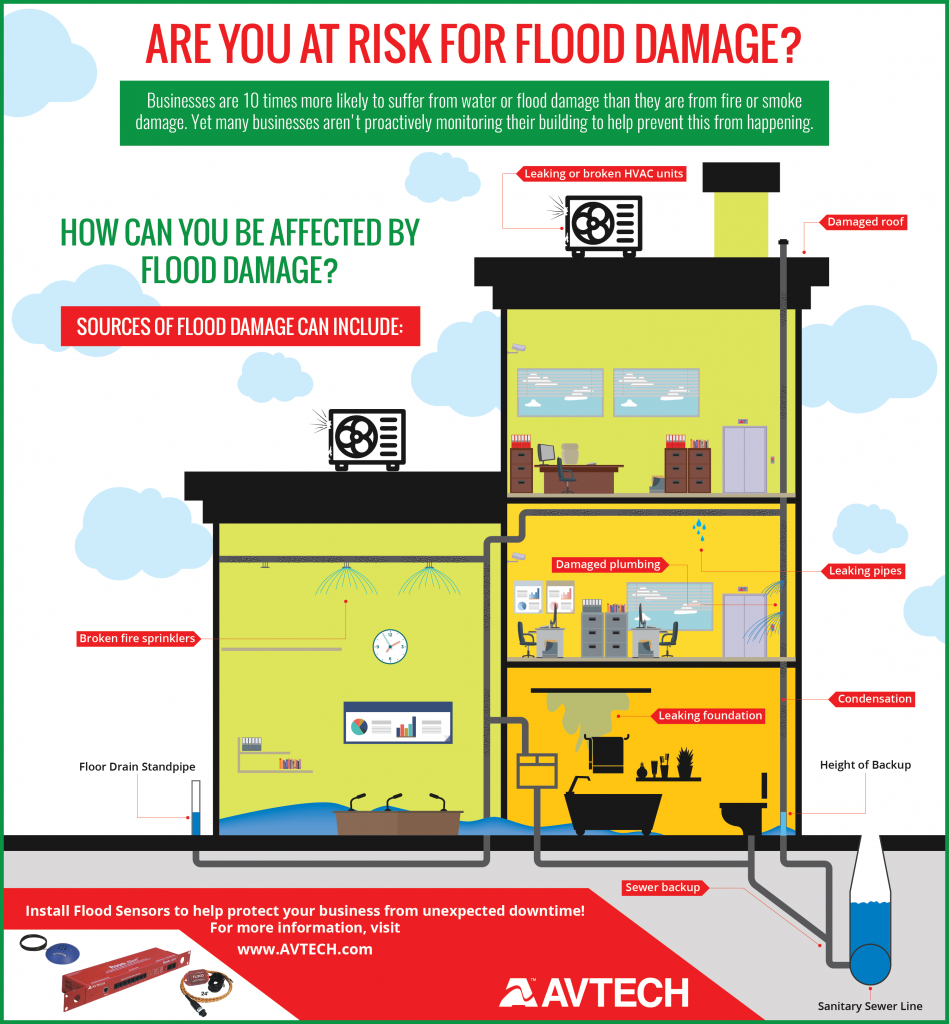 It bears repeating that buildings are 10x more likely to suffer from flood damage than they are from fire damage, yet the majority of businesses do not proactively monitor for water detection.
Installing flood sensors won't help stop water leak damage in many instances, however it will help provide immediate notification in the event water is detected in sensitive areas, which will help you resolve the issue and recover much faster.
Don't let water leak damage cause downtime
Depending on the type of water that caused the damages to your facility, and how extensive the damage was, recovery time could range from a few days to many weeks. Costs average around $4 per square foot to recover from physical damage, so even a small facility could be hit with tens of thousands of dollars in expenses. Insurance will help recover most of those costs, however your ability to conduct business, and keep your employees working, can cause a big hit to your finances and customer confidence.
Installing Room Alert monitors along with flood sensors will help to notify you of any instance of water being detected where you have installed your flood sensors, along with the temperature conditions that may lead to frozen pipes. Being able to prevent burst pipes due to low temperatures is highly beneficial, and even in situations where the water leak is entirely unexpected, receiving immediate notification rather than waiting on visual confirmation of water cascading out of your front doors will help shorten recovery time drastically.
Don't wait for water leak damage to occur before installing proactive environment and flood monitoring. The inexpensive investment in Room Alert and flood sensors can mean the difference between a quick visit from local water damage experts, and needing to tell your employees to stay home for a few weeks. Take advantage of our 30 years of experience, and allow us to help make some recommendations on how you can protect your facility against water leak damage from floods, extreme weather, broken pipes, and more. Remember – Room Alert is environment monitoring made easy… don't wait until it's too late.