New Features And Updates To RoomAlert.com Accounts
Late in 2017, we introduced the new RoomAlert.com Account portal, which replaced our former online interface for Room Alert monitoring, logging, alerting, reporting and more. We wanted to offer our users one single online portal to manage their Room Alert proactive environment monitors, their service and support accounts, downloads and firmware, and act as an information source for anything Room Alert-related.
Yesterday we introduced several new and expanded features that all of our users can find within their RoomAlert.com Account. These features and upgrades will help our users better monitor their IT facilities, data centers, server rooms, and more to help increase uptime and performance.
ASHRAE Recommendations on Reports
The American Society of Heating, Refrigerating and Air-Conditioning Engineers (also known as ASHRAE) helps to make recommendations and set standards for various safety-related temperature parameters. We have published a few articles over the years about recommended data center temperature and humidity ranges based on ASHRAE's recommendations, which have proven to be very helpful for preventing data center downtime.
Since many of our customers are using Room Alert to monitor their data centers, server rooms, and IT closets, we decided to place ASHRAE recommended temperature and humidity standards right within the reports in RoomAlert.com Accounts.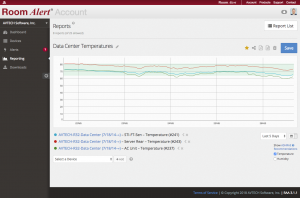 Users can now opt to enable the ASHRAE standards within their RoomAlert.com Account, which will show whether their current temperature and humidity falls within their recommended range. This feature will help users quickly see if their data center or server room is trending towards a possible outage or equipment failure and allow them to take corrective action before they suffer from downtime.
Improved Reporting Interface
Our users let us know that they enjoyed the simplicity and ease-of-use of the card-based layout of the alerts interface, so we decided to replicate that same look with the reports interface in RoomAlert.com. Switching between alerts and creating reports is much more intuitive now and provides a cleaner interface for our users.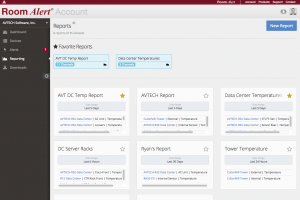 Advance Renewals and Payment
All Room Alert customers have access to a RoomAlert.com Account, which never expires. Every user gets a base number of alerts and reports, and firmware downloads for the life of their Room Alert monitor.
Many of our users have multiple Room Alert monitors throughout their facilities helping to provide proactive environment monitoring, and as a result opt to upgrade to a higher tier of RoomAlert.com Account service. Upgraded levels provide custom alerts, longer data history, additional saved reports, Device ManageR plugin access, and so much more; each upgrade level is priced accordingly based on devices, users, alerts, etc.
One of the most common requests we've received from users is how they can pre-pay for a longer period of time to ensure that they don't lose access to their upgraded services, alerts, reports, and data (and by the way – upgraded accounts that revert back to the Base account don't have ANY data or reports deleted; they're simply not accessible until the upgrade is renewed). This may also be helpful for users who have budget dollars available in the current year and want to secure upgraded access for years to come. Now, users can request early renewals to make sure their upgraded service doesn't lapse, and they can opt to pay up to 5 years in advance if they choose.
Firmware Updates Now Listed In Weekly Status Emails
RoomAlert.com Account users receive a weekly email overview on their monitors, triggered alerts, reports and more. Many of our users have let us know how helpful this weekly status report is in helping them manage their alerts and reports, so we wanted to make the emails even more helpful.
The weekly RoomAlert.com Account status emails now include information on available firmware updates for every Room Alert monitor registered under their account. Links to updated firmware will be included, making it easier than ever to keep Room Alert monitors up-to-date with new software features, improvements, and security updates.
Room Alert For All Of Your Environment Monitoring Needs
We've been planning some big updates and announcements for our 30th anniversary this year, and adding these new features to the RoomAlert.com Account will help our users worldwide have an even better view of their environment monitors. If our users are trusting Room Alert to protect their facilities, then we want our hardware and software to be as robust and reliable as possible.
If you have any questions about how your organization can take advantage of the new options and features in your RoomAlert.com Account, please let us know! We will be happy to show you how easily you can monitor and protect your IT facilities, data centers, offices, warehouses, freezers, and so much more against environment-related downtime.