Monitor Room Alert From Anywhere At Any Time With Room Alert Account
One of the best features of our Room Alert environment monitors is the ability to manage them from anywhere in the world thanks to our Room Alert Account. Users can see alerts, reports, graphs, maps and more from any Internet-connected device, allowing them to have an up-to-date overview of all the Room Alerts installed in their facilities.
We've learned over the past 31 years that most Room Alert users don't purchase one monitor and call it a day. Rather, they purchase multiple Room Alerts to cover their mission-critical areas, whether it's installing one in most cabinets in their server room, or installing Room Alert in various locations within a warehouse to cover both products as well as employee wellness, or making sure every facility they oversee has a Room Alert to notify them of any adverse environment factor that could cause damage and downtime.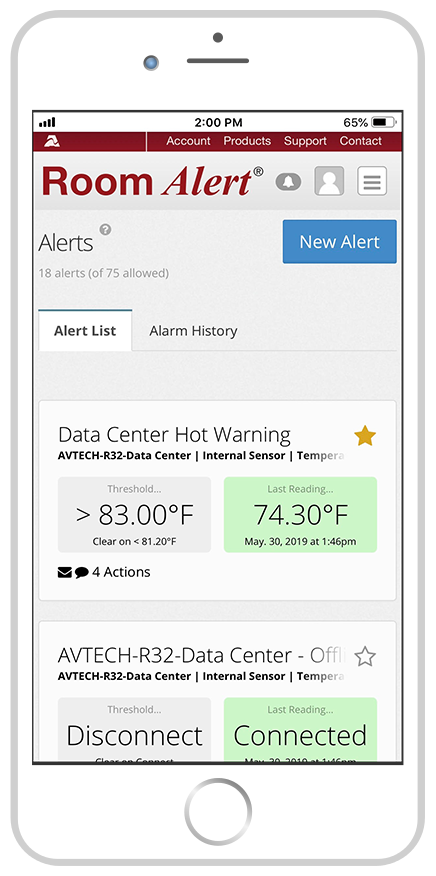 Your Room Alert Account portal is available 24/7 from everywhere
Effectively monitoring multiple Room Alerts along with the sensors each user installs based on their exact needs is easy with the Room Alert Account portal. Not only can it be accessed by any Internet-connected device, it's also mobile-friendly and responsive. This means that any alert, graph, or report you pull up while at your workstation can also be pulled up on your mobile phone or tablet.
This aspect of remote Room Alert Account access is particularly helpful when an off-hours alert is received. It seems that issues pop up at the most inopportune times and being able to get an immediate overview by simply pulling up your Room Alert Account dashboard on your phone is beyond helpful. Whether it's at 3am, or you're spending a long weekend at the beach, if you have signal to your phone, you can immediately see what's happening within your facility and take the steps needed to help avoid costly downtime.
Accessing your Room Alert Account portal from your phone also allows you to access all of the features our patent-pending Monitor360 technology provides, including virtual sensors, advanced alerting and more.
Using SNMP monitoring software suites with Room Alert
Our users often find us after they've experienced damages and downtime caused by factors such as high temperatures, HVAC failure, water leaks caused by broken pipes and more. We find that they have monitoring in place… however it's heavily focused on cybersecurity and looking out for environmental factors that cause data loss and downtime aren't taken into consideration until it's too late.
In these instances, a monitoring platform may already be in place, such as a suite like PTRG, Solar Winds, Nagios, or another software suite that uses SNMP to monitor network devices. When a new user comes to us and wants to use Room Alert to monitor their environment, it's very easy to integrate Room Alert monitors and sensors into their existing monitoring platform.
MIB files for all our Room Alert monitors are provided to our users through their Room Alert Account and integrating Room Alert is completed in a matter of minutes. This allows our users to continue to use a monitoring platform they are familiar and comfortable with, while also taking full advantage of the alerting, graphing, and reporting features Room Alert provides.
If no monitoring platform is currently in use, our free Device ManageR software can easily be downloaded and installed to a host PC on the user's network. Device ManageR allows for full alerting, graphing and reporting just like our Room Alert Account platform, only it's locally hosted within the user's network. Device ManageR also allows for corrective actions; for instance, if a high temperature alert is triggered by Room Alert, Device ManageR can remotely turn on a fan to help bring the temperature down while you're actively responding to the alert. For another example, a water leak alert can trigger a sump pump to automatically turn on to help prevent widespread water damage.
Each Room Alert's built-in firmware also allows for alerting access, giving users a direct link to the hardware to monitor environment factors if they prefer that method as well.
Stay on top of costly downtime with Room Alert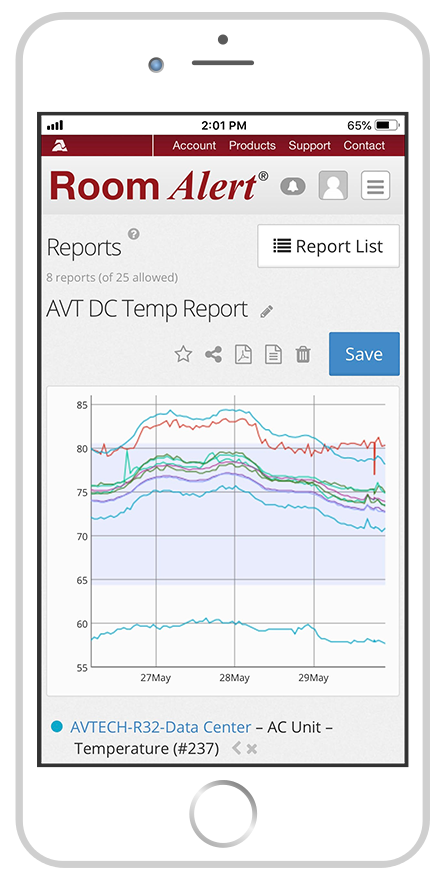 Every organization is different. That's why we designed Room Alert to be customizable with a wide range of different sensors, allowing each user to have an exact solution based on their own monitoring needs. It's also why we provide every user multiple ways to monitor their Room Alerts. Some users prefer the ease and accessibility of the Room Alert Account portal, while others like the local aspect of our Device ManageR software.
We also have many users who opt to use multiple monitoring solutions as well, such as combining alerts set up in their Room Alert Account portal with logging and graphing through their SNMP network monitoring software. There's no right or wrong way to manage your Room Alert – we want every user to rely on the method that's best for them and their own organization's needs.
Whether you're pulling up your Room Alert Account portal on your phone at home, or logging into Device ManageR from your workstation at the office, you rely on Room Alert to help keep your organization protected. That's why we've made it as easy as possible for you to set up your alerts, log your sensor data, and stay on top of any potential issues. As outages due to high temperature and power outages become more commonplace, Room Alert will be there to alert your team and help you to prevent costly downtime.