Announcing Our New Monitor360 Technology!
Last month we announced our new lifetime subscriptions for our Room Alert Account service. This month, we have an even BIGGER announcement – we're introducing our new patent-pending Monitor360 technology that's now available at RoomAlert.com for Room Alert Account users on the Professional and Enterprise tiers!
What is Monitor360TM?
Monitor360 is a patent-pending technology that provides a comprehensive 360 degree view of the facility or environment by combining existing single sensor readings into composite virtual sensors. This could be used to report the average, maximum or minimum temperature across a number of sensors or to determine if conditions across a set of sensors is met or not met.
Room Alert is the worldwide leader in telling users what is happening with the environment in their facility – the temperature is too high, the humidity is too low, a water leak has been detected, doors are open, etc. Room Alert users then needed to verify the cause of those issues when they received an alert. Now, with Monitor360, Room Alert users can create their own composite virtual sensors that can provide valuable insights and context, helping them understand the why behind receiving an alert.
Here are a few examples of the new Monitor360 technology to help you better understand the immediate applications it can have for you and your organization.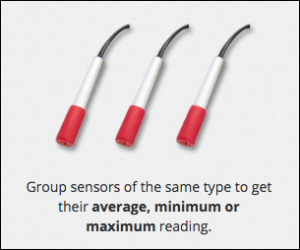 High temperature in the data center – Before Monitor360, if the heat in your data center exceeded a threshold you set in your Room Alert Account, you'd receive email and SMS notifications. From there, you'd need to physically check your data center to see what the cause of the heat was. Your only notification would be that temperatures exceeded a threshold at a single point reported by a single sensor.
Now, with Monitor360, you can create a virtual sensor that encompasses multiple Room Alert monitors and sensors. If a high temperature alert is triggered, you can also have that same alert notification tell you the status of the Air Flow Sensor attached to the front of an HVAC vent, as well as the status of an Active Power w/Temperature Sensor that's monitoring the power to your HVAC. If your high temperature alert also tells you that the Air Flow Sensor is closed, and the Active Power w/Temperature Sensor isn't detecting power to your HVAC, you can immediately deduce that there's a problem with the HVAC and call for a repair ASAP.
Cold storage and entryway monitoring – Many cold storage facilities have multiple doors or entryways into various parts of the facility to help maintain consistent temperatures and reduce wear & tear on cooling units. Moving through the facility usually entails opening and closing doors in succession to keep cold temperatures where they're needed the most, and to avoid warm air entering those areas.
With Monitor360 you can create a virtual sensor that monitors the Room Entry Sensor on every door. If your policy is that only one door may be open at a time, and Room Alert detects that two Room Entry Sensors are both indicating "open" at the same time, an alert can be sent immediately. Perhaps a door is stuck open, or maybe an employee has propped one open against company policy, which can then lead to temperature issues (or worse, a security concern).
Multiple locations – Room Alert users who have multiple locations and monitors in each site can set up virtual sensors that can average the temperatures across all sites. They can then choose to only be alerted if the average temperature rises above or drops below a certain point. Monitor360 will also allow them to create graphs and reports based on the new virtual sensors, giving them the opportunity to track average, maximum or minimum temperatures over time across all their sites.
Large facilities, such as warehouses or colocation data centers – Many large facilities will have multiple Room Alerts and sensors spread throughout their footprint to report on various environment factors based on where the monitors and sensors are located. In a larger facility a temperature fluctuation on one sensor that rises above a threshold may not be as dire as a higher temperature in a 3×5 telecom closet, for example.
Much like in the above multi-site example, multiple sensors throughout the facility can all be combined into one compound virtual sensor that reports on the average across all temperature sensors (both internal to the Room Alert monitors as well as external) and only sends an alert if the combined average passes a set threshold. This helps reduce the number of alerts your team will receive and helps you to have a better overall picture of your entire facility.
Nearly endless monitoring possibilities with Monitor360TM and Room Alert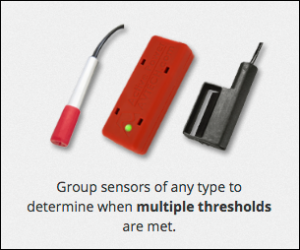 The best part of Monitor360 is that each user can create a new compound virtual sensor based on their own needs and monitoring setup. Any factor that can be critical to your organization can be monitored and alerted on as part of Monitor360.
We wanted to take environment monitoring to a new level in this, our 30th year in business. Our expertise has allowed us to become the trusted leading manufacturer of proactive environment monitoring products for our users in 186 of 196 countries. By introducing the patent-pending Monitor360 technology in the Room Alert Account online platform, we're giving all our users an unprecedented level of monitoring flexibility and capability.
But wait… there's more!
Monitor360 isn't the only new feature available in the Room Alert Account, however it's by far and away the most helpful and exciting. Over the coming weeks, we'll be publishing some articles on the other new features in the Room Alert Account, such as:
Alert Quiet Times
Editing & Deleting Alert Comments
Custom Report Overlay Ranges
Dashboard Updates
Hiding Inactive Sensors
Customized Repeat Notifications
Duration-based Conditions
And more
To take advantage of Monitor360 and all the other new features listed above, simply log into your Room Alert Account and you can immediately begin setting up new sensors and alerts in a matter of minutes! For a detailed FAQ on how to set up new virtual & compound sensors and alerts using Monitor360, please click here. We're confident Monitor360 will give you a full view into all your Room Alert monitors and sensors while helping you protect your data center, IT facilities, and more from environment-related downtime like never before.
Log into your Room Alert Account today to get started!