How Has Business Continuity Changed Post-COVID?
Since our start in 1988, we have been preaching the value in protecting your critical assets from downtime with Room Alert environment monitoring. Unfortunately, there are many businesses who don't consider proactive planning until they've already experienced the negative impacts of not having Business Continuity and Environment Monitoring in place. Never has this been more apparent than following the unexpected COVID-19 pandemic. One major lesson that has come out of this has been teaching businesses the importance of preparing for the unexpected. Moving forward, facilities can't say "What's the worst that could happen?" because now we know how unexpectedly disaster can strike. A newfound emphasis on Business Continuity Planning & Environment Monitoring is your organization's best approach to preventing and minimizing downtime in the future.
Business Continuity
Amidst the pandemic, we released a Business Continuity Checklist to provide a general guideline of how businesses of all sizes and types should be identifying potential threats of downtime such as environmental concerns, severe weather issues, cybersecurity problems, and proactively planning on how to tackle those threats in a way that causes as little business disruption as possible. We found this tool to be extremely well-received by customers who were able to identify weaknesses in their Business Continuity Planning and readjust accordingly. 
Business Continuity Planning helps organizations understand the importance of proactive planning solutions, such as environment monitoring, to help minimize downtime and damage.
Downtime Calculator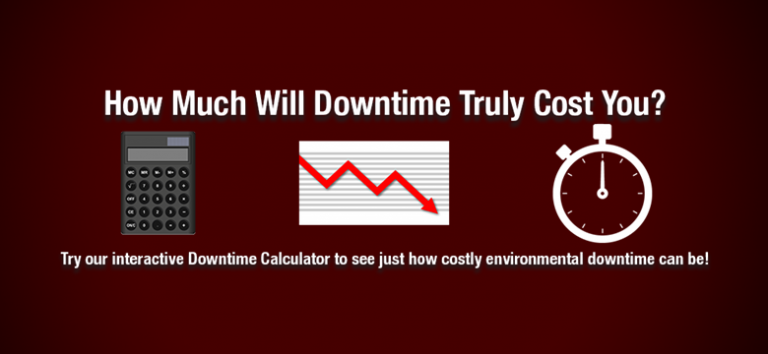 Another tool that we launched during the pandemic to again re-emphasize the value in Business Continuity and Environment Monitoring is our Downtime Calculator. Anyone can use the interactive sliders to input the information that most closely represents your organization annual revenue, number of employees and average salary. You'll see a reflection of just how costly downtime can be if your routine business operations are if you're down for a few hours, days or weeks. 
Understanding the cost and irreversible extent of downtime is vital in understanding the value in Business Continuity solutions such as environment monitoring. Our incredible Room Alert products serve to oversee your facilities and identify potential threats of downtime. Room Alert will promptly notify you as soon as potential threats begin to unfold. Room Alert ultimately provides peace of mind by monitoring your business environment conditions and informing you of any issues so your team can address the concern before it results in irreversible damage or downtime.
Environmental Monitoring with Room Alert
We're slowly entering the Post-COVID world with a new understanding of how vital it is to protect your company's people, customers, equipment, reputation and any asset that can be negatively impacted by unmonitored environments. Approximately 30% of all costly downtime is caused by environment-related threats such as high temperature & humidity, water & mold damage, power loss and more. By having Room Alert installed, you're immediately working to prevent 30% of all downtime that could lead to costly repairs, irreversible damage or even closing your doors for good. Without Room Alert, you're at an increased risk of these kinds of threats on top of not knowing an issue has occurred unless you're attentively on site. 
Room Alert is easy-to-use environment monitoring that can be quickly installed. Most of our Room Alert monitors are powered by PoE. Our monitors work as stand-alone network appliances that could just be dropped into a DHCP network for immediate access. No additional hardware is required, so installing Room Alert is a very simple process.  
Room Alert is just like having an extremely reliable employee on site 24/7 to ensure your environmental conditions are within ranges that are promoting productivity and success. Our Room Alert PRO Line was designed to be ideal for high security settings with a focus on keeping data secure, providing high performance and following DFARS, NIST SP 800-171 and ISO/IEC 27000 best practices. 
Having Room Alert environment monitoring overseeing your valuable assets is absolutely crucial in surviving the next unexpected event whether it is a pandemic or smaller-scale problem.
Contact Us
For any questions about environment monitoring with Room Alert, you can speak with a dedicated Product Specialist via email at Sales@AVTECH.com, by phone at 401.628.1600, or through our Live Chat feature right here on our website for a free consultation.          
For additional resources, please visit our YouTube Channel and be sure to read more of our articles to learn how Room Alert protects your assets and prevents costly damage. For all other information, please visit our Contact Page. Protect your facility…don't wait until it's too late.