3 Years Later – Opening Our First International Distribution Facility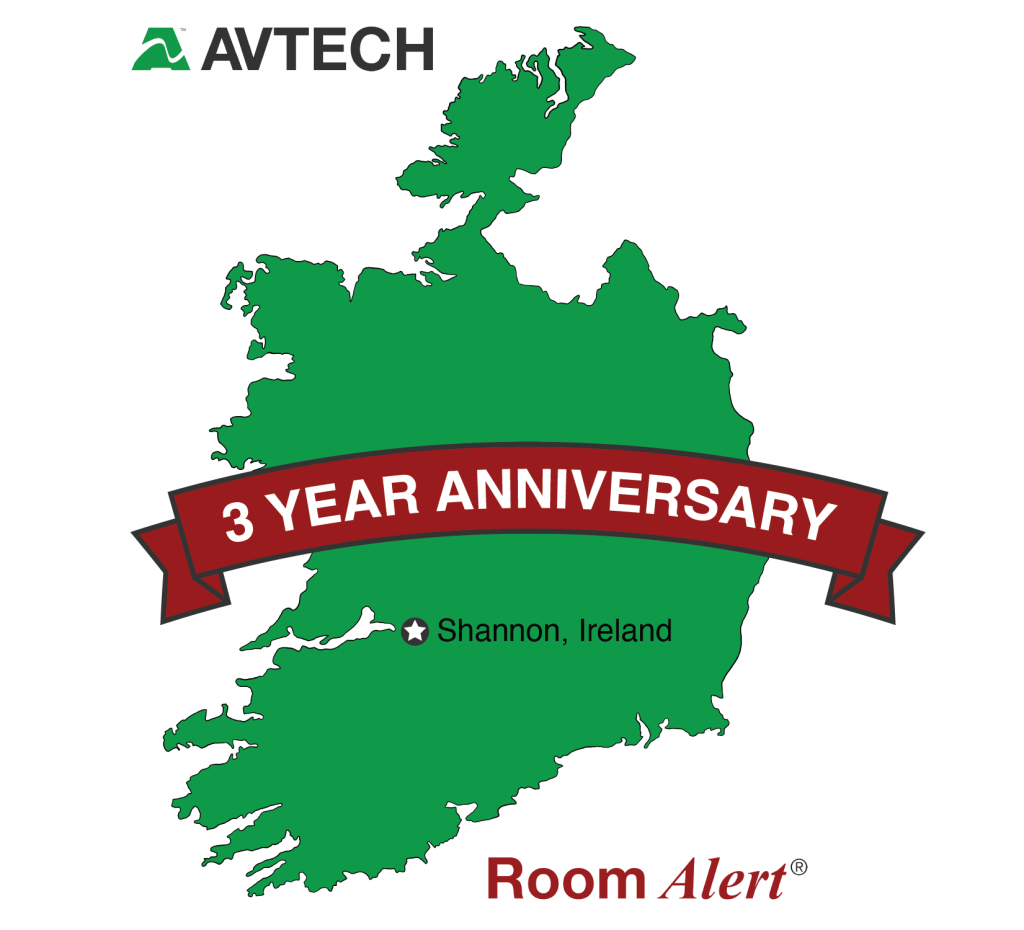 This past November marked the 3 year anniversary since opening our first international distribution facility in Shannon, County Clare, Ireland. Our Ireland location is where we fulfill many Room Alert orders that are outside of the USA. Though all of our Room Alert products are made in the USA and fully TAA-compliant with a domestic supply chain, we also support hundreds of thousands of users beyond North America.  Since opening our Ireland facility, we have seen incredible success and steady growth with Room Alert's international presence. Over the last 3 years, our team has been extremely proud to offer customers faster shipping at lower costs and we look forward to continuing to serve our users worldwide.
Faster Shipping
One of the biggest benefits to having our Ireland facility is being able to provide our customers with faster shipping transit times. Prior to opening this location, it would take 4-5 days or more for Room Alert orders shipped from our headquarters in Warren, Rhode Island to reach customers internationally. If and when costly disasters strike in your businesses, it is not always ideal to wait that long. Now when shipping out of Ireland, we are able to reach many countries in Europe in just 1-2 days using economy shipping services.  
Faster shipping makes a massive difference to our customers when time is of the essence. We take pride in helping our valued customers get Room Alert in their hands as fast as possible, so they can start protecting their organizations from downtime and damage.
Lower Costs
Another huge advantage to opening our international distribution center in Ireland is being able to drastically reduce import taxes and fees for our Room Alert users. Our Ireland facility allows us to eliminate customs duties and tariffs within Europe, because we are selling and shipping to our European customers, from our European company registered in Ireland. Handling all transactions entirely within the EU economic zone means our European customers are receiving the best price on Room Alert possible. 
With faster shipping and lower costs, our environment monitoring products become exceptionally affordable and accessible for potential and existing Room Alert users.
Outside Of Europe
Clearly our international distribution facility greatly benefits our customers within Europe, and our Ireland operations also benefit Room Alert users beyond the EU. Our Ireland facility has allowed us to improve shipping transit times and rates to other parts of the world such as the Middle East, Gulf region, most locations in Africa and even parts of Southeast Asia. 
With Room Alert users in 187 of 196 countries, we continue to ensure Room Alert is extremely accessible to people anywhere in the world.
Contact Us
If you have any questions or want additional information regarding our international distribution facility in Ireland, please email us at Sales@AVTECH.com, by phone at 401.628.1600, or through our Live Chat feature right here on our website.             
For additional resources, please visit our YouTube Channel and be sure to read more of our articles to learn how Room Alert protects your assets and prevents costly damage. Protect your facility…don't wait until it's too late.