Get The Most From Your Room Alert Investment – External Sensor Capacity in Room Alert Account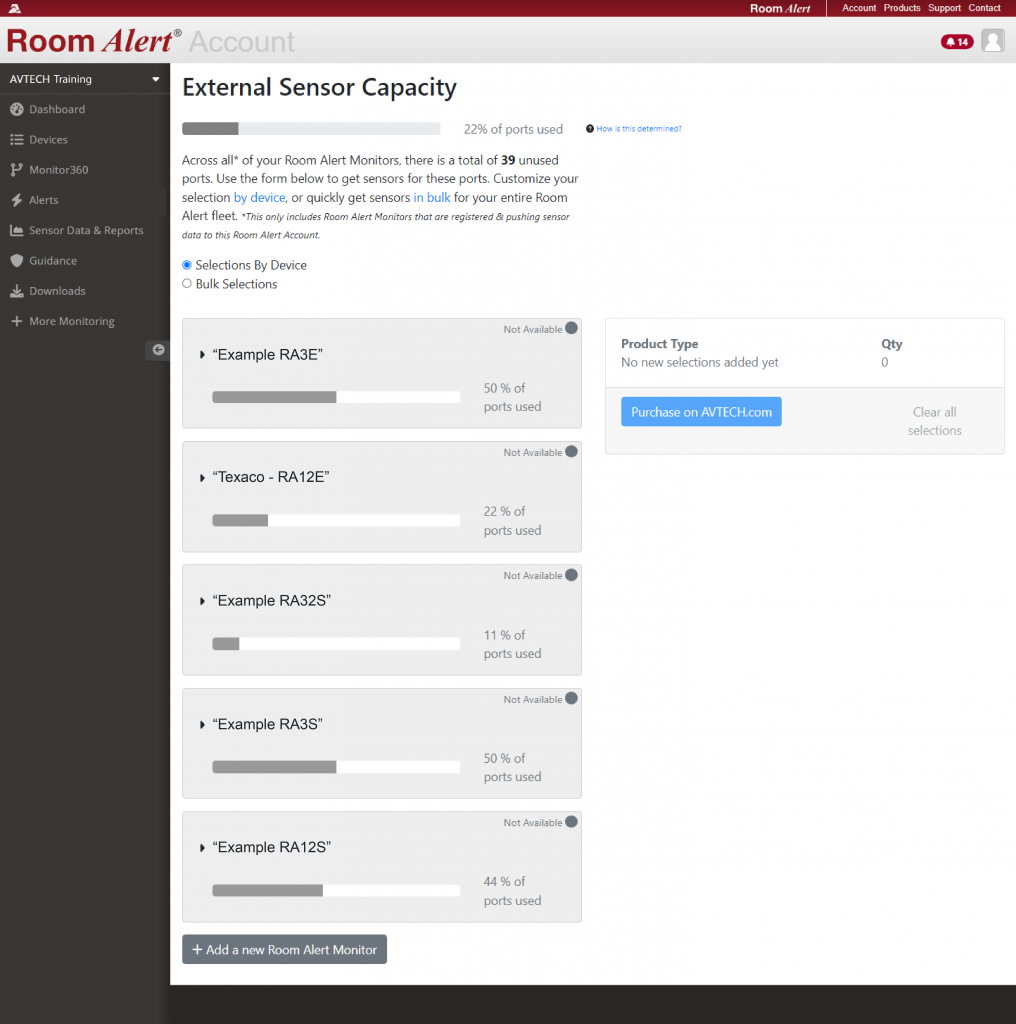 We are always looking for ways to improve user experience in Room Alert Account, so we have recently added an "External Sensor Capacity" feature to help customers quickly visualize all of the Room Alert monitors they have, and their available or unused sensor capacity. The goal here is to ensure that customers are utilizing their Room Alert hardware to the fullest extent. For example, if you invested in a Room Alert 32S, wouldn't you want to maximize the benefit of the over 32 external sensors that you have access to? The "External Sensor Capacity" makes it easier than ever for you to: 
Identify what percentage of your sensor ports you're currently using 

Populate a complete list of potential sensors to add

Submit quote requests

Place orders on

AVTECH.com

 
In your Room Alert Account dashboard on the left-hand side menu, you will find an option for "More Monitoring". This will direct you to the "External Sensor Capacity" page. Here you will see a bar that shows the percentage of sensor ports that are in use across all of your registered devices. To fill in the bar, you can choose "Selections By Device" or "Bulk Selections". 
If you choose "Selections By Device", you will be prompted to select all of the sensors you have, going device by device. The bar will reflect the External Sensor Capacity for each device. "Bulk Selections" is most suitable for large-scale applications that would take too long to go device by device. "Bulk Selections" combines all of the external sensor capacity you have across all of your devices and organizes it by sensor type (Digital, Analog, Switch, and Light Tower & Relay). The bar will reflect the External Sensor Capacity across all of your devices collectively.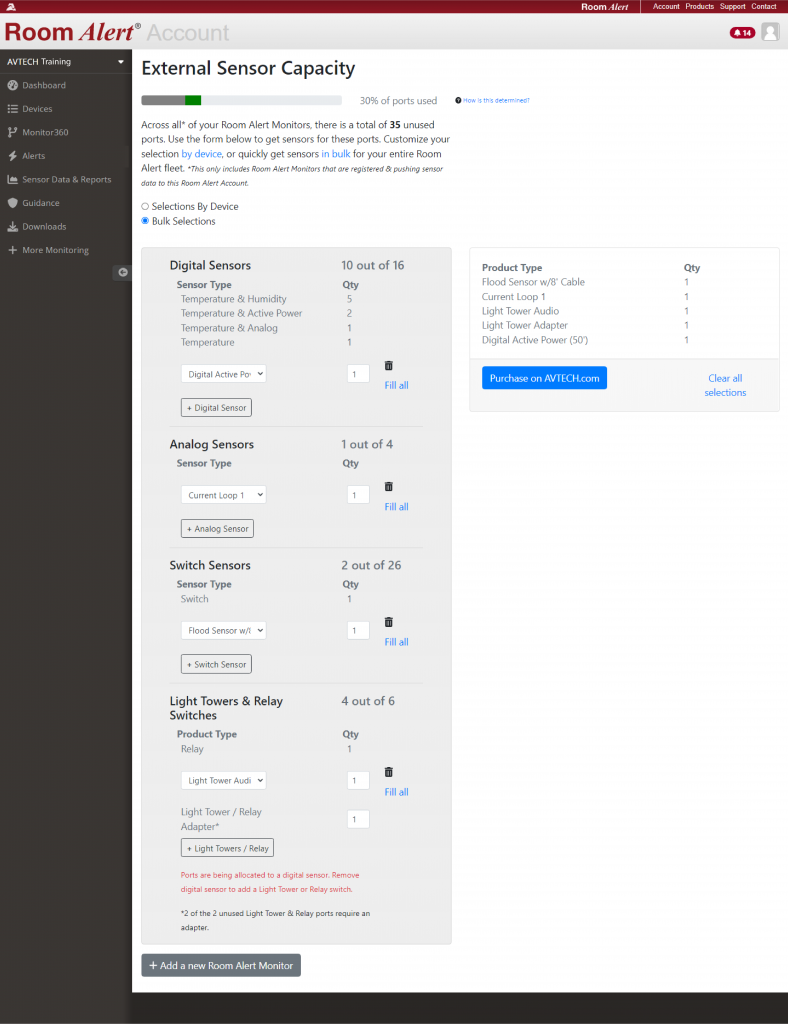 Once you complete this page, you can see all of the available sensor capacity that you are not utilizing. To begin employing your unused capacity, you can select "Add a new Room Alert Monitor" which will take you through a workflow of choosing your desired Room Alert monitor and sensors to populate it. Or you can customize a list of sensors to fill the bar to 100%. Our External Sensor Capacity tool is perfect for helping you visualize exactly what Room Alert hardware you can add while ensuring that everything will have a place. Once you are satisfied with your list, you can click "Purchase on AVTECH.com" to automatically populate all items in a shopping cart or click "Request a Quote" to receive a quote from one of our dedicated Product Specialists. 
Our team is extremely excited to deliver this high-value feature to our Room Alert users. We hope External Sensor Capacity in Room Alert Account encourages you to take a comprehensive approach to environmental monitoring and get the most from your Room Alert investment.
Contact Us
If you have any questions, please contact us today through email at Sales@AVTECH.com, through our online Live Chat service, or via phone 401.628.1600.    
You can also visit our YouTube Channel and read our articles here to learn many other reasons why you need Proactive Environment Monitoring with Room Alert.