How To Set (Or Reset) A Password On A Room Alert Monitor
Using an older version of the Room Alert Monitor web interface? Please click here for the appropriate FAQ.
You may set a password for the Settings page of each individual Room Alert Monitor to prevent unauthorized users from modifying settings like alert thresholds, static IP addresses and email servers. The Status and Help pages of the Room Alert Monitor web interface may not be password protected.
Room Alert 'S' models: Username & Password can be up to 50 characters, and may include symbols.
Room Alert 'E' models: Passwords may be up to 15 alphanumeric characters. They should not include symbols.
Setting a Password
Along with setting a password, the Room Alert 32S, 12S, 3S and 4E also allow you to set a username.
1. Open your Room Alert Monitor's web interface. This FAQ has instructions: How To Open Your Room Alert Monitor's Built-in Web Interface.
2. Select Settings in the navigation bar to the left.
3. Then select Security from the options below Settings.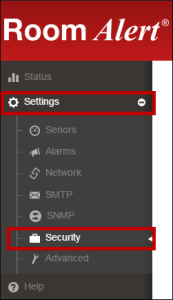 4. In the Security Settings page:
Room Alert "E" models only: In Current Password, enter the existing password if there is one; otherwise, leave the field blank.
Enter the new password in New Password.
Retype it in Confirm Password.
5. Select Save Settings at the top or bottom of the screen. Your Room Alert Monitor will reboot with your new settings.
Resetting Unknown Credentials
If you have lost the credentials to your Room Alert Monitor Settings page, you'll need to reset the unit to factory defaults to regain access. Resetting to factory defaults erases all existing settings.
Please see our FAQ How To Reset A Room Alert Monitor To Factory Defaults for instructions.