AVTECH Software's New CEO, Richard Grundy!
AVTECH Software is pleased to announce the promotion of our President & Chief Operating Officer, Richard Grundy, to President & Chief Executive Officer effective July 15th, 2023. Rick Grundy has been with AVTECH for 22 years and is excited to take on the expanded executive leadership role while AVTECH's founder and former CEO Michael Sigourney transitions into the role of Founder, Chairman, Evangelist and Brand Ambassador for Room Alert. Our team is thrilled about this strategic business move and are confident it will reinforce our leadership continuity and propel our growth to new heights for years to come. We congratulate Rick on becoming AVTECH's new CEO by reflecting on the 20+ year journey that has brought him to this point.
Finding AVTECH
Rick first discovered AVTECH when he was a college student studying computer science at Wentworth Institute of Technology. Between his sophomore and junior year, Rick was looking for an internship with a software company located ideally in the summer beach community of Newport, RI, where AVTECH was located at that time. Thanks to Michael Sigourney's clever naming, Rick quickly found AVTECH Software on the first few pages of the phonebook and talked his way into an internship in May of 2001. After a successful summer internship, Rick returned to school equipped with a cellphone and continued opportunities to increase his role while still attending school. Rick's incredible work ethic was identified early on, as he was able to juggle all of these new responsibilities while being a full-time student and graduating summa cum laude. After graduation, Rick joined AVTECH full time as Technical Services Manager.
Moving Up The Ladder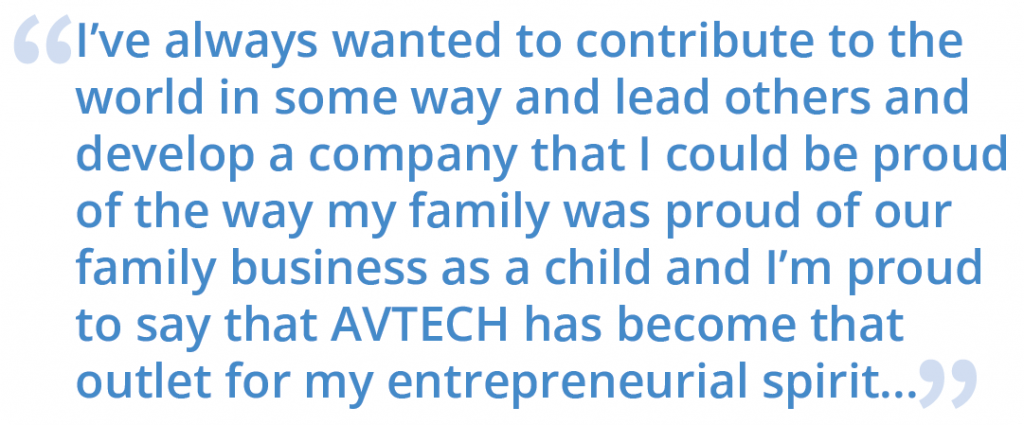 The role of Technical Services Manager was responsible for all things related to technical support and product documentation. However, Rick's strong entrepreneurial spirit backed by an engineering background soon pushed him towards new product development. Rick soon became the Product Development Manager and subsequent Director of Engineering while growing out a substantial engineering team in parallel and under Rick's leadership. Michael's sales and marketing background combined with Rick's engineering background created a mindset of "if we can dream it, we can build it" which our team continues to carry to this day. AVTECH launched the line of TemPageR products in 2004, which were able to provide real-time temperature monitoring for IT & facilities, then expanded that line into an entirely new generation of Room Alert products in the years to come.
First Goal As CEO
One of Rick's first goals as the new CEO is to continue our efforts on global expansion, with a targeted focus on the European market. Our Room Alert environment monitoring products are in 187 of 196 countries, many of which are within the EU. Over the past several years, we have identified the EU as a market with strong demand for our products and significant growth potential. In 2018 we opened our first international distribution facility in Shannon, County Clare, Ireland. Shipping from this location allows our team to reach many countries in Europe in just 1-2 days through ground shipping, as well as help us to reduce import taxes and fees for our European customers. Moving forward, Rick plans to continue investing in our European presence through further expansion of our subsidiary in Ireland.
An ongoing goal of Rick's is to continue identifying and expanding into new markets and industries as the need for environment monitoring technology grows. Data centers and IT have known about environment monitoring for years because they've had a need for monitoring temperature and power to protect expensive equipment and servers. More recently we are seeing additional opportunities for environment monitoring such as monitoring worker safety conditions for OSHA compliance, meeting sustainability efforts for new energy initiatives, general facilities management and the list keeps growing. There is so much potential out there and Rick is taking on his new leadership role with enthusiasm and excitement because, in a lot of ways, our industry is still growing and expanding as more industries become more and more dependent on technology and supporting their infrastructure and critical assets.
Continuing Michael's Legacy
When asked the loaded question of how he plans to ensure the future success of AVTECH, Rick had a simple answer. Rick aims to continue Michael's legacy of investing in our team first and foremost. Our approach has always been that by taking good care of our employees and their families, they are able to do their best work. Not many companies earn the privilege of celebrating their 35th anniversary, especially in a constantly-evolving technology industry. Our team needs to be able to adapt, innovate and keep up with the changing needs of our customers. That is why we hire the best talent, provide the best employee benefits we can, maintain minimal job turnover and create a positive work environment that promotes innovation and continuous improvement.
We stand behind our core values which include creating diversity both in terms of age, gender, race and also in terms of people's interests, their uniqueness and the various experiences that every individual brings to the table. We also prioritize being an active member of the community where a lot of our team members and their families live. We give back by participating in frequent blood drives, donating to local schools and nonprofits as well as hiring student workers and interns amongst other efforts. We also place an emphasis on the importance of spending time with family and friends and focusing on aspects of life outside of work. By staying true to AVTECH's core values that Michael set into place years ago, we've won many awards such as the Providence Business News Best Places To Work award year after year and the CIOViews Best Companies To Work For award. One of Rick's biggest takeaways from his experience with Michael is the value of investing in the success of the people and families who make up the team. Rick is dedicated to continuing this legacy and upholding our core values.
A Bright Future Ahead
It is easy to have confidence in Rick's ability to fulfill his new role because his past points to a journey of growth from intern to leader through various roles and responsibilities along the way. There is no doubt that Rick has the experience, leadership skills, commitment and spirit to take AVTECH to new heights.