Prevent Overheating Wheel Bearings with Room Alert Environment Monitoring
Train derailments are catastrophic events that can have far-reaching consequences, from loss of life and property damage to disruptions in transportation networks. Among the many factors contributing to derailments, overheating wheel bearings stand out as a significant risk. These bearings, vital components in a train's wheel assembly, can lead to friction-induced overheating, ultimately resulting in derailments. While traditional approaches to maintenance and inspection play a crucial role, Room Alert environment monitoring can also help significantly contribute to the prevention of overheating wheel bearings and subsequent train derailments.
Wheel bearings are critical to the safe operation of trains. They allow wheels to rotate smoothly while supporting the weight of the train. However, when these bearings experience excessive friction due to factors like inadequate lubrication, mechanical issues, or irregular track conditions, they can overheat. This overheating leads to the breakdown of lubricants, which, in turn, exacerbates friction and may eventually lead to bearing failure. The repercussions can range from minor disruptions to catastrophic train derailments, highlighting the critical need for effective preventive measures.
One of the most effective ways to proactively monitor wheel bearings that are beginning to overheat is with temperature monitoring. Room Alert environment monitoring is a comprehensive solution that can oversee a wide range of environmental conditions, such as temperature, humidity and flood/water. Room Alert hardware consists of monitors, sensors and accessories that all work together to prevent costly unplanned outages such as safeguarding against overheating wheel bearings.
The best Room Alert sensor for monitoring wheel bearings is our Digital Outdoor Temperature Sensor. This sensor accurately monitors real-time temperature values from -67 to 257 degrees Fahrenheit and/or -55 to 125 degrees Celsius. It comes in the same variety of cable lengths (25', 50' and 100') so it can best suit your unique application. However what makes this sensor particularly advantageous for trains is its external silicon coating. This coating makes the Digital Outdoor Temperature Sensor resilient enough for temperature monitoring outdoors or in a variety of other harsh environments. By integrating Room Alert into the railway infrastructure, operators gain real-time visibility into conditions that can contribute to overheating wheel bearings. Room Alert can also help railway operators reduce the need for costly emergency repairs, service interruptions, and the associated financial losses. The Digital Outdoor Temperature Sensor is also a great solution for monitoring heat-related worker safety concerns at construction and landscaping sites, mail and package delivery and more.
Early Detection & Proactive Prevention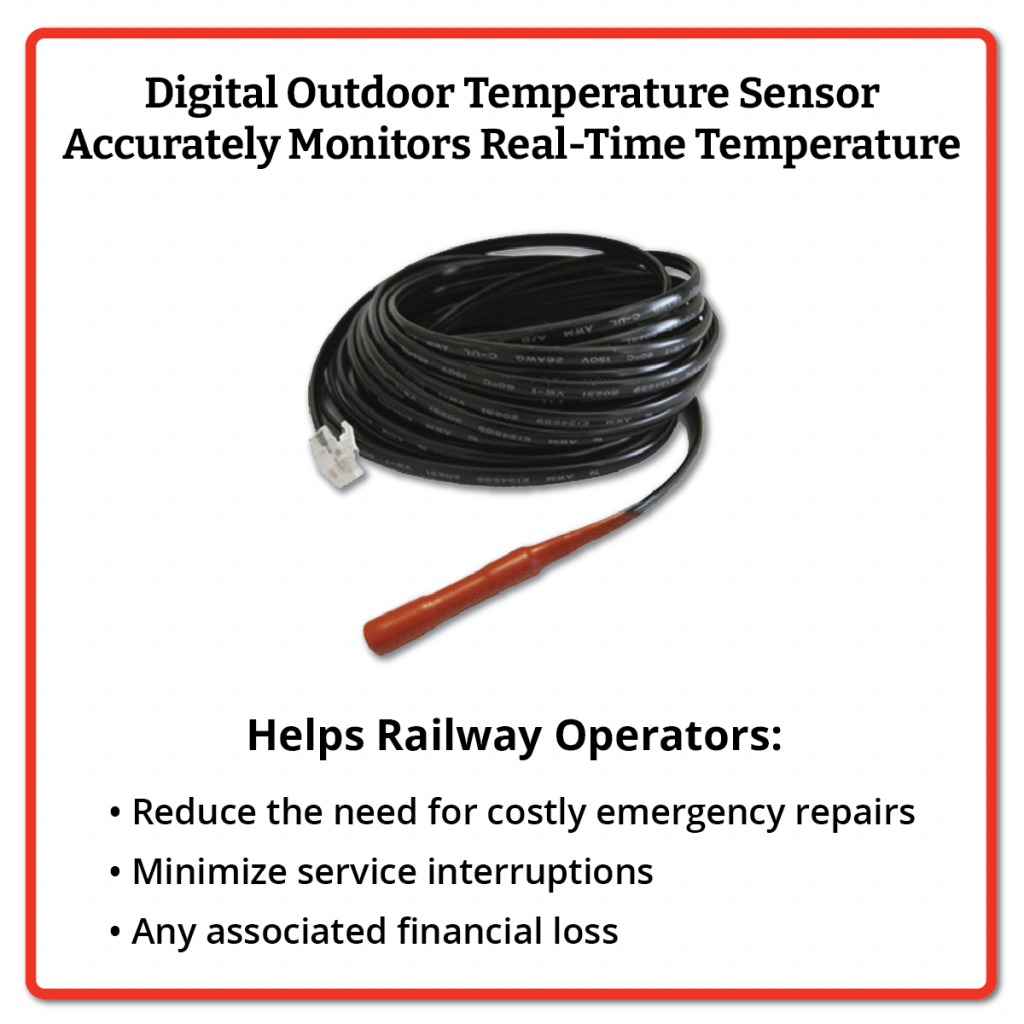 One of the core strengths of Room Alert lies in its ability to detect anomalies and deviations from established norms. When it comes to preventing overheating wheel bearings, this capability is invaluable. By being your reliable eyes on-site 24/7, continuously monitoring temperature levels in critical areas such as the wheel assembly and the track, Room Alert can promptly detect and notify you via custom push notifications, native SMS text messages or email of any abrupt temperature spikes that may indicate an impending overheating issue. This immediate notification enables swift responses and preventive measures to address the overheating issue before it escalates.
Room Alert is also backed by our Room Alert Manager software and Room Alert Account online dashboard. This is where users can benefit from a plethora of capabilities, such as the ability to view up to 2 years of data history. Maintaining historical sensor data records can be immensely valuable in identifying patterns and trends related to overheating incidents. By analyzing this data, railway operators can make informed decisions about maintenance schedules, route planning, track conditions and enhance overall operational efficiency.
The prevention of train derailments caused by overheating wheel bearings requires a multi-faceted approach that integrates technology, data analysis and proactive maintenance strategies. Room Alert environment monitoring offers an all-encompassing solution by providing railway operators with the ability to monitor critical environmental factors, detect anomalies and respond swiftly to overheating risks. Through the implementation of Room Alert, the railway industry can significantly enhance safety, reduce the likelihood of derailments and ensure the seamless operation of train networks. Protect people, property and productivity with Room Alert.
Contact Us
If you have any questions or want additional information about preventing overheating wheel bearings with Room Alert, please contact us today through email at Sales@AVTECH.com, through our online Live Chat service, or via phone at 401.628.1600.