Room Alert Helps Businesses Cut Costs
In an era marked by economic uncertainties, businesses are navigating uncharted waters, and prudent financial planning is essential. The State of IT 2024 study reveals that 84% of organizations have expressed concerns about the potential onset of an economic recession. As a result, many are setting plans in motion to reduce costs as a precautionary measure. Interestingly, despite these cost-cutting initiatives, a staggering 66% of companies are increasing their technology investments in 2024. This is a testament to the belief that the right technology can not only bolster efficiency but also lead to substantial cost savings. Environment monitoring is no exception, as it is a critical part of effective Business Continuity planning.
Room Alert: Cost-Cutting Superhero for All Businesses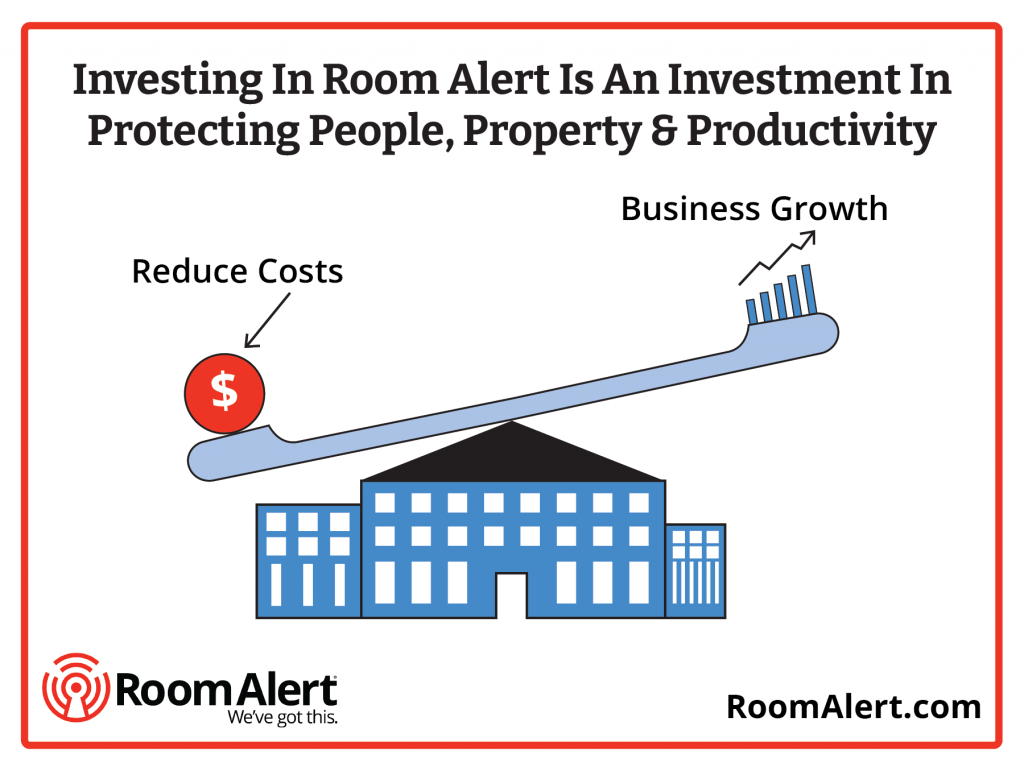 Room Alert environment monitoring is the perfect solution for helping businesses, facilities and organizations of all kinds and sizes to cut costs. Room Alert's robust environment monitoring platform works by proactively overseeing environment conditions such as temperature, humidity, power, water/flood, air flow, motion, fire/smoke and more. The Room Alert ecosystem is comprehensive and consists of monitors, sensors, accessories and software that all work together to help users cut costs. Room Alert promptly detects and notifies you via custom push notifications, native SMS text messages, or email of any changes or potential problems. This immediate notification enables swift responses and preventive measures to address issues before they cost you in money, time, resources and your reputation. Room Alert is a necessary business continuity tool that helps minimize and entirely eliminate costs related to environmental damage such as unexpected power loss, data loss, flooding, high heat and so much more.
Environment monitoring with Room Alert also offers built-in safety & compliance features. Maintaining industry compliance can be a daunting task, but with Room Alert, it becomes a seamless process. Room Alert helps users maintain industry standards by proactively alerting them to any concerns that could threaten their compliance status. Room Alert logs all of your sensor data in one place where users can easily create reports and reference data to demonstrate compliance. By adhering to industry standards, businesses can further reduce the risk of incurring unexpected costs due to non-compliance such as penalties and fines.
Sudden temperature spikes in your data center can lead to equipment overheating/ failing which can cause irreversible data loss. Sudden temperature spikes in your waterhouse can cause the heat index to jump, thus jeopardizing employee safety and OSHA compliance. Water encroachment in your facility can quickly lead to water damage, mold and flooding. Room Alert helps to cut costs within cold storage, pharmaceutical applications, colleges, residential areas, banks and financial institutions, transportation and more. The best way for businesses to cut costs without compromising is by installing Room Alert, the most comprehensive solution designed to proactively detect, monitor and mitigate environmental threats. Room Alert provides peace of mind while protecting your critical assets.
Room Alert is more than just an environmental monitoring system; it's your ally in cutting costs, protecting your assets, and ensuring uninterrupted business operations. At a time when economic stability is a concern for most, Room Alert equips businesses with the tools to preemptively address environmental threats, reducing the financial burden of unexpected outages, equipment damage, and non-compliance. By investing in Room Alert, businesses can safeguard their people, property and productivity. Room Alert stands as a cost-saving superhero that empowers businesses to thrive in an uncertain world.
Contact Us
If you have any questions or want additional information, please contact us today via email at Sales@RoomAlert.com, through our online Live Chat service, or by phone at 401.628.1600.