Environmental Monitoring Without The Need To Plug In To The Network
New AVTECH Room Alert 3 Wi-Fi Monitor Expands Environmental Monitoring To New Markets
January 23, 2015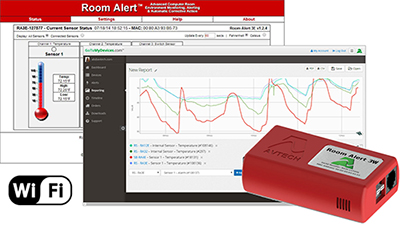 (View Original Article)
Processor Vol. 37 Number 2
AVTECH Software's new Room Alert 3 Wi-Fi marks the latest in the company's long line of powerful and popular IT and facilities temperature and environment monitors.
AVTECH which has been in business since 1988, now has more than 130,000 customers in 179 countries. Michael Sigourney, president and CEO, says this new Room Alert model will reach an even bigger audience because it eliminates the need to physically "plug in" to the network.
Small Footprint
The unique footprint and features of Room Alert 3 Wi-Fi make it perfectly designed to assist with monitoring temperature and other environmental conditions where a small footprint is needed, where a network connection may not exist, when the investment cost needs to be minimal, or where deployment volume may be high.
With one digital temperature sensor built-in, users can expand monitoring by adding another digital sensor (i.e. temperature, humidity, outdoor and fluid temperature) as well as a switch sensor for conditions such as flood/water, power, smoke/fire, air flow, and room entry/motion.
Room Alert 3 Wi-Fi is also the least expensive host for a light tower that can add visual/audio alerting or a relay switch sensor that can power up/down up to three other devices.
Use Anywhere There's Wi-Fi
Room Alert 3 Wi-Fi has many benefits and can be used anywhere a Wi-Fi connection is available. There are no cables to run, so you can distribute Room Alert 3 devices around the world and monitor them all together on a single screen through AVTECH's Device ManageR software (included free) or new GoToMyDevices (www.GoToMyDevices.com) cloud service. New customers receive a one year Personal subscription to GoToMyDevices at no charge.
Affordable Price Opens New Markets, Uses
Based on its ease of use and price of just $145, Sigourney says, Room Alert 3 Wi-Fi can help bring temperature and environmental monitoring into markets that have previously been slow to adopt this technology. Key markets include medical, cold storage, housing, retail, food service, museums, public buildings, farming, transportation, warehousing, and distribution. AVTECH Room Alert 3 Wi-Fi is in production and will ship by Feb. 28, 2015.
View Room Alert 3 Wi-Fi Brochure
View Room Alert 3 Wi-Fi Product Page