Product Spotlight: Room Alert 3E for Temperature and Environment Monitoring
All of our Room Alert models provide a wide range of monitoring capabilities for our customers when it comes to temperature, humidity, power, flood, smoke and more. Some end users will place a larger model such as the Room Alert 12ER in a facility, and equip it with a number of our external sensors. When it comes to monitoring smaller spaces, or you need monitoring in hard to reach places, the Room Alert 3E is the perfect solution.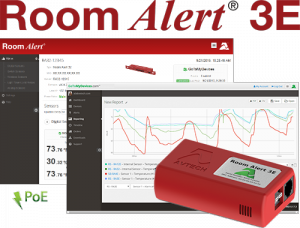 The compact size of the Room Alert 3E allows it to be placed in any number of positions or locations; at just around the size of your typical cell phone the Room Alert 3E fits nearly anywhere you might need monitoring. The Room Alert 3E can also be powered via PoE, so if power outlets aren't available you can still get an easy to install wealth of proactive monitoring for your facility or assets.
While its size and ability to be powered over PoE are two strong key points with the Room Alert 3E, it also provides a full suite of alerting and reporting without the need for a host PC! Alerts are easy to set up either directly on Room Alert, through the included Device ManageR software, or via our GoToMyDevices cloud service. No matter what you use to set up alerts, they can be sent to a cell phone or email inbox the instant an alert is triggered.
We've put together a quick introduction video to help you see how easy it is to set up and configure the Room Alert 3E for your facility.
For locations that need more than just temperature reporting, the Room Alert 3E can have two types of external sensors connected for additional monitoring. Do you have a tough to reach spot that's prone to flooding? Add our Flood Sensor to be alerted of any sort of liquid or fluid leak anywhere along the length of the sensor.
Perhaps your location has a cold storage unit that needs to stay within a very tight temperature range. Just attach a Digital Temperature Sensor to the Room Alert 3E, run that sensor into your cold storage unit, and the Room Alert 3E can let you know as soon as the temperature goes above or below any thresholds you configure.
Thanks to the low cost of the Room Alert 3E, multiple devices can be installed in one large facility to cover distant locations easily and cost effectively. Since each Room Alert 3E has a built in temperature sensor, you can opt to plug in an additional external sensor to also monitor humidity, air flow, or even a smoke sensor for early warnings in the event of a fire or equipment malfunction.
The Room Alert 3E can be fully managed through our GoToMyDevices platform, which provides one cloud based portal to oversee all of your Room Alert products. Alerts, thresholds, and notifications can all be managed through GoToMyDevices. You can also have multiple reports and graphical overviews for all of the devices in your account through a single interface.
When you pair up a Room Alert 3E with GoToMyDevices, you create a 24×7 monitoring platform that allows you to get an instant look into the environment and power conditions that can impact your business. Don't allow a natural disaster or unfortunate accident to hinder your company's ability to keep working – let our Room Alert 3E help protect your facility and keep you informed of any temperature or environment changes immediately.
If you'd like more information on how Room Alert can help protect your facility, please contact us today by calling 401.628.1600, clicking the Live Chat button on the left, or emailing our Product Specialists at Sales@AVTECH.com. Always remember… Don't Wait Until It's Too Late! Protect your facility with Room Alert today.