Knowledge Base / Frequently Asked Questions / Device Discovery Utility
How To Recover Room Alert Firmware With The Device Discovery Utility
Your Room Alert Monitor is requesting a firmware recovery if you observe all of these conditions:
– The unit is not accessible on the network.
– The Ethernet port LEDs appear as shown below:
The left "Link" LED is unlit.
The right "Activity" LED is blinking orange.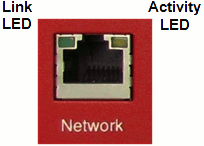 You may use the AVTECH Device Discovery Utility to perform the firmware recovery. Use the latest version of the utility, which is available for download from your account at RoomAlert.com.
Follow these steps to recover your Room Alert firmware.