Announcing Lifetime Subscriptions For Our Room Alert Account Service
Being alerted to a possible environment problem that can cause damages or downtime is the primary reason why organizations in 186 of 196 countries have installed Room Alert. Protecting data centers, facilities, and critical assets is crucial to every organization's business continuity plan.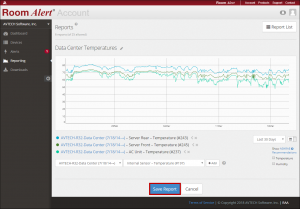 Room Alert users have multiple options they can choose from (or use together) to receive alerts, generate reports, and monitor the environment factors they install Room Alert to keep an eye on. We offer Device ManageR software for local network use, along with our online Room Alert Account service at RoomAlert.com for easy alerting and management. Some users also opt to use a third-party SNMP software package, such as Solar Winds, Nagios, PTRG, and many others. Room Alert's firmware also offers alerting and management options directly within the hardware as well.
The ease of use of our Room Alert Account service, along with its accessibility from anywhere in the world, has led it to become the alerting method of choice for many of our users. While we do offer a free tier of service, which includes firmware downloads and basic alerting & reporting capabilities, most of our Room Alert Account users opt to upgrade to a paid tier to access more alerts, monitor more devices, create more reports, gain direct access to live technical support options and much more.
The Room Alert Account service is normally billed on a monthly or annual basis, with most users opting to pay annually. In the past, delayed payments or stale user information has led to accounts "expiring"; although data was retained, some features could no longer be accessed until the service was brought current by the user. As a result, some customers inquired about paying for multiple years at a time to alleviate that issue, as well as simply not having to worry about paying for their Room Alert Account service for quite some time.
Thanks to their inquiries, we have decided to go one better – rather than offer just multi-year packages, we have decided to offer lifetime subscriptions to our Room Alert Account service!
Users can opt to purchase a lifetime subscription to their Room Alert Account service at the following levels and prices:
Professional Tier – $1995
Enterprise Tier – $4995
Lifetime subscriptions are non-expiring, independent of the hardware that you purchase. This simply means that if you buy new Room Alert monitors or upgrade your current monitors to larger Room Alerts (or future new releases), your Room Alert Account service will remain in place with no additional charges or fees, unless you opt to upgrade to a higher tier for more capacity.
Purchasing a lifetime subscription to Room Alert Account service will provide you and your organization with non-expiring access to:
Device ManageR plugins
Advanced and customizable alerting options
Email, chat, and phone support
Network camera monitoring
Report exporting
And much more
Room Alert users who require more capacity for monitors, alerts, or reports can also opt for a custom lifetime Enterprise+ tier. Please contact your Product Specialist for more details.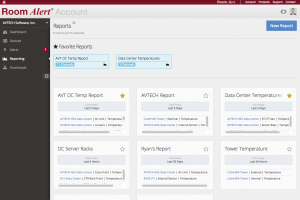 Offering lifetime subscriptions to the Room Alert Account service allows users the peace of mind in knowing that their data, alerts, reports, direct access to technical support, and more will never be interrupted by a missed payment, or their company contact information being out of date and missing notifications (i.e. the main contact on the account leaves the company and neglects to update the contact information within their Room Alert Account service).
Choosing lifetime Room Alert Account service subscriptions makes a lot of sense for organizations who are required to purchase plans based on budgets and fiscal years, such as government organizations, schools & universities, and municipalities. The cost savings are excellent in comparison to some other service and licensing plans your organization may be using as well. For example, a lifetime subscription of the Professional Tier is only a few hundred dollars more (or less, depending on the model & capacity) than an ANNUAL subscription to many firewall licensing services.
Think about it – you can guarantee your organization will have their Room Alert Account service covered forever. No more concern over billing dates, payment approval, who in your organization is actually in charge of making sure renewal is completed… everything is taken care of. Period.
For more information about lifetime Room Alert Account subscriptions, or for a custom quote for your organization, please contact your Product Specialist. They'll be happy to provide you with a proposal to make sure your Room Alert Account is taken care of for as long as you're a Room Alert user. We've been here for 30 years, and hope you'll be with us for another 30 more!