Look Up In Your Server Rooms And Data Centers
Have You Looked Up In Your Server Room?
Many IT managers and other IT staff who work in server rooms on the 2nd or 3rd floors of buildings never consider flooding or water damage as a serious threat to their facility. In fact, many assume they never need to worry about water damage when their businesses are not on the ground floor. Because of this, a lot of server rooms and data centers that are on upper floors aren't prepared for environment changes that put their facilities at risk. Regardless of what floor your server rooms and data centers are on, your business continuity plan should consider and prepare for handling burst water pipes (and other leaks), water damage, mold, mildew and flooding.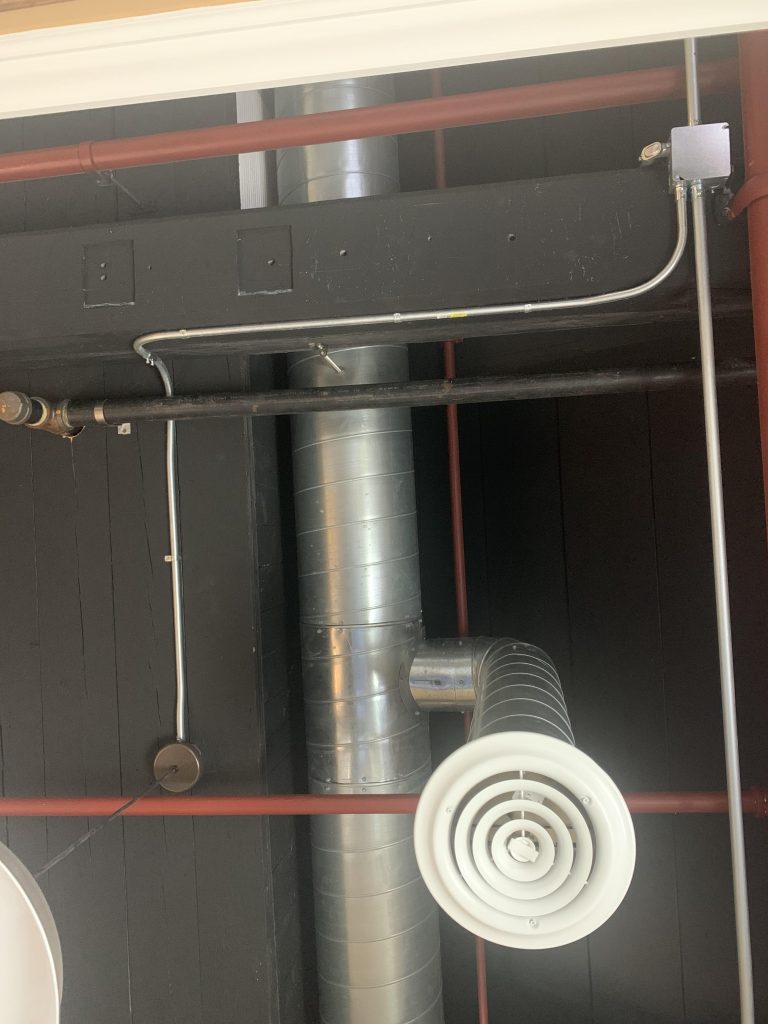 One major way that server rooms and data centers experience water damage is through flooding from the pipes above. You and your business are at risk if you do not proactively prepare for problems such as leaking water pipes and flooding. When you're in your server rooms and data centers, be sure to look up! If you have any important equipment below where your ceiling pipes are located, you are at risk. The best solution to ensure your facilities are protected from water damage, flooding and more is with proactive environment monitoring by Room Alert.
How Can Room Alert Help?
Room Alert monitors your server rooms, data centers and other critical areas for changes in the various conditions of your facility. When your Room Alert detects a change in the environment conditions, you will be notified via text, email or HTTP Post before a costly disaster unfolds. All facilities can benefit from Room Alert because, for example, if the water pipe above your 2nd-floor data center bursts, Room Alert and its targeted flood/water detection sensors will notice the issue and notify you. Now you are able to take corrective action and prevent going out of business or spending thousands of dollars to repair the damage.
Specifically, Room Alert offers Flood Sensors w/ Cables which are activated when any liquid makes contact with the attached Flood Sensor Cable. This sensor is available in 8 feet, 24 feet and 50 feet options. You can additionally purchase a 50 foot Flood Cable Extension to customize your Flood Sensor to fit exactly what you need. Once liquid is detected from the Flood Sensor Cable, the Flood Sensor triggers an alarm condition. This prompts the Room Alert hardware, locally downloaded Room Alert software and/or other monitoring application to send out alerts via text, email, or HTTP Post thus allowing you to take timely corrective action.
Our other Flood Sensor option is a Flood Sensor (Spot) that provides real-time recognition of flooding and/or water and plugs into an available switch sensor port on your Room Alert monitor. This sensor is powered by a 9v Alkaline battery (included), and consistent with our other Flood Sensor, this will trigger an alert if it detects the presence of liquid.
Proactive Environment Monitoring with Room Alert and Room Alert Flood Sensors keeps you up to date on the conditions of your server rooms, data centers and other mission-critical IT areas so you can ensure your facilities are functioning as safely and efficiently as possible even from remote locations. Room Alert is particularly beneficial and saves money if you rarely go into your server room. If you are rarely physically present in your server rooms and data centers, that allows the likely possibility that a slow water leak could steadily build up and cause severe damage. Did you know that according to Water Damage Defense, a leak from a ⅛ inch pipe crack in one day is 250 gallons of liquid? If Room Alert is proactively monitoring your facility, you can catch this leak and prevent further damage. Without Room Alert, you will waste a lot of time, money and resources having to tackle avoidable and costly downtime in your server rooms and data centers.
As all IT Professionals should know, a few drops of water in the wrong place could short circuit several pieces of mission-critical gear, leading to network downtime and lost revenue. Using Flood Sensors with Room Alert can give you an early warning when water is threatening your network.
What About Mold Damage?
Mold and mildew are factors you always have to consider when dealing with water damage, flooding and high humidity. Mold can grow on almost any surface in the presence of moisture. If you are not proactively monitoring for water damage and flooding, then your organization is also at risk for experiencing mold. According to FEMA, "Mold and mildew will develop within 24-48 hours of water exposure…it will continue to grow until steps are taken to eliminate the source of moisture, and effectively deal with the mold problem."
In terms of employee safety, there are many negative health effects related to mold such as asthma attacks, allergic reactions, bronchitis and skin or mucosal infections and much more. Equally as scary as the health effects, mold removal is typically a costly and timely process. According to FIXR, "The average cost of mold remediation is $2,000 – $6,000."
Use proactive environment monitoring with Room Alert to go a step further and prevent water damage, mold damage and flooding in your facilities. Specifically, our Temperature & Humidity Sensor is perfect at monitoring for mold and mildew damage because this sensor is designed to monitor for the two environment conditions that could encourage mold growth. This sensor will ensure you are notified when the humidity in your facilities is high enough to promote mold and mildew growth.
Contact Us
If you have any questions or want additional information on how Room Alert will protect your server rooms and data centers against costly damage related to water damage, mold and flooding, please visit our YouTube Channel and be sure to read more of our articles here to learn many other reasons why you need Room Alert to prevent unnecessary and costly downtime. You can also speak with a dedicated Sr Product specialist via email at Sales@AVTECH.com, by phone at 401.628.1600, or through our Live Chat feature right here on our website. Don't wait until a storm causes downtime and damage for your organization – install Room Alert today to have peace of mind tonight.