Hurricane & Disaster Preparedness with Room Alert
The National Oceanic and Atmospheric Administration (NOAA) is predicting an above-normal 2022 Atlantic hurricane season, which extends from June 1st to November 30th, but hurricanes and severe storms can form before or after. The NOAA is forecasting a range of 14 to 21 named storms (winds of 39 mph or higher), of which 6 to 10 could become hurricanes (winds of 74 mph or higher), including 3 to 6 major hurricanes (category 3, 4 or 5; with winds of 111 mph or higher). According to Forbes, these major hurricanes can cause catastrophic damage that could result in widespread power outages and leave residential areas uninhabitable for several days to months. 
This is the 7th consecutive above-average hurricane season with NOAA Administrator Rick Spinrad, Ph.D. sharing "As we reflect on another potentially busy hurricane season, past storms, such as Superstorm Sandy, which devastated the New York metro area ten years ago, remind us that the impact of one storm can be felt for years." Now is the time to get ready for what is expected to come. 
In order to effectively prepare your home, business or other facilities, you must take a comprehensive approach that carefully considers all of the factors that hurricanes are known to produce such as strong winds, storm surge flooding, and heavy rainfall that can lead to inland flooding, tornadoes, and rip currents.
Environment Monitoring with Room Alert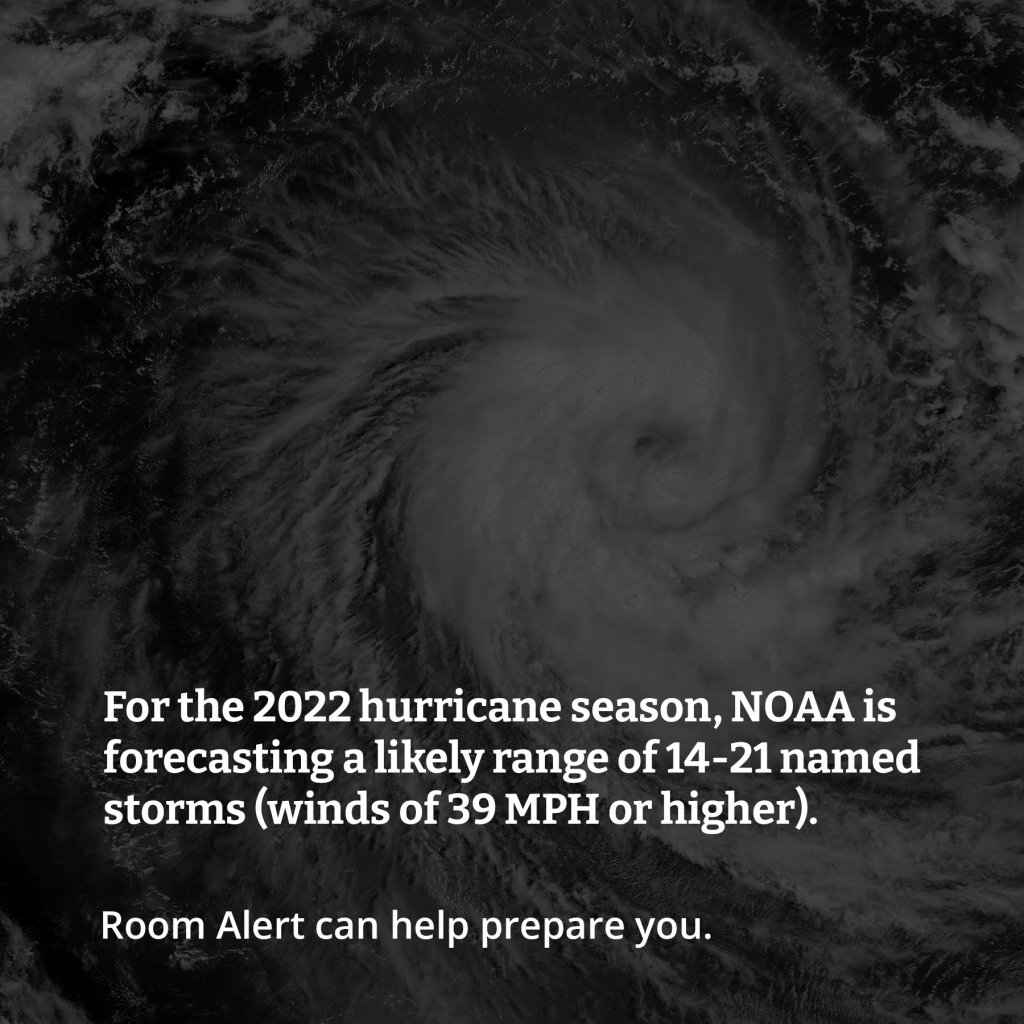 One major component of efficient hurricane & disaster preparedness is advanced and secure environment monitoring. Room Alert is the most easy-to-use, reliable & affordable solution for preventing the 30% of downtime caused by environment-related concerns, such as those that arise during and after hurricanes and other severe weather. 
The entire Room Alert platform consists of monitors, sensors, accessories and software that will begin proactively overseeing all of the conditions within your environment, from the moment it is installed. Our product line offers all of the hardware and online monitoring capabilities you could ever need to ensure you are as prepared and well-equipped as possible against this year's hurricane season. 
Investing in Room Alert means always having eyes on-site that will promptly notify you and your team as soon as a potential threat, such as unexpected flooding due to a hurricane, is detected. Room Alert buys you time and provides peace of mind. When you receive immediate notification, thanks to Room Alert, you and your team will have as much time as possible to take corrective action and prevent irreversible damage from unfolding. For example, let's say a hurricane strikes on a Friday evening when your facility is entirely unmanned, and the strong winds knock out the power. Room Alert will text you about this unexpected power outage and provide a frame of reference as to when your power was lost. The accurate and timely knowledge that Room Alert offers will allow you to begin planning recovery sooner rather than later.
Even if your home, business or facility isn't in the direct path of any hurricanes this season, you can still be impacted just as badly in the event of severe weather such as a sudden storm, a prolonged power outage, heatwave and more. Downtime due to hurricanes cannot always be 100% prevented but, at the very least, you can take precautions to minimize the extent of the damage. Install Room Alert today to oversee and protect your assets from catastrophe this hurricane season.
Contact Us
If you have any questions about how environment monitoring Room Alert can help keep your assets safe during hurricane season, please contact us today through email at Sales@AVTECH.com, through our online Live Chat service, or via phone at 401.628.1600.       
You can also visit our YouTube Channel and read our articles here to learn many other reasons why you need Proactive Environment Monitoring with Room Alert.