Protect Cold Storage In Schools With Room Alert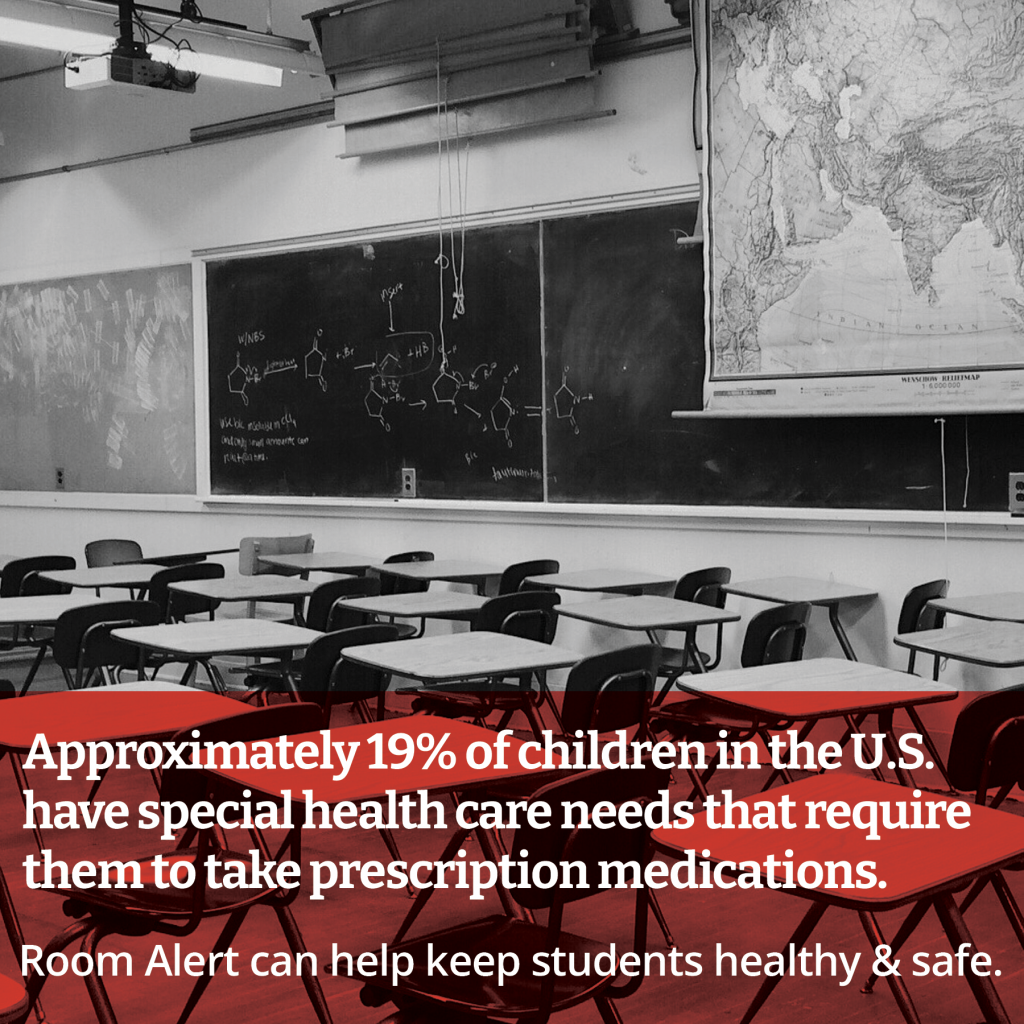 Cold storage facilities that house any temperature-sensitive products, such as medication or food, can quickly become ineffective and their contents contaminated if they are not stored properly. If temperatures unexpectedly spike or power is lost, thousands or even millions of dollars in materials can be destroyed. Proactive environment monitoring is the best way to oversee the environmental conditions in real-time and stop irreversible disaster from unfolding in its tracks.
Room Alert is the most reliable and comprehensive solution for preventing the 30% of costly downtime that is caused by temperature, humidity, power loss, water damage and more. For years, Room Alert has been trusted in vaccine and pharmaceutical storage, the food industry and other settings where inventory must be stored in specific conditions. Room Alert is also vital to monitoring cold storage facilities in schools that contain anything from student medication to food and beverages.
Approximately 19% of children in the U.S. have special healthcare needs that require them to take prescription medications. With the increase in the number of students with chronic diseases and complex medical histories, there is an increasing need to administer medications in school. Oftentimes, these medications must be stored in temperature-controlled environments in order to remain safe and effective. Cold storage facilities can be a huge liability because they are prone to downtime. Even the slightest change in the environment that is not immediately identified and corrected can lead to extensive damage. However with Room Alert as a part of your Continuity Planning efforts, schools can help keep students healthy and safe. Room Alert is an affordable investment that usually pays for itself after just one incident where it prevented or minimized the extent of downtime.
Room Alert Sensors
Room Alert hardware consists of monitors, accessories and a wide range of sensor options to help you find the best solution for your unique application. We have several sensor options specifically for cold storage management. The Digital Fluid Temperature Sensor monitors temperature from -67 to 257 °F (-55 to 125 °C) and features a special tube containing Propylene Glycol, which has extremely low freezing and high boiling points. This sensor was designed with refrigerated, frozen or other condensing environments in mind, and is recognized as safe by the U.S. Food and Drug Administration. The Digital Fluid Temperature Sensor reads within +/- 2 C degrees accuracy and has an innovative design that protects the sensor's components from excessive moisture, making it a perfect Room Alert sensor option for cold storage.
Our Digital Extreme Temperature Sensor is also ideal for monitoring extreme cold storage, as it offers our widest range of temperature monitoring from -328 °F to 932 °F (-200 °C to 500 °C). It is designed to have the sensor tip installed directly into the location or equipment that needs monitoring for optimal monitoring. This sensor also operates directly from Room Alert with no additional external power source required. From hospitals to medical labs, food storage facilities, warehouses and cold storage settings of all kinds and sizes, our Digital Extreme Temperature Sensor helps prevent catastrophe.
The Digital Active Power Sensor w/Temperature has capabilities to oversee temperature, but with additional patented technology to track the real-time power status of any electric device by simply strapping it to any AC electrical cord. By power monitoring with Room Alert, you will receive instant notification if power is lost to the unit for any reason. This means that action can be taken well before temperatures start rising to levels that can cause spoilage. For example, your school's cold storage room may require a maintained temperature of 39°F (4°C) or colder. With the Digital Active Power Sensor w/Temperature, you can set a custom alert to notify you if the temperature rises above 39°F (4°C) or if there is an unforeseen power outage. Now if a potential threat does rise, Room Alert will act as your eyes on-site 24/7 to keep you in the know.
Protect Student Medication, Increase Food Safety & More
Our complete Room Alert line helps to ensure your cold storage facilities and the critical materials they store are safe from costly damage due to unmonitored conditions in your environment. Room Alert provides peace of mind by protecting people, property and productivity.
If you have any questions or want additional information on how Room Alert can help keep student medication safe in schools, please contact us today through email at Sales@AVTECH.com, through our online Live Chat service, or via phone at 401.628.1600.