Continuing The Room Alert PRO Line…Announcing The Room Alert 12S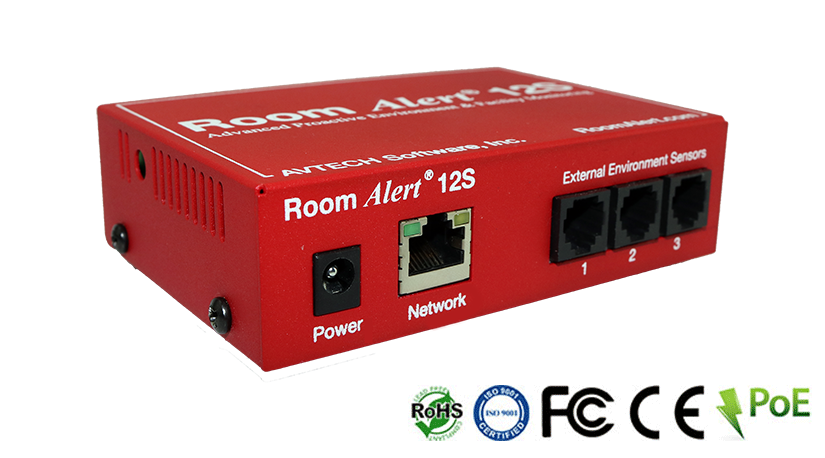 After unprecedented success following the recent launch of our new Room Alert 32S, we are continuing our PRO line of proactive environment monitors to provide our Room Alert users with options for advanced security, data encryption and more. Offering all of the same advanced and secure features of our Room Alert 32S, the Room Alert 12S is a smaller, more compact monitor which is ideal for monitoring facilities that require less sensor capacity. The Room Alert 12S package provides real-time sensor status, data logging, graphing, advanced alerting, Fahrenheit/Celsius, high/low watermarks and so much more in either a wall mount or convenient rack-mount form.
Just like the Room Alert 32S, the Room Alert 12S offers:
HTTPS/SSL web interface

SSL/TLS email notifications

SNMP versions 1, 2c and 3

2048-bit encryption

SSL push for data to reach the Room Alert Account online dashboard

Secure and advanced alerting via email, email-to-SMS, SNMP, JSON, HTTP Post, webpage update and more
We engineered the Room Alert 12S to have the capacity for over 12 sensors, plus with the purchase of a Room Alert 12S, you will also receive an external Digital Active Power with Temperature Sensor and 1 year of Professional tier Room Alert Account service. This sensor allows Room Alert users to monitor the power status of nearly any device.
Just as with all of our other proactive environment monitors, the Room Alert 12S comes standard with free firmware updates as well as lifetime support.
The Room Alert 12E vs Room Alert 12S
Both our Room Alert 12E and Room Alert 12S have the same level of support and capacities for our sensors, although the Room Alert 12S has added layers of advanced technology, security and encryption. The Room Alert 12S is able to provide data security that is perfect for organizations that must meet and maintain certain industry standards. These data security features include HTTPS and secure SSL web interface as well as SSL and TLS email notifications. This makes the Room Alert 12S the best Room Alert proactive environment monitoring solution for Banking, Government (Military) and Telecom facilities. Our Telecom Room Alert users want the security options offered by the Room Alert 12S so they can meet FCC industry requirements. Our Room Alert users who look to follow DFARS, NIST SP 800-171 and ISO/IEC 27000 best practices will want to implement the Room Alert 12S to help follow those data security guidelines. If your business needs to keep employee and/or customer data secure, the Room Alert 12S is the perfect monitoring tool for preventing and minimizing costly downtime.
Our PRO line offers the most advanced and secure Room Alert proactive environment monitoring for facilities of all kinds and sizes such as server rooms, investment properties, warehouses, universities and more. Protect your assets and employees against all forms of costly downtime due to environment-related issues such as high temperature, high humidity, smoke, airflow, water leaks, power outages, heat index, motion, dew point and more with the Room Alert 12S.
Contact Us
If you have any questions or want additional information on how the new Room Alert 12S protects your data and facilities against costly environment-related downtime, please contact us today through email at Sales@AVTECH.com, through our online Live Chat service, or via phone 401.628.1600.
You can also visit our YouTube Channel and read our articles here to learn many other reasons why you need Proactive Environment Monitoring with Room Alert.