Room Alert Manager: Easier Alerting, Firmware Updates & More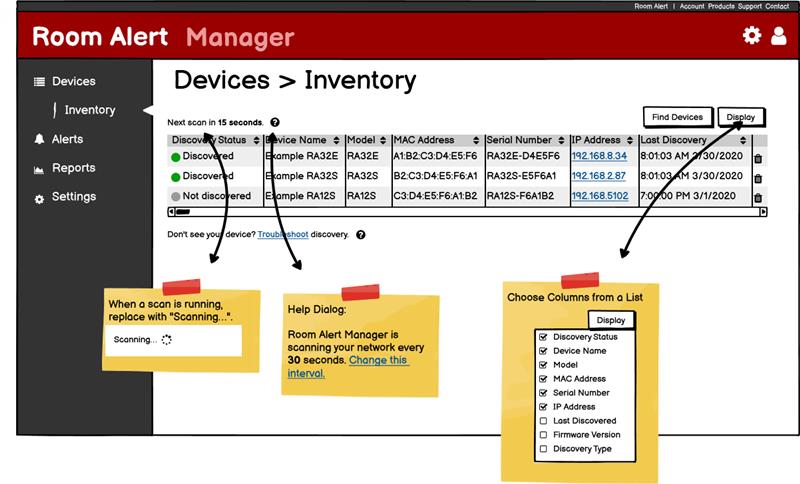 Earlier this year, we discussed how we will soon be launching Room Alert Manager. Room Alert Manager is introducing a whole new enhanced software platform which includes several new features for improved user experience. Our engineering team has started from scratch, working very hard to keep what our Room Alert users have loved about Device ManageR and make it even better. We're thrilled to bring you more information about the new features you can look forward to in Room Alert Manager.
We're Making Alerting Easier!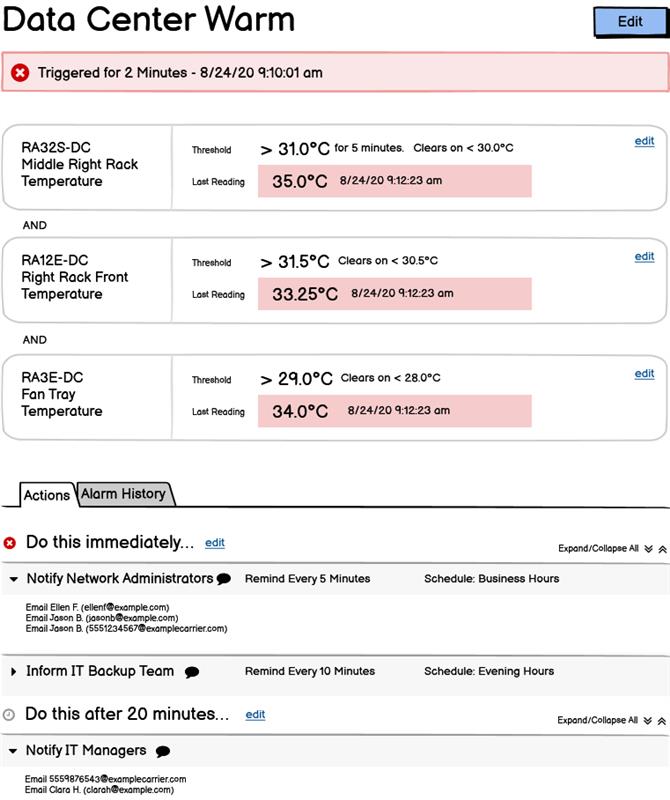 Our overall goal with Room Alert Manager is to make everything more user-friendly. A huge part of achieving that task began with alerting. Alerting will translate from Device ManageR to Room Alert Manager, but we're also adding some additional helpful features. In Room Alert Manager, alerting is easier to set up, with a more user-friendly workflow than ever before. Our engineers took a considerable amount of time to reflect on the processes we had and how we could include additional guidance to make the experience more robust.
One new feature available in Room Alert Manager is now you can set multiple threshold alerts. This means you can assign multiple different threshold criteria on the same alert, similar to our patented Monitor360 technology. By setting up multiple thresholds on one alert, you are telling Room Alert that multiple separate conditions need to be met in order to trigger that alert's notification response.
For example, say you're setting up an alert for monitoring the environment in your data center. In your data center you have a Digital Temperature & Humidity Sensor, Room Entry Sensor and Air Flow Sensor. You can customize your alert to have to meet 3 different requirements before the alert is triggered. The threshold on your Digital Temperature & Humidity Sensor is set up to notify you if the temperature reaches above 80 degrees Fahrenheit. The threshold on your Room Entry Sensor is set up to notify you if the door has been open for 5 minutes. Finally the threshold on your Air Flow Sensor, sitting on the HVAC vent, is set up to notify you if it is reading as closed, which means there is no air flow.
Now a combination of all 3 of those thresholds need to occur in order for your alert to reach an alarm state. You're telling Room Alert to notify you if the temperature in your data center gets too high and the HVAC vent is not turning on to try to cool it down and the air in the data center is also being affected by the air outside the room because the door is open. If all 3 of those thresholds are met, you will receive an email that your data center alert has reached an alarm state. Now are notified that someone on your team needs to address the situation before costly downtime and disaster strike.
You Can Customize Durations So You're Only Notified When Necessary!
You can also now set a duration on each threshold on each alert. This is an optional criteria, so a duration does not need to be assigned for an alert to function properly. Durations are useful in many scenarios because using the previous situation as an example, you're well aware that your IT staff will need to be able to go in and out of the data center consistently throughout the work day. That means you are not at all concerned if the door opens and closes because you know people enter and exit. The potential threat you're looking to monitor here is ensuring the door does not remain open for any extended period of time. This is because leaving the data center door open can lead to costly downtime such as letting all of the cooler air from the AC out, or someone coming in and creating a security issue by stealing confidential information or damaging expensive equipment. In a situation like this, you can set your Room Entry sensor threshold with a duration of 5 minutes as an example. This means that you're telling Room Alert to go into an alarm state when the Room Entry sensor detects it has been open for at least 5 minutes. Once in an alarm state, Room Alert will email you so you're aware of the potential issue before it unfolds to serious damages.
The Option For An Escalation Of Actions
Room Alert Manager will give you the option of setting up an escalation of actions to take place after an alert has reached an alarm state. Our Room Alert users can customize a series of actions to escalate depending on the conditions in your environment. This helps businesses follow their chain of command to ensure the appropriate employee(s) is made aware of potential threats of environment-related downtime in the proper order. Once an alert goes into an alarm state, the clock starts ticking on executing actions. Any actions you've set to launch immediately will fire. But now you can set actions with durations, meaning actions that will fire after any given period of time.
Using the example from above, say you want the Facilities Manager to receive an email immediately when the Room Entry Sensor detects that a door has been opened. You can easily set that up in your alert, just as you've always been able to and now you have more options available for advanced alerting. You can set an escalation of actions to occur when the door is open. You can set an escalation of actions that first the Facilities Manager will be immediately notified. Then after 30 minutes of that door being open, the IT Manager will receive an email. This helps further prevent and minimize downtime because now if the door is left open, and the Facilities Manager is busy or otherwise unable to address the problem, the IT Manager can be notified so that person can close the door. Essentially, durations give our Room Alert users the ability to create a chain of actions that will take place as a triggered alarm is not resolved. There is no limit to how many escalations you can have for an alert.
Step-by-step Guidance For Setting Up Alerts
Another way we've made setting up alerts more user-friendly is in the workflow. In Device ManageR, setting up alerts could be tricky because all of the options are expanded meaning nothing is hidden. You're immediately able to see the entire form which can be confusing and overwhelming, especially for new Room Alert users. Room Alert Manager will give users guided step by step instructions to ensure they are going in the right order and inputting the correct information. In Room Alert Manager, the workflow is simplified and streamlined. When setting up an alert, the next step will not appear until you complete the previous step. This is to help guide our users in the right direction so they can better manage their alerts and actions. If you're a current Device ManageR, your alerts will translate to Room Alert Manager. For those starting fresh with Room Alert Manager, the process of learning how to create alerts will be quick and easy to follow.
Also within alerting, we will now have user access and device visibility in Room Alert Manager. This means you can assign users to different levels to help filter what device they can see and edit. Someone with Administrator permissions, such as a manager, will be able to view and edit the devices they can see. Someone with lesser permissions, such as a viewer, will be restricted to read-only access to device information. Essentially, we put this feature in place to give our Room Alert users more detail, control and customization over who is allowed to access what specific device and sensor data.
Improvements For Firmware Updates

Continuing with the main goal of making Room Alert Manager a more user-friendly workflow than ever before, we are simplifying firmware updates. Our users will be able to perform firmware updates in Room Alert Manager through their Room Alert Account. This will improve the user experience by requiring fewer steps to do updates. Firmware updates in Room Alert Manager will be extremely quick and easy, compared to the more time-consuming effort of performing firmware updates in Device ManageR.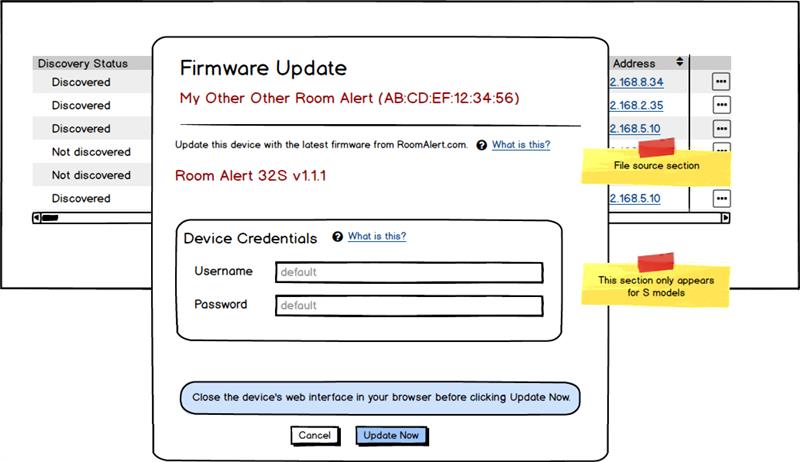 In terms of our PRO Line of environment monitors, we've further increased security measures. Room Alert users will need to know their log in credentials in order to perform firmware updates.
Migration Of Data
We know we have Device ManageR users who are wondering, "How will you migrate my old data to the new platform?" Our engineering team is currently working on a quick and easy way to migrate customer data from Device ManageR to Room Alert Manager. We are planning articles in the future to detail more of the specifics.
Coming Together…
Throughout developing all of the improvements that come from transitioning Device ManageR to Room Alert Manager, we've been very proud of our hard-working team. We will continue to consider the feedback our customers provide, and make Room Alert Manager the most user-friendly and helpful platform we possibly can. Be sure to keep an eye out for future articles that will provide more details as we get closer to launching Room Alert Manager.
Contact Us
If you have any questions about Room Alert Manager or advanced environment monitoring with Room Alert, please email us at Sales@AVTECH.com. You can also visit our YouTube Channel or Contact us today for a free consultation with one of our dedicated Product Specialists!